Energetic or restful, calming or bold, we help you choose just the right colour palette for your mood and needs.
Whether it's for a bathroom refit or a quick lick of paint, picking your colour scheme is a decision not to be rushed. When it comes to choosing the right palette there are many factors to consider: these include bathroom size and layout along with your family's style and needs.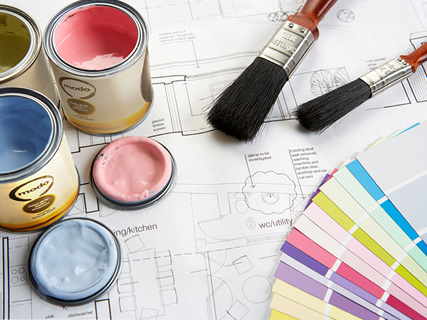 How much colour should I have?
Large areas of unbroken colour can be monotonous. Too much colour, on the other hand, can be busy and distracting. So how do you achieve a balance between the two? The solution is the 60-30-10 Principle. This refers to the ideal distribution of colours in a room, by percentage.
Apply your main colour to about 60 percent of the room. Introduce a secondary colour to about 30 percent of the remaining surfaces to add contrast and interest (think feature walls and furnishings). An accent colour should make up the final 10 percent – introduce this in cushions, mats and accessories, for example. This deceptively simple formula will help you to create a unified palette wherever a splash (or three) of colour is required.
Top tip: Use the brights for accessories and towels, but select pastel tones, neutrals and whites for backgrounds. "Cool" colours give the feeling of serenity.
Good colours to paint a bathroom
What makes a good colour for a bathroom? Well, it depends on what look you like, but one thing is important: it has to be a colour that will create a soothing, flattering type of light, regardless of the time of day or light source.
Here are 6 of our favourite options:
Classic white – Crisp, clean
Cream – Fresh but warm
Black – Deep colour option, modern, allows for pop of colour
Light yellow – Mellow, traditional
Blue-green – Marine feel, gives colour without being too harsh
Grey – Contemporary, rich, well complemented by crisp white
The Builders team is happy to advise on choosing just the right shade, so pop in for a chat.
Builders offers professional paint and tint mixing. Visit your local Builders store for an array of options.
Eco tip: You need a lot of turpentine to clean paint brushes and rollers properly. But if you choose a brush cleaner like Polycell, only a small amount is needed; the last bit of washing happens with water. So brush cleaners are a greener option than turpentine.