A kitchen makeover can be a costly exercise – but these solutions presented a contemporary, liveable end result that came in well within the small budget.
Materials you will need:
Primer
Paint
Mosaic tiles
Aluminium strips
Blinds
linoleum flooring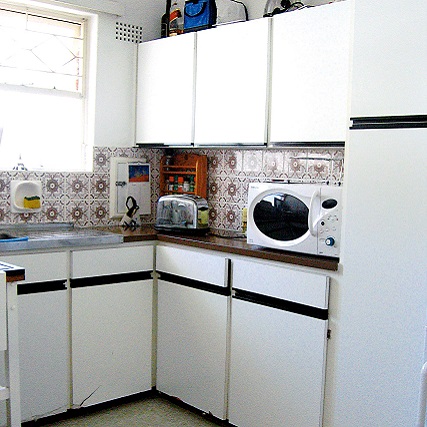 Before the update
The brown patterned tile, the drab grey flooring and the black handle trim, together with other dark colours, make the kitchen appear smaller. The white walls above the tiles are no longer a bright white, making the room appear dull and drained.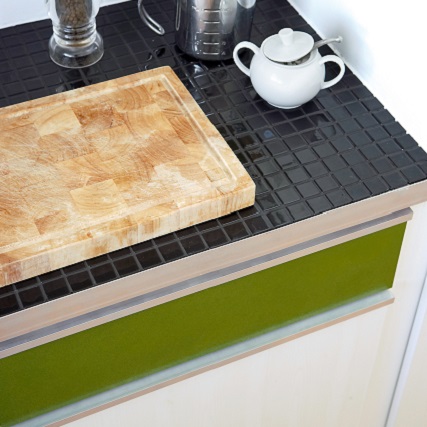 How we updated it
The broken and chipped formica cupboard doors and drawer fronts were replaced with new melamine ones.
A unique wood grain paint technique was applied to the doors, which were then also finished with affordable, unobtrusive handles.
The ceiling and walls above the tiles were painted with a white gloss paint to help reflect more light.
Tiles were primed and painted using white gloss enamel (Plascon Tile Primer and Velvaglo).
Colour was added to the top row of tiles and also to the drawer fronts.
The formica countertop was replaced with a black mosaic tile surface.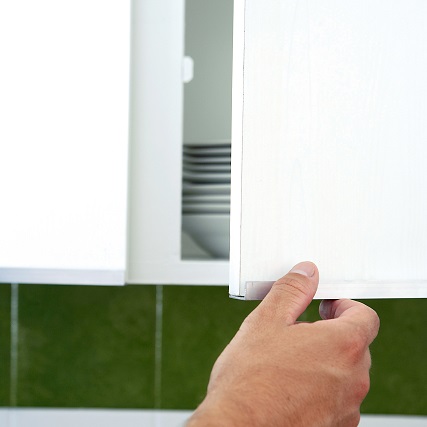 The drawers , windows and floors
An aluminium trim was added to the countertop edge, doors and drawers.
The window treatment was updated with 25mm brushed aluminium louvre blinds, available at Decorland.
The floor finish was replaced with linoleum flooring from Belgotex's Eco Flor range; this oak-look finish adds warmth to the room.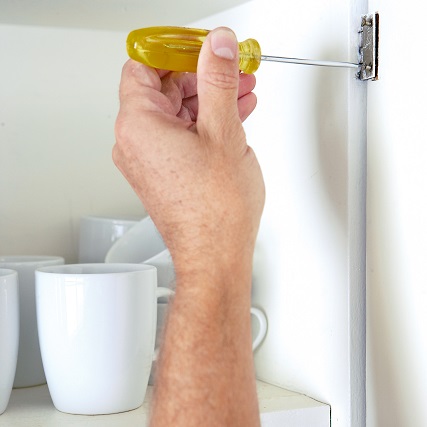 Step 1
Remove the cupboard doors before painting them.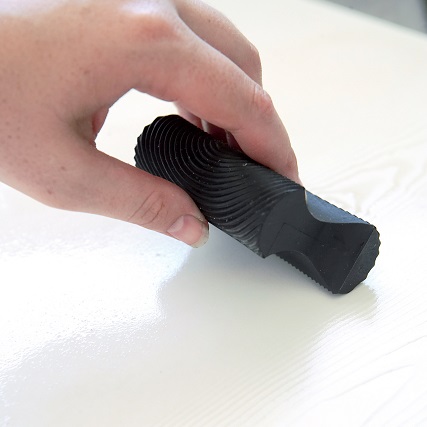 Step 2
Apply a thin coat of clear varnish (Glatex-8) to the doors with a foam roller, then drag the wood grain tool across the surface, pivoting it forward and backwards as you go.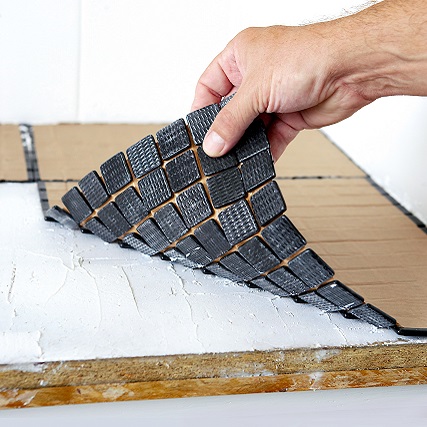 Step 3
Use a flexible tile adhesive to adhere the mosaic tiles to the chipboard surface. Once this has set, apply the grout. This shiny black mosaic countertop adds an element of style to the kitchen.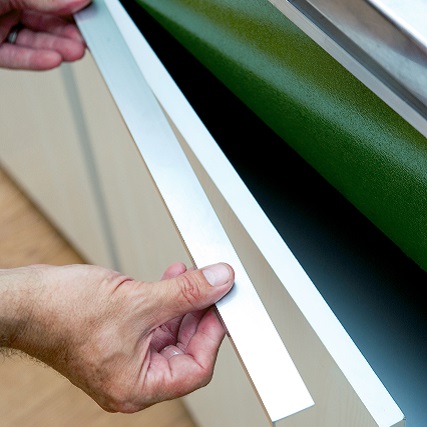 Step 4
We added these aluminium profiles to the door and drawer edges.
Credits
Referenced from Gallo Images / Home Magazine