Take the hassle out of painting and use a power spray painter.
There's a choice of little handy packs with their own mini compressors all the way up the scale to big compressors. They all make the job easy and help give a professional finish.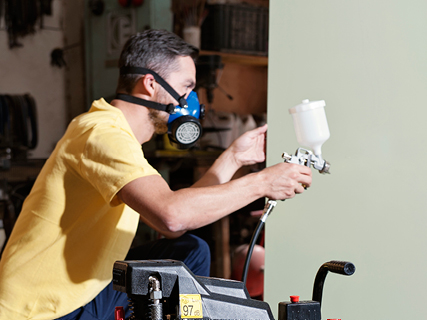 Why spray painting is great
Fast: About three times quicker than using a paintbrush.
Use less paint: Apply in thin layers to get a smooth look with less paint.
Consistent: Distributes the paint evenly to give a smooth, professional finish.
Versatile: Spray guns can be used on walls, floors and ceilings too.
Useful: Spray guns are great for oddly-shaped objects with hard-to-reach areas, such as cabinets and louvres, and textured surfaces such as wicker, or fences.
Crafty: Spray painting works a treat with patterned templates to create decorative effects.
Always keep the compressor in a well-ventilated area away from the spray area. Never extend the power cord; use a pneumatic hose to extend your reach.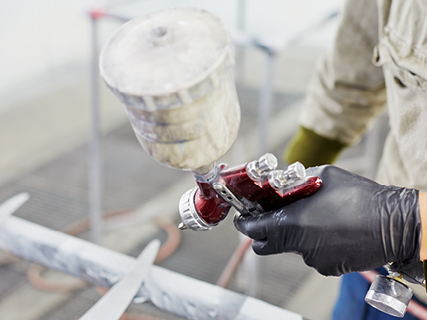 The handyman tool
The traditional spray painting kit involves a compressor and a spray gun, but complete handyman spray systems from manufacturers such as Bosch are incredibly versatile and easy to use. They're not just limited to PVA. They come with adjustable settings and nozzles for paint, varnishes, emulsion paint, primer, wood preservative and more.
Compressor systems
The alternative to a DIY spray system is a compressor and spray gun. The advantage of going this route is that a compressor can be used for all sorts of other things, from inflating tyres to running a range of different air tools, such as sand blasters and grinders. Should you need compressed air for more than just painting, then perhaps a separate compressor is the way to go.
Check the air consumption of the spray gun you wish to purchase, usually measured in litres per minute or cubic feet per minute (CFM). Spray guns demand quite a bit of air so check that the compressor you select has the tank capacity to ensure air is constantly available. That way your compressor won't run continuously.