Blooming indigenous for petite gardens!
Can we adapt the 'indigenous only' theme to a small garden where space is at a premium? The answer is a resounding yes, if you are willing to use 'domesticated' hybrids bred from their wild ancestors.
There is a whole treasure chest of them available to us, as local plant breeders as well as those of other countries have wholeheartedly embraced our plants and turned them into compact, free-flowering beauties that will supply texture and colour even in a pint-sized plot.
Start your early spring off with these, and know we are just chipping off the tip of the iceberg here with a condensed gallery of small flowering mates!
Honey come home…
The blue honey-bell has small and delicate mauve flowers and glossy leaves on a slender shrub of about 1.5m x 75cm. Suitable as a background plant for full sun or light shade, or as a low hedge if trimmed formally.
Botanical name: Freylinia tropica
First lobola, then confetti…
This is a compact hybrid of the pink confetti bush (50cm x 30cm) with needle-like foliage that turns gold when mature and small pink flowers from late winter to spring. The yellow foliage can be sensitive and burn in very hot climates, but it is in general a tough little shrub to supply lovely foliage contrast amongst other plants. It responds well to pruning if it needs to be kept in check.
Botanical name: Coleonema pulchellum 'Sunset gold'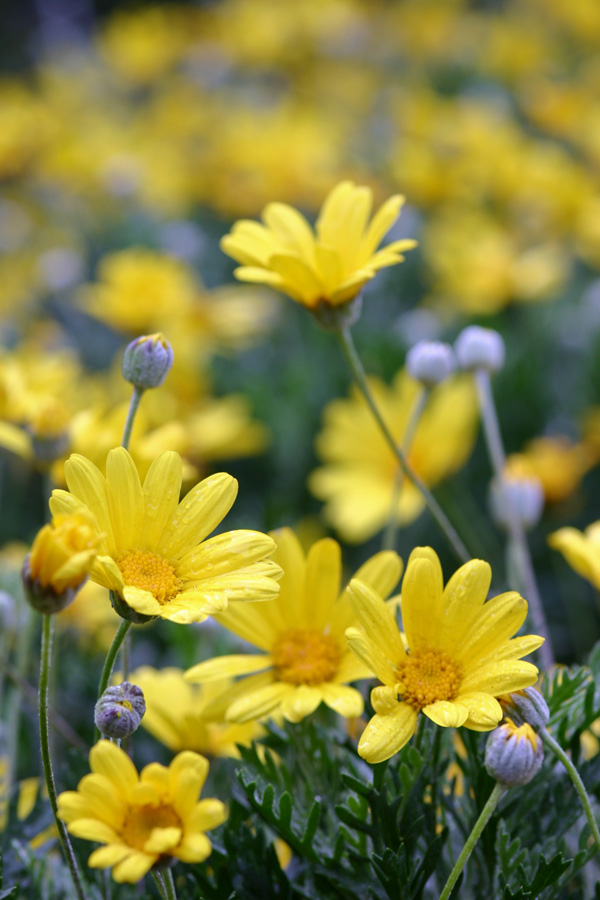 Golden daisy days…
On a sunny summer's day, a mass of bright yellow daisy flowers smothering the soft silvery-grey foliage will catch your eye, along with those of bees and other pollinators. The golden daisy bush will flower intermittently throughout the year. Size only 1m x 1m.
Botanical name: Euryops pectinatus
Tougher than the rest…
The neat, strap-like foliage and beautiful round flower heads of agapanthus are invaluable in any size garden, and modern hybrids now flower repeatedly and for longer. These plants are very floriferous and tough, withstanding frost and long periods of drought, and will flower in full sun or light shade.
'Lapis Lazuli'
Lapis Lazuli is a free-flowering dwarf hybrid with intense-blue flowers that appear intermittently in summer. Plant size about 60 x 40cm.
'Buccaneer'
Buccaneer is medium size, about 30 x 30cm. It produces dark blue, umbrella-shaped flowers with deep purple veins from early to mid-summer.
'Bingo Blue'
Bingo Blue has dark blue flowers from late winter to mid-summer, and sporadically at other times of the year, on semi-dwarf plants (20 x 30cm). 'Bingo White' has pure white flowers from late winter through mid-summer with sporadic blooms at other times as well (25 x 25cm).
'Zambezi'
Zambezi features broad, strappy green leaves that are streaked with a creamy yellow variegation and framed by a broad golden yellow margin. This variegation means year-round colour along with the bonus of tall and strong flower spikes above the foliage. The open-faced violet flowers appear in the high summer months.
Homefront snapdragons…
Two lips and a spur with a soft fragrance is how you could describe our very own Cape snapdragon. The world went berserk with this cheerful little plant and created wonderful, very floriferous hybrids like 'Nesia', which features large blooms in striking colours topping healthy, shining green foliage.
Botanical name: Nemesia fruticans 'Nesia'