When selecting a garden hose, it is very important to select a quality hose that is not going to twist and kink, blocking the flow of water.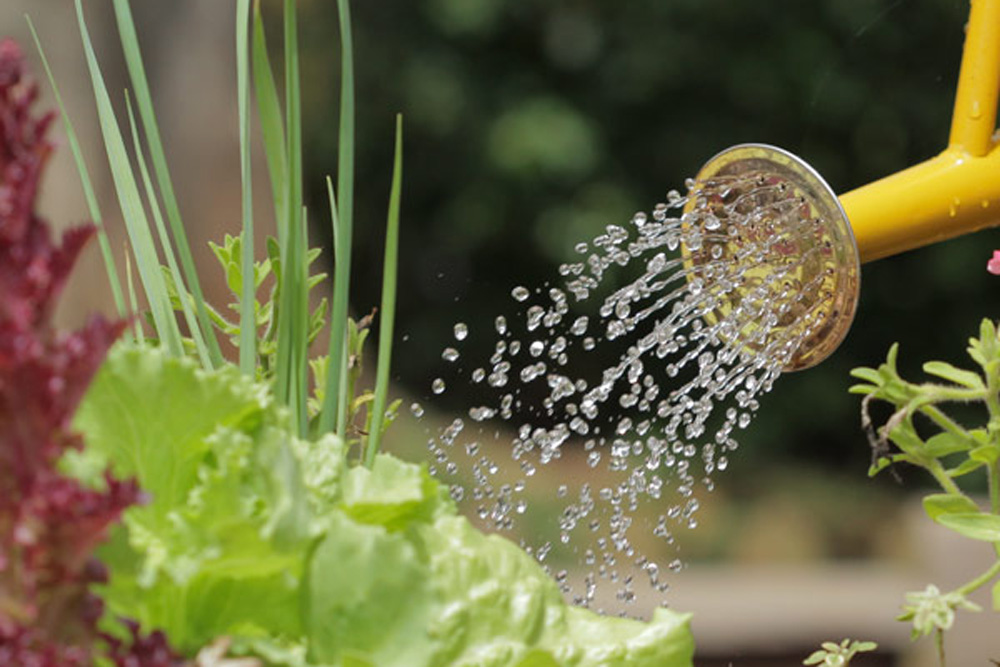 More and more often in our climate, there are periods of inefficient precipitation, which require us to augment the water in our gardens. During hot and windy periods, plants often struggle and dry out, inhibiting the vegetative growth and reducing the quality of flowers and crop yields. We therefore need to provide "rain on demand" in the garden. This can be done manually or through an automatic irrigation system, depending on the size of your garden. The key element of a manual irrigation system is a quality hose equipped with a convenient-to-use sprinkler. No two hoses are alike, despite appearances. A hose is used often and intensively from Spring to Autumn and it is therefore worthwhile paying attention to the characteristic features that attest to its quality and durability.The most important aspect to note when choosing a hose is the number of layers that make up the hose.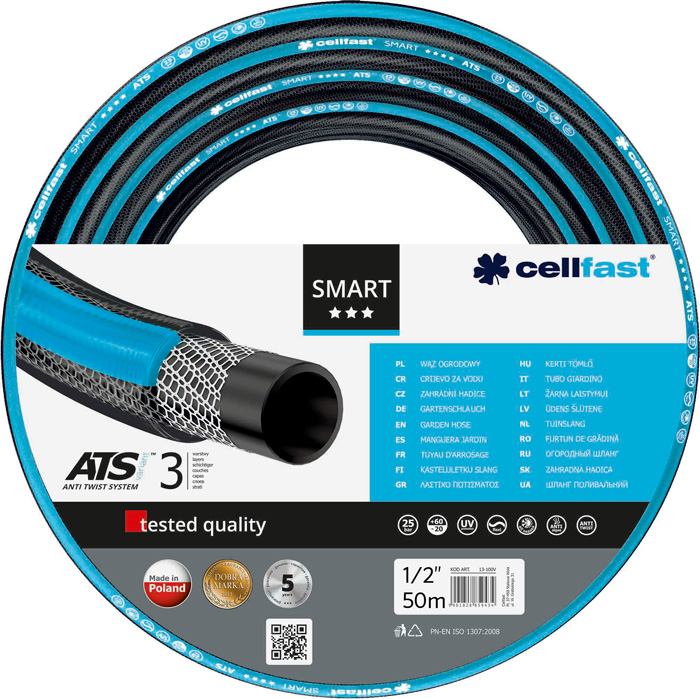 Cellfast SMART ATS hose
Cellfast offers the SMART ATS hose, which is a good quality 3-layer hose that can serve one for a long period of time. It works well under extreme weather conditions within the range of -20°c to +60°c and it is UV stabilised with an internal part resistant to algae.
Cellfast SMART hoses are flexible and pleasant to the touch. The structure is resistant to scratches and other mechanical damages, like motor vehicles tyres. The hose is also equipped with a Tricot reinforcement that is a specially selected oblique tricot reinforcement made of the highest quality polyester yarns which prevents twisting and kinking of the hose, allowing a more consistent flow of water. If you have ever purchased a low quality hose, you will know the frustration that comes with a hose constantly kinking. The Cellfast SMART hose carries a 5 year guarantee under normal operating conditions, which speaks to the quality of this hose.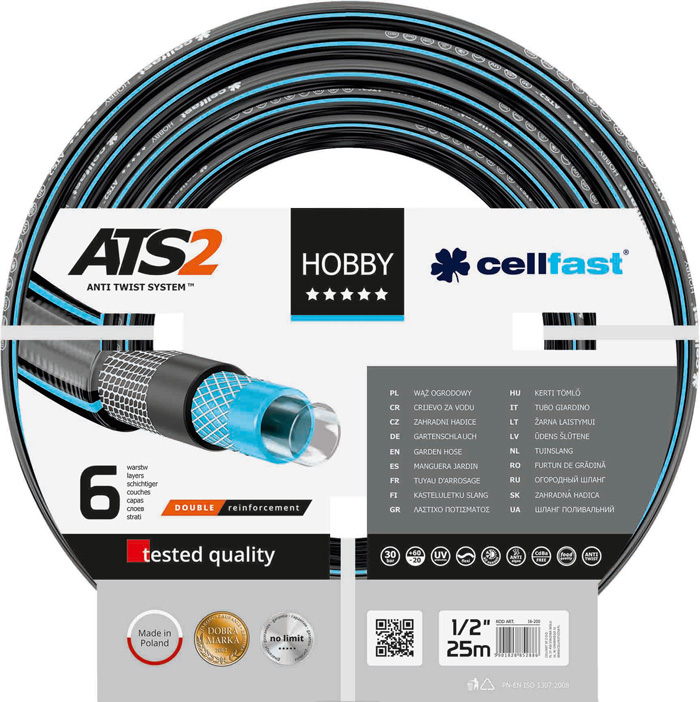 Cellfast Hobby Hose
The Cellfast Hobby hose is the Rolls Royce of Cellfast hoses. Free of caprium, barium and lead, this 6-layer hose is manufactured with even better usage properties and greater durability and is covered by a long term guarantee under normal and proper operating conditions. The 6-layer Cellfast Hobby hose is equipped with a double layer tricot reinforcement, a combination of a simple tricot and a cross reinforcement, which ensures the highest durability and makes the hose extremely resistant to twisting and kinking. The internal layer of this hose is made of material that is suitable for contact with food, a good choice for watering vegetable gardens.
High quality garden hoses are indicated by their lightweight making it easy to carry around and handle during watering. The Cellfast Hobby hose is a pleasure to work with. When selecting a garden hose one to pay attention to other important factors such as length and diameter. Cellfast offers a range of 25m and 50m hoses in 12mm and 19mm diameter, suitable for both small and large gardens
Once your hose has been selected, it is time to select the appropriate connectors and sprinklers to complete your gardening equipment. Garden hoses are sold singularly or complete with the additional necessary connectors and sprayers.