Keen to renovate your outdated space with its 70s-style tiles but can't afford a major revamp? Fix it with paint!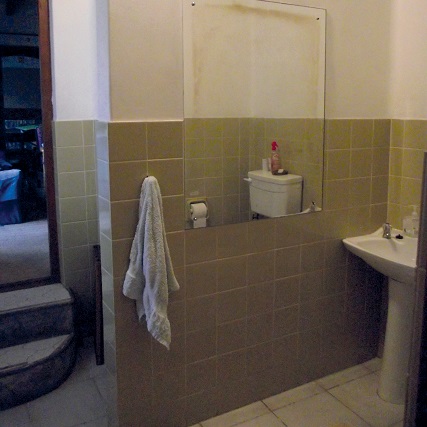 Repaint
This guest bathroom was a real eyesore with its retro avocado-green tiles on the walls, floor tiles that needed TLC and exposed piping. Budget constraints only allowed for a few cosmetic changes so when you can't afford to upgrade tiles or sanitary ware, the easiest and most cost-effective way to make a change is with paint. Plascon Velvaglo in the colour Berlin Block was used on the tiles and Plascon Cashmere, also in the colour Berlin Block, was used on the walls to create a seamless flow and a sense of space; the exposed piping was also painted to help it blend in.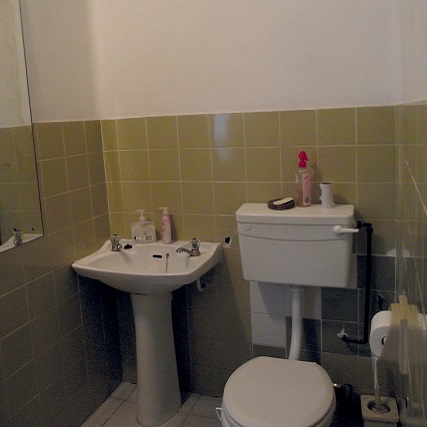 How to paint bathroom tiles
First, lightly sand the tiles with a fine-grit sandpaper.
Apply a suitable primer, such as Dulux Supergrip All Surface Primer or Plascon Tile & Melamine Primer, over the original tiles.
Allow two hours drying time, then lightly sand to create a smooth finish before overcoating.
Finish with two coats of paint in the colour of your choice. In this bathroom, Plascon Velvaglo was used for a luxurious finish.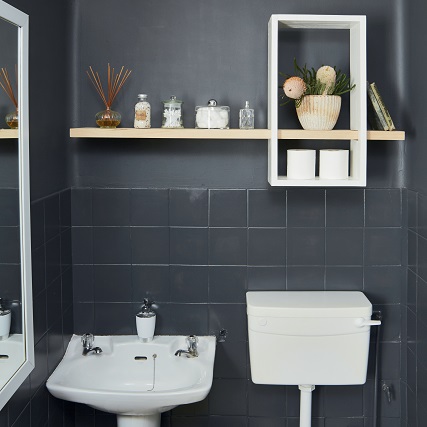 How to make the storage box above the toilet
The 60 x 30cm box on the shelf was made with a pine plank cut to size. To create a space for the box to rest on the shelf, cut out 8cm sections on the lengths of the box using a jigsaw. Be sure to make this opening the same thickness as the floating shelf so the box can easily slot in. The box was then painted in white water-based enamel and now it finishes off the look perfectly!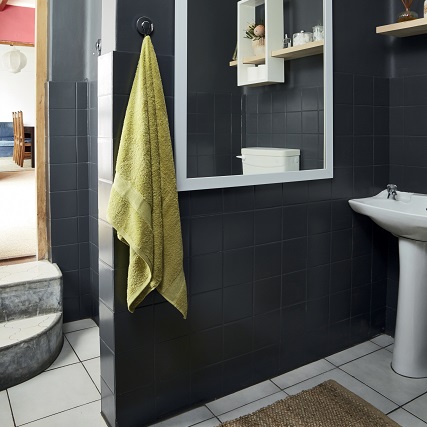 The Grouting
Fresh grouting was a must in this bathroom; the charcoal grouting between the floor tiles creates a graphic pattern but also ensures that dirt is less noticeable.
A final touch
The dark grey walls and simple white-framed mirror create a distinctly contemporary feel.
Credits
Referenced from Gallo images / Home Magazine