Wow your guests with a festive party table using the traditional Christmas colours of red, green and gold.
Just when did red and green become so popular? Some suggest it was the red berries on sprigs of holly, which made up the wreaths of early Roman celebrations of Saturnalia, a December festivity that preceded Christmas.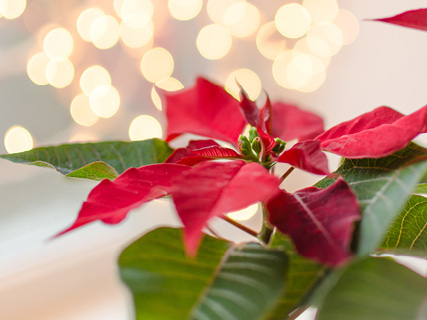 The Christmas flower
Since thorny holly isn't the kindest of plants to include, introduce your red element using the gentler poinsettia. Its gorgeous red in full show (the red 'petals' are actually leaves and the flower is the little yellow bits in the middle) has become as synonymous with Christmas as Santa in his red suit.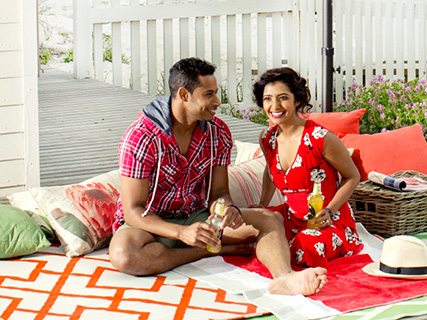 Scatter the love
The reddish-orange tints of tangerine give a modern twist to Christmas red. Mix and match your scatter cushions: tangerine and vibrant green and then bring them together with a few botanical inspired prints or leafy tropical scatters that incorporate both colours. These you can place on your benches, chairs or picnic carpet.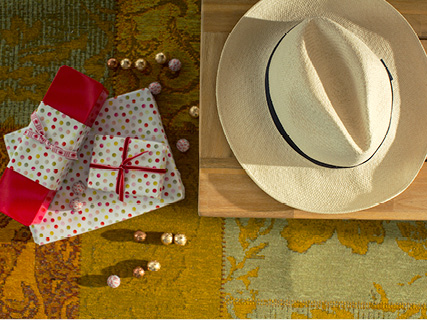 Add a little sparkle
Champagne gold is your accent colour in this scheme. There are some beautiful sparkly scatters to add to the mix. You can also bring the colour in with Christmas tree decorations, foil-wrapped chocolate balls and fairy lights. A carpet with gold tones ties it all together and adds a sense of sumptuousness.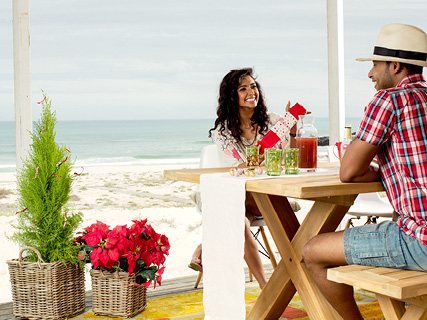 Shapes of green
Think out the box for party décor: just because a conifer, closely connected to Christmas scenes in Europe, will grow to three or four metres high, doesn't mean it's no good on a patio… for a while at least. A 10 litre pot is perfect to place in a wicker basket for a few weeks' decoration duty. Cupressus Goldcrest (Cupressus macrocarpa) has soft fluffy leaves adding textural interest to your setting. On the local side, the muscular shapes of aloes and their spiny leaves are a great textural counterpoint to the conifer. Cape aloes (Aloe ferox) and krantz aloes (Aloe arborescens) are good choices, though both species will also need planting out in the garden as they grow very big.
The perfect combination
Stylish décor isn't about just getting the colour right, it's about the picture as a whole and the combination of the elements within that picture. So you can pair a natural wood table with a bench on one side and Eames chairs on the other side. Instead of looking hodge-podge, the arrangement is elegant and styled.