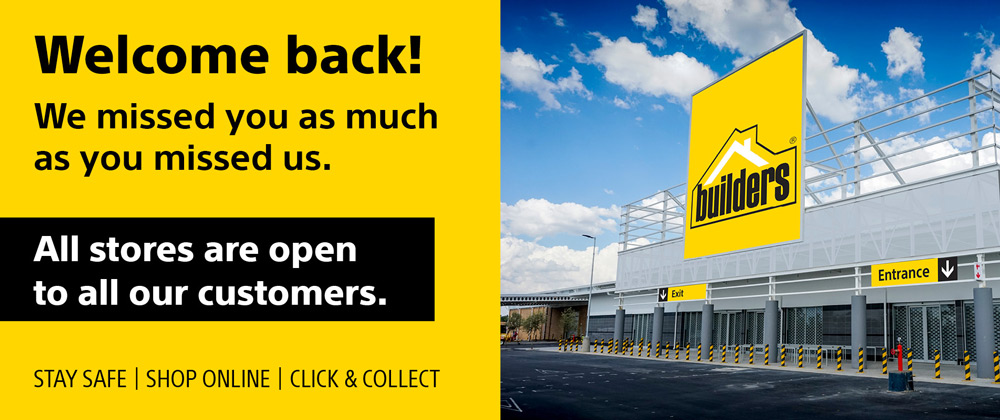 Welcome back!
We missed you as much as you missed us.
Below are our lockdown-related updates and frequently asked questions.
UPDATE: 08 June 2020
All stores are open to all our customers.
Online Shopping, Click & Collect and delivery are available.
Trading Hours:
Builders Warehouse
Monday – Saturday: 07H00 – 17H00
Sundays and Public holidays: 08H00 – 16H00
Builders Express & Builders Superstore
Monday – Friday: 08H00 – 17H00
Saturday: 08H00 – 16H00
Sundays and Public holidays: 08H00 – 14H00
Builders Trade Depot
Monday – Friday: 07H00 – 17H00
Saturday: 08H00 – 13H00
Sundays and Public holidays: Closed
UPDATE: 14 May 2020
We are experiencing delays on deliveries after lockdown due to increased order volumes.
We have adjusted our delivery lead times due to unusual demand.
Certain items may take longer than usual to deliver or collect from our stores.
Which payment methods will be accepted?
Builders will be accepting all forms of payments.
How many people are allowed in our stores?
Builders is required to guarantee that there are controls in place to ensure that all customers keep a distance of at least one square meter from each other and that all directions in respect of hygienic conditions and the exposure of persons to Covid-19 are adhered to.
On this basis Massmart and Builders implemented a rule per individual store that we limit the numbers of customers and staff in the store.
Must all customers wear masks?
In terms of the Regulations issued in terms of the Disaster Management Act, 2020, everyone must wear a cloth face mask or homemade item that covers the nose and mouth when in a public place. All customers will be required to wear a mask at all times whilst in any of our stores or parking areas.
Must all staff in the stores wear masks and gloves?
The provision of masks for our staff is a legal requirement in terms of the Regulations and we have provided masks to all our store associates including cashiers in all our stores. There is no legal requirement to wear gloves at this stage and we are taking our guidance from the World Health Organisation that wearing of gloves is counter-productive.
What products will not be for sale?
We are now able to sell in all product categories.