Chalk paint is a decorative paint with a matt finish that makes it ideal for distressing techniques, although you could also use regular water-based enamel paint.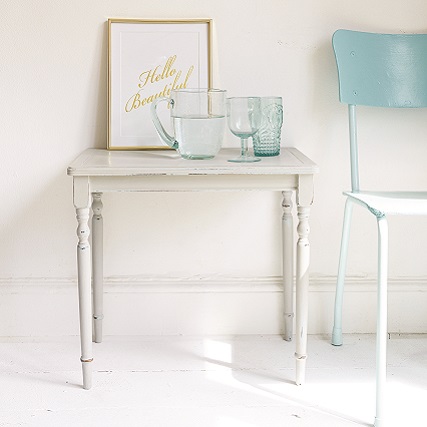 Materials you will need:
Chalk paint in two colours: one for the base coat and one for the topcoat
Paintbrushes
Sugar soap
Candle
Paint scraper
Coarse sandpaper
Wax for chalk paint or clear furniture varnish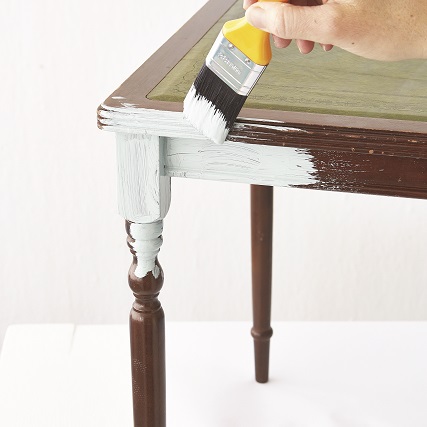 Step 1
Wash the entire item of furniture with sugar soap and leave it to dry completely.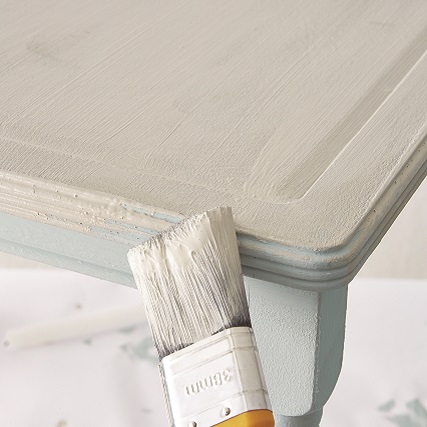 Step 2
Paint the item of furniture with the chalk paint for your base colour, in other words the colour that is going to show through the topcoat when you do the distressing technique. Leave it to dry and apply another coat if necessary.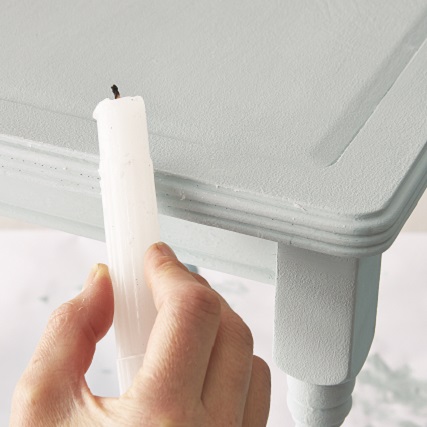 Step 3
Rub candle wax on those places where you want the paint to 'peel off' to allow the base coat to show through. Focus on the edges and corners where paint usually shows signs of wear and peels first.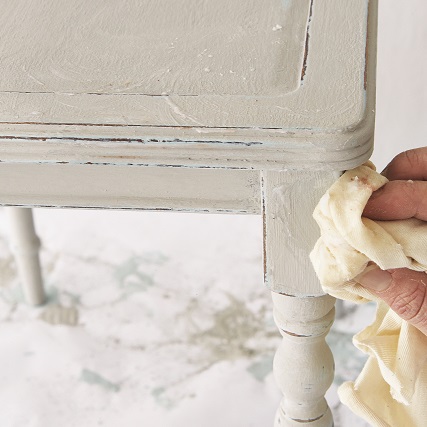 Step 4
Apply a coat of the chalk paint for the topcoat and leave to dry completely. Apply a second coat of paint.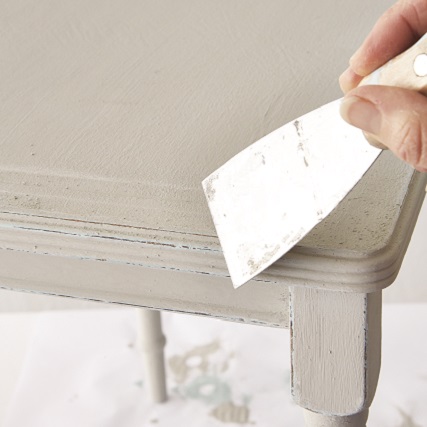 Step 5
When the paint is completely dry, use the paint scraper to scrape the paint off the edges and corners. The paint comes away easily from the wax and the original wood will also show through in places. Distress the item further by sanding off more paint here and there using coarse sandpaper.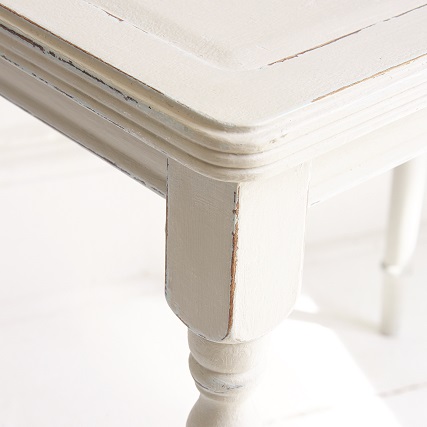 Step 6
Seal the paint with wax for chalk paint or a suitable furniture varnish. PAINT: Rust-Oleum Chalked Ultra Matte Paint in Serenity Blue (base colour) and Annie Sloan Chalk Paint in Paris Grey (topcoat). WAX: Annie Sloan Clear Chalk Paint Wax.
ADVANTAGES OF CHALK PAINT
There is no need to apply an undercoat and little preparation is necessary.
It adheres easily to most surfaces (including leather, plastic, metal, cement and fabric).
One coat of paint is usually sufficient, although a second one can be applied fairly soon after the first.
It dries very quickly and is easy to clean.
It is easy to mix your own colours.
DISADVANTAGES OF CHALK PAINT
Brush strokes tend to remain visible.
It leaves a matt finish, even with the wax.
Some surfaces do need to be prepared with an undercoat and most should be sealed afterwards, otherwise the paint will peel off easily and show marks.
Applying the wax is labour intensive.
The range is generally limited to matt, earthy colours.
USEFUL TIPS
Even though chalk paint adheres well to most surfaces, it is a good idea to sand the surface slightly before you start painting.
Thin the paint with a little water to make brush strokes less noticeable.
Annie Sloan also makes a Dark Chalk Paint Wax that you can use to enhance the distressed look.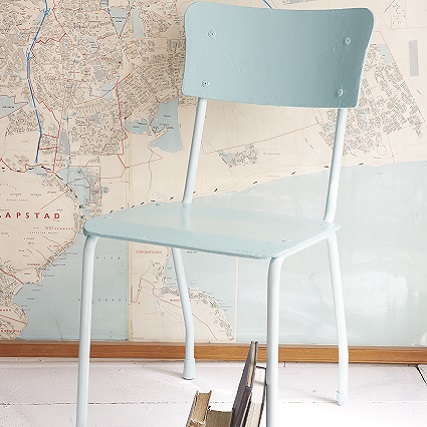 Make the kitchen chair with enamel paint

Materials you will need:
Enamel paint in the colour of your choice
Paintbrush and sponge roller
220-grit sandpaper
Sugar soap
Lacquer thinners
Step 1
Sand the item of furniture lightly first so that the paint will adhere properly. We also had to remove peeling paint from the metal frame of the chair. Use paint stripper for this and follow the instructions carefully, because it is a strong chemical. Then wash the entire item of furniture with sugar soap and leave to dry completely.
Step 2
Paint the item with enamel paint in the colour of your choice. Apply the first coat and then leave it to dry overnight before applying another coat. Then leave the painted item to stand for at least 24 hours to cure before using it.
TopTip: We painted the frame a shade lighter than the seat and back of the chair. To obtain the lighter colour, pour white enamel paint into a separate container and add a little of the coloured paint at a time until you have the required shade.
ADVANTAGES OF ENAMEL PAINT
It requires less preparation than other paints.
It adheres easily to most surfaces, including metal, wood and cement.
It gives a smooth finish with few or no visible brush strokes.
It is durable.
DISADVANTAGES OF ENAMEL PAINT
It takes longer to cure properly.
It is mineral based, which means you will need to clean your brushes with lacquer thinners.
Credits
Referenced from Gallo Images / IDEAS Magazine