Key considerations are durability, ease of installation, finish and price.
Choose a kitchen countertop
Quartz, granite and formica are the popular choices and each have their upsides. Quartz and granite are hardy and durable and look very classy, while formica is easy care and easy on the budget.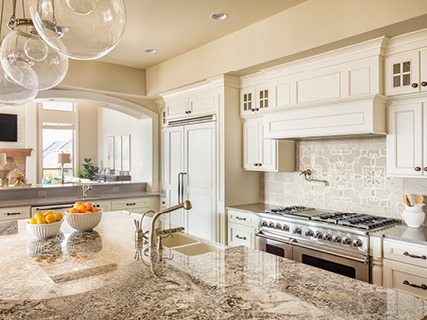 Quartz
One of the hardest substances on earth, quartz is an ideal material for kitchen countertops. It's extremely durable and naturally beautiful and it's also heat, bacteria and stain resistant. The surface is non-porous, easy to clean and doesn't need sealing.
Granite
Granite is easy to clean and resistant to stains, heat and scratches. It's also known for its natural beauty and extreme durability. Every countertop is unique in its colour and pattern, which allows for a personal touch.
Bamboo
Bamboo offers strength, durability and uniqueness. These eco-friendly boards are ideal for use as kitchen countertops, bars, cupboards, and furniture, and work well with other modern finishes such as glass, steel and aluminium. When using bamboo boards in kitchens, we recommend always sealing them. Once sealed, they are water resistant. Boards can be sealed with a polyurethane finish, traditional timber treatment products or environmentally friendly natural oil-based products, creating an affordable alternative to solid wood. Builders sells the boards in raw and sanded format, without staining or sealing. However, this can be arranged on order. Processing, installation and delivery are available upon request.
Formica
Affordable and easy to care for, formica is available in a wide variety of colours and patterns — there's something for every lifestyle and taste. There are numerous benefits to going with this budget-friendly surface: low maintenance, cleans with mild soap and water, resists stains, abrasions and moisture and it complements virtually any kitchen décor. It also makes changing your kitchen style every few years affordable.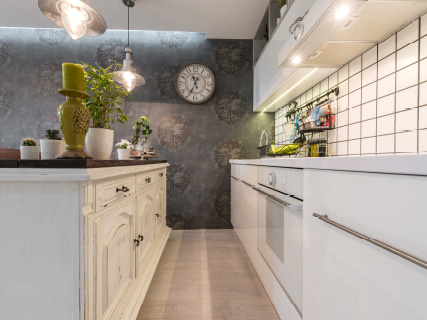 Choose kitchen cabinets
Cupboards are among your most significant investments, whether you're designing from scratch or revamping your kitchen. For best value, go for pre-assembled carcasses rather than a custom kitchen.
Whatever the size and shape of your kitchen, a flexible range of fully assembled carcasses will give you a kitchen that's both functional and desirable. These are standard white melamine and come in a wide variety of sizes. The fun starts when it's time to select a supawood wrap door – they come in more than 100 colours and different finishes, so you're spoilt for choice.
More budget-friendly than custom-built cupboards, a modular kitchen is easy to install. And with stock readily available, your kitchen can often be delivered within a few days.
3 easy steps to instant cupboards:
Do it yourself: Consult with a Builders kitchen sales assistant; select from standard-sized units; pay at the tillpoint.
Pre-assembled: These units are assembled at the supplier's factory and then delivered to your home, where you will install them.
Fully-installed: Consult with a designer at your home; your cupboards are delivered and fitted by the experts.
Top tip: Cupboards between 60 and 120cm wide should have two doors.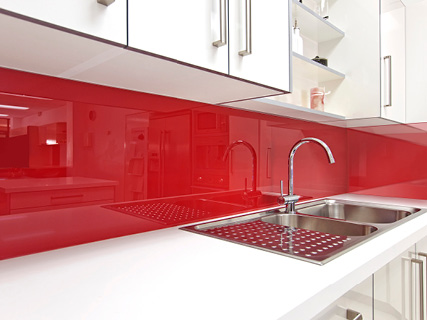 Choosing a kitchen splashback
Protect walls behind the stove and kitchen sink with tiles, mosaics or panels. The Vistelle range of acrylic wall panels are an alternative to glass panels, and are formulated to have minimal impact on the environment.
Their smooth surface repels splashes and is easy to clean – soap and water will do the trick! They're light, affordable and can be cut, drilled and shaped with standard woodworking tools.
You can go wild in the kitchen with trendy and hard-wearing acrylic splashbacks. Their high-gloss lustrous surface gives them the look of glass but they're more hardy, and particularly more resistant to scratches and signs of wear and tear. Suitable for use in kitchens and bathrooms, acrylic panels are quick and easy to install – a typical panel installation is about 60 per cent quicker than ceramic tiles.
More reasons to choose acrylic:
Acrylic is highly resistant to chemicals and stains
Points can be sealed with neutral cure transparent- or colour-matched silicone
It has high heat and thermal shock resistance
The non-stick surface resists mould, bacteria, soap or calcium build-up
Not just functional, they add a bold feature that will give your kitchen pizazz.