Don't know your triangle from your Teppanyaki? It may seem daunting, but configuring your kitchen is all about planning.
3 steps to kitchen bliss
Whether you're moving into an existing kitchen, remodelling the one you have or building a new one, understanding a few key measurements and organizational guidelines can make planning easier:
Make a rough sketch including all fixed features such as doors, windows, gas, electrical and plumbing points.
Take precise measurements of the room.
Take your measurements to the kitchen department in Builders Warehouse (kitchen design and showroom are only available in Builders Warehouse stores). The consultant will give you expert advice in planning and designing your kitchen.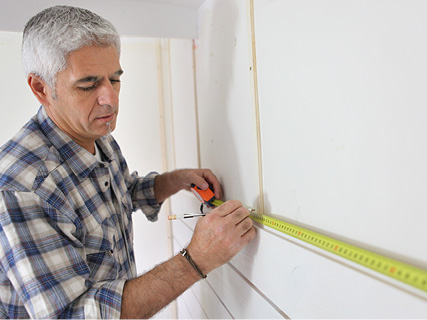 How to measure your kitchen for planning
The most important thing to do when planning a kitchen is to take accurate measurements. Here are some clever tricks that will help you get it right the first time.
Start from the corner and plan outwards. Don't fill the space to the exact millimetre, as it's always best to always leave room for flexibility when fitting (filler boards can be used for gaps up to 150mm)
Don't forget to mark fixed features on your plan, such as doors, windows, gas, electrical and plumbing points.
Remember to take every relevant measurement. Bear in mind that walls are rarely 100 per cent straight. You should take measurements at three different heights – wall cabinet level, worktop level and floor level. Always work with the smallest measurement.
When taking measurements, take note of the thickness of existing tiles, as it could affect the overall measurement if they are removed for re-tiling.
The placement of some units may restrict the functioning of appliances. To prevent this, take note of the direction that the doors open and how far they swing out.
To help you visualise, the kitchen departments in Builders stores have a magnetic board where you can play with your room layout by moving elements around. You can also ask for a card with perforated cabinet shapes and a 1:20 grid.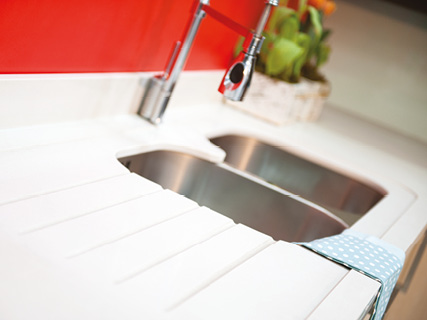 What to consider when planning a kitchen
It may seem obvious, but it's worth pondering the three main functions of a kitchen: storage, preparation and cooking.
Storage tip
Put your fridge and grocery cupboards at the entrance to the kitchen. Putting your pantry on one side and a countertop that's 38 to 61 centimetres on the other is a good idea. This will allow you to easily put down items that have been taken out of the freezer and refrigerator.
If the three work areas are too close to each other, a number of people working in the kitchen together can get in each other's way. Too far away and your work becomes tiring and time consuming. Keep this in mind when planning.
Preparation tip
Preparation and cleaning space is best located around the sink. Place everyday glasses and dishes, along with the rubbish bin and the dishwasher around this area. Allow 45 to 92cm of countertop space on one or both sides of your sink.
Cooking tip
The cooking areas should be arranged around the range, stovetop and wall ovens. Store pots, frying pans and baking sheets close to the stove and oven. It is also a good idea to place small appliances such as toasters and coffeemakers in this area, as it will leave your preparation surfaces unobstructed.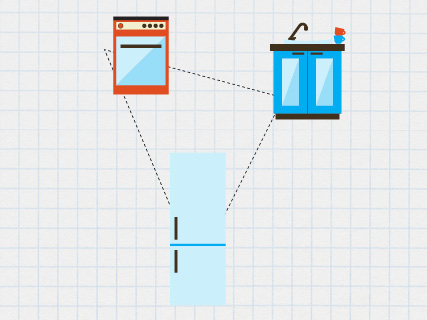 Use the triangle to plan your kitchen
No matter what shape your kitchen is – whether your floor plan is straight, U-shaped, L-shaped, or otherwise – chances are there is a triangle at its heart.
Modern kitchens have three primary work areas: fridge, stove, and sink. The work triangle consists of a logical, ergonomic arrangement of these three areas to make the kitchen work more easily and efficiently.
Remember though, your lifestyle should determine the functionality of your kitchen, not the other way around. The triangle is merely a suggestion. Although it can be a helpful tool, don't let it inhibit you from thinking outside the triangle.