Time-pressured gardeners long dreamed of lawn that mowed itself – and then came Astroturf. Now there's a garden that can water itself.
The Hydro Falls self-watering garden is mounted on a wall so it's as much a decorative feature as a celebration of nature's bounty. It's modular, so you can choose how many tiers you'd like, and add as you go along. Choose your plants to be companionable and help each other fend off pests.
Vertical garden walls are very trendy. If you live in a small apartment you can easily install one on your patio wall and reap the benefits of having a luscious herb garden.
Best of all is that the Hydro Falls self-watering system does all the work for those of us who don't have the time for regular maintenance.
Depending on the size and shape of your wall, you can install the units either vertically or horizontally. There are detailed instructions in the accompanying manual – and in order to ensure the system works, you'll need to follow the directions to the millimetre. Fortunately, the manufacturers have worked it all out for you.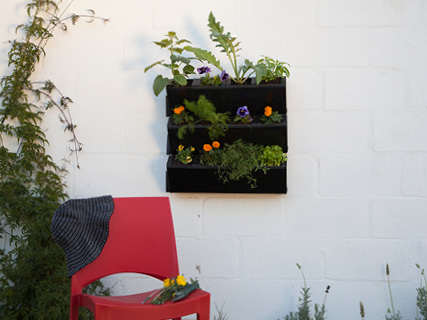 How the vertical garden waters itself
Hydro Falls is a water-flow system that allows circulation throughout all the connected units. There is a single watering point that contains water in the reservoir to make it suitable for indoor use and a removable plug allows you to release excess water if there's been a heavy rainfall.
The handy water level indicator will show you when you need to refill the reservoir and when it is full. Now your garden can look after itself while you are on holiday or away on business.
Top Tip: For the best accuracy drilling holes into wood, brick or concrete, take the little extra time to drill pilot holes. This will help prevent the drill bit from slipping and jeopardising the accuracy of your measurements.