Want to redecorate your patio? Try these quick décor winners to bring pizzazz to your outdoor patio space.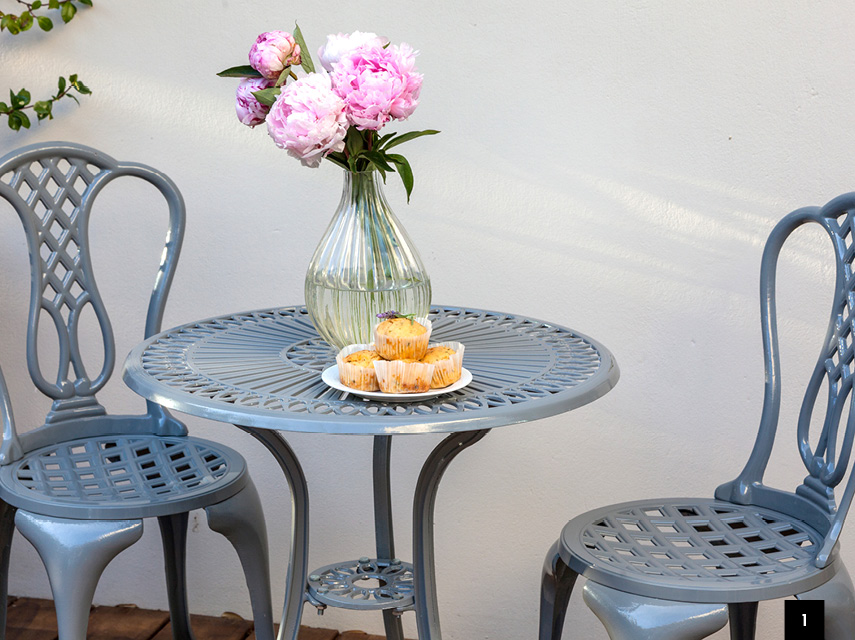 1. Create a breakfast nook
Breakfast is the most important meal of the day and should be enjoyed in a lovely setting to put you in the right frame of mind for the rest of the day.
A bistro set with a whimsical design creates a cottagey look. Place it on your balcony, deck or patio. Add a dash of colour with flowers in a vase or even a potted plant in a bright container. Sit back, relax and listen to the world wake up over a good cup of coffee.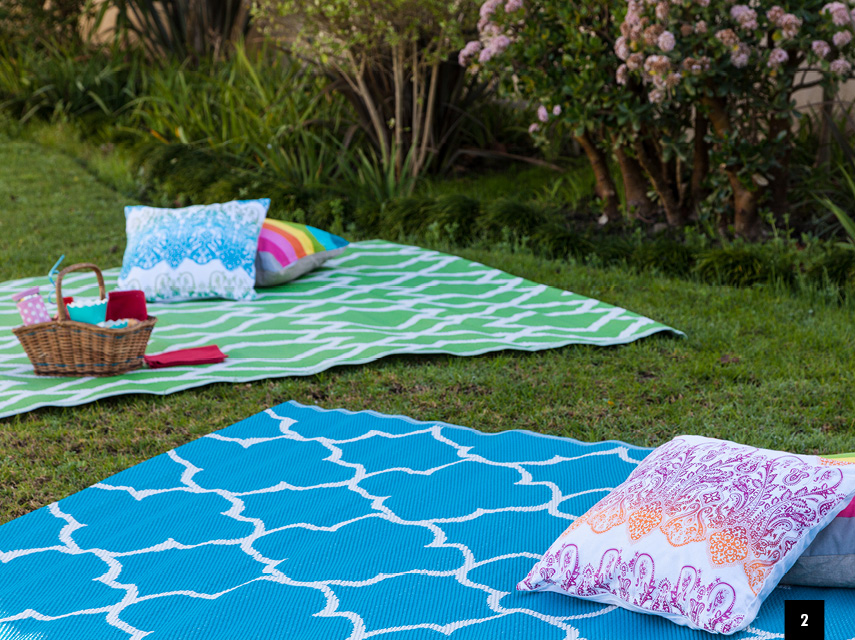 2. Make magic with outdoor carpets
Introduce geometric-patterned outdoor carpets to add a splash of colour. They're versatile, durable and can double up as picnic blankets.
Although we don't consciously think about it, a carpet is an essential element of décor, whether indoors or out. It creates a visual anchor to a room, adding interest at the same time. Plastic outdoor carpets are functional on the patio and can be packed in the car and taken along for a picnic. Add bright scatter cushions and a picnic basket and you won't want to do anything other than laze about and relax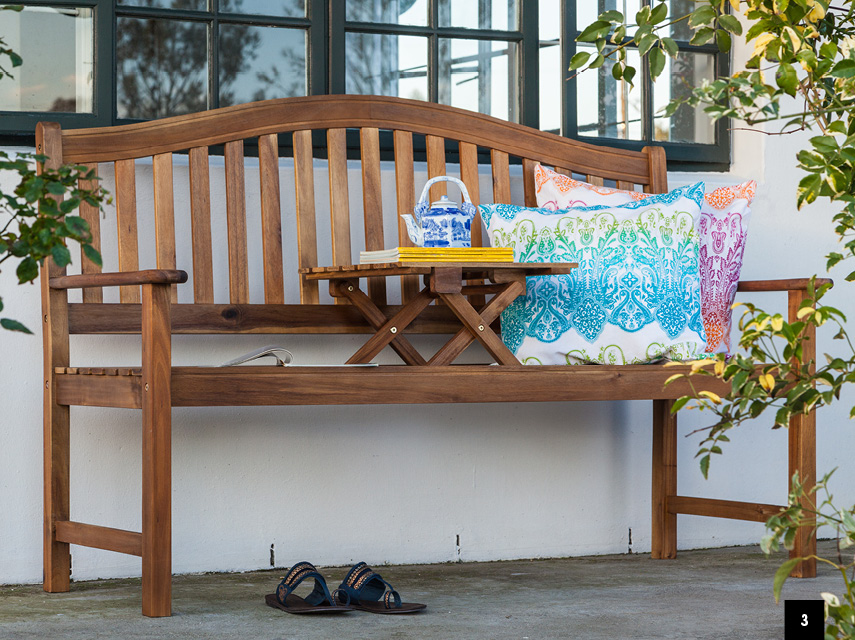 3. Welcome daydreams
Every garden needs at least one bench. They're also great on patios if you create a quiet space to use as a reading nook or simply to be with your own thoughts and daydreams.
Oil your bench regularly with teak oil to protect the wood from the elements and to keep the bench looking good.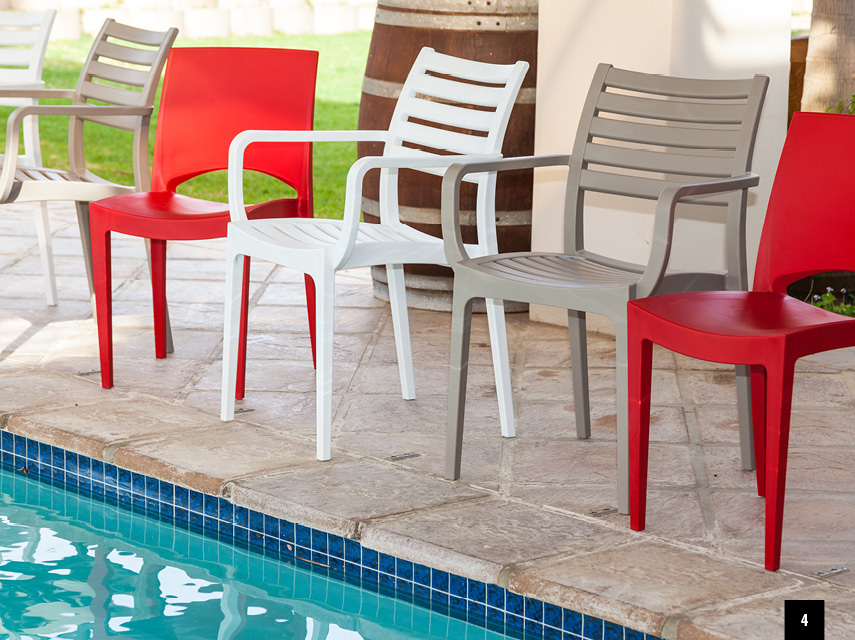 4. Play musical chairs
Don't get stuck on making everything match. Uniformity can be dull. Combine different outdoor chairs to create an eclectic look and feel to your patio.
The trick to mixing things up is to have repetition. If you have six chairs use pairs of the same colour and design so there is still a rhythm that works aesthetically. If all the chairs are different, it's a little harder (though not impossible) to keep your décor looking tidy.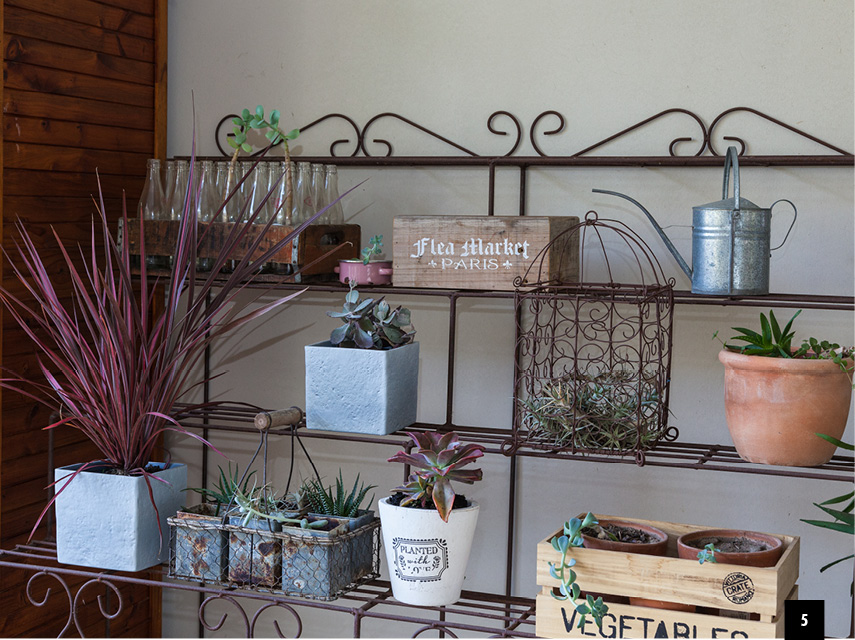 5. Keep things contained
Arrange different containers and plants on a stand to cover a dull wall or corner on your patio. The casual chic look is created by adding a collection of potted plants mixed with found objects.
Choose from the large range of containers and plants in the Builders gardening department and look for different heights and textures. Mix in some unexpected items such as enamel containers, glass bottles and wooden crates to make the collection playful. Choose contrasting plants such as fleshy succulents with grassy cordylines. Pink and grey tones work beautifully together in this setting with the two square cement containers as the focus.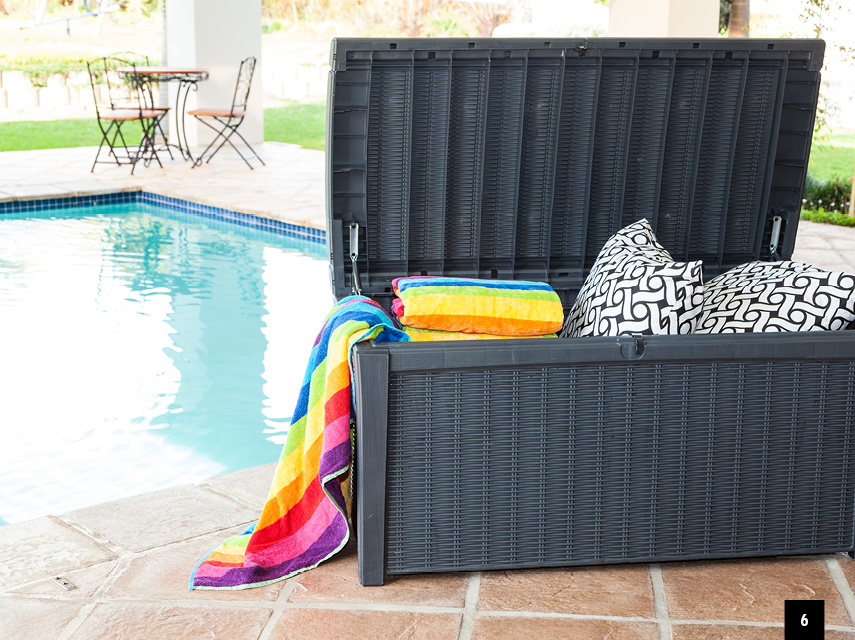 6. Store it poolside
Store patio scatters and towels neatly in a spacious storage box. Scatter cushions are a great way to instantly add trendy colours and patterns to your patio furniture. Keep things tidy and protect them from the weather in this modern storage box.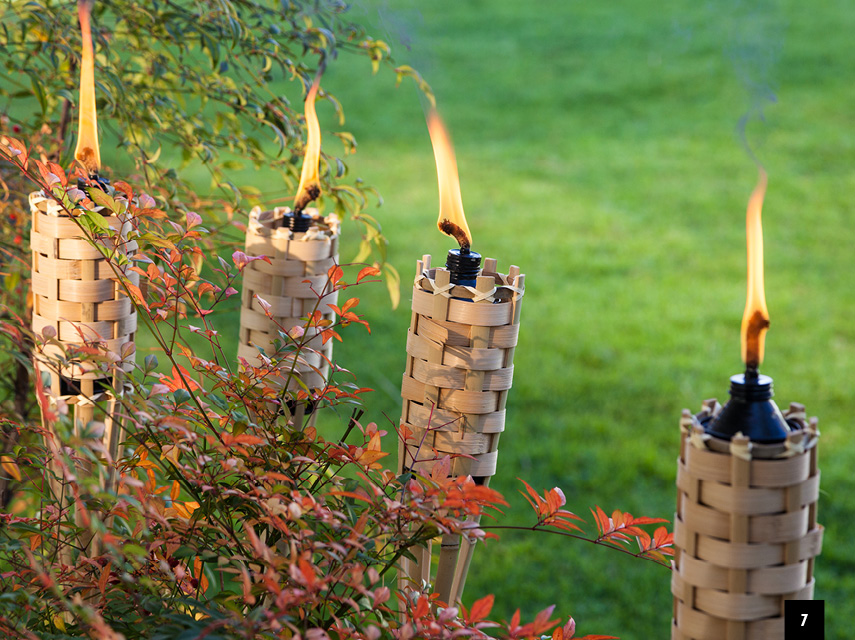 7. Light it up
Set the mood and light up a garden walkway or landscaped patio edge with framing torches. Fill them with citronella oil to keep the mosquitoes away and fill the night air with a fruity aroma.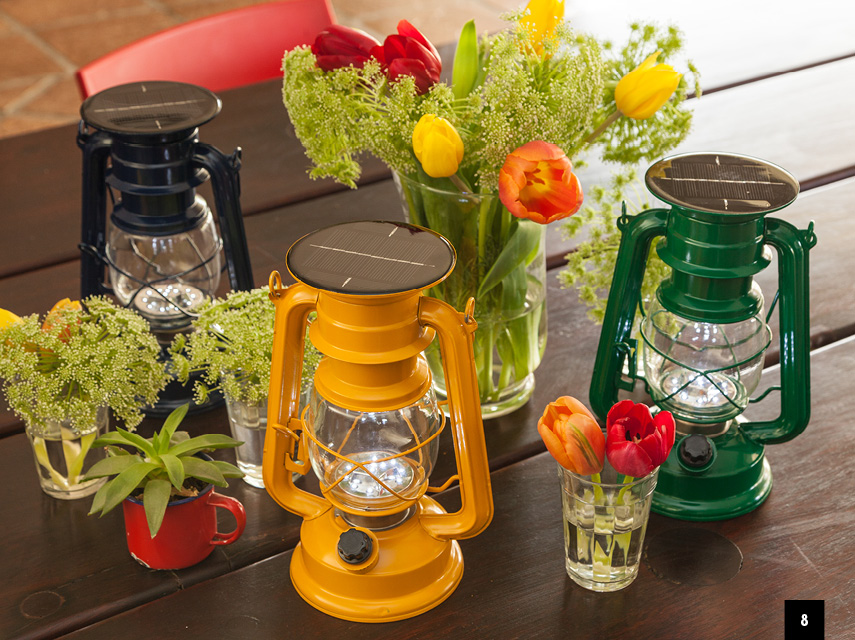 8. Centre stage
The age-old paraffin lantern has come a long way but without losing its charm. Nowadays they're solar powered with a bright LED torch inside and a dimmer switch so you can control the mood. The traditional swing arm allows you to hang them as well. Combine a collection of flowers in the tallest vase and use short single-stem blooms in the smaller glasses to create variety. Group them together with the lanterns in the middle of your patio table for an enchanting spring centrepiece.