Refreshing and tranquil, cool blues never go out of fashion – have fun playing with unusual combinations that make a statement in every room.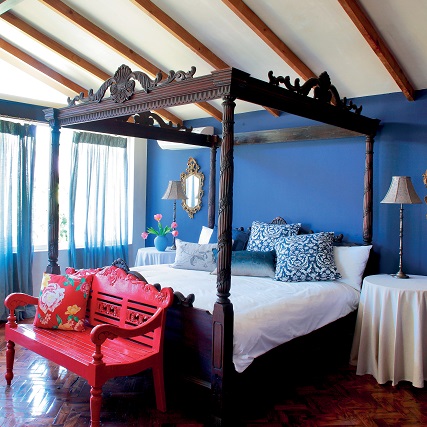 A touch of drama
A four-poster bed does not only belong in a classic interior. Paint a focal wall in a deep blue and added a glossy pink bench that creates a fresh feel. The deep blue wall also draws the eye to the intricate details on the bed. Wall painted in Plascon Moody Blue; bench painted in Plascon Valentino Rose.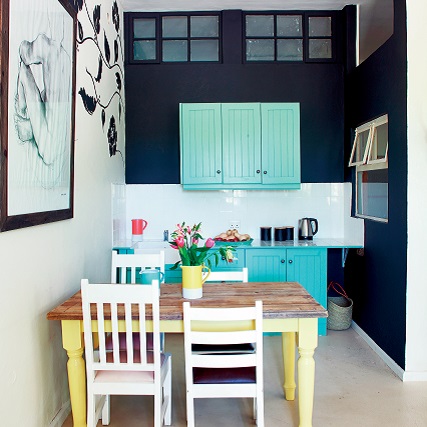 The Dark side
Cool and quirky, turquoise is seldom teamed with black. The matte black backdrop for the blue kitchen cupboards not only makes the turquoise pop, but also makes the kitchen look bigger as it creates the illusion that the wall is receding. Yellow table legs and flower decals on the wall add a bit of fun. Black wall painted in Plascon Dark Onyx; cupboards painted in Dulux Crystal Surprise 4; table legs painted in Plascon Lemon Rind.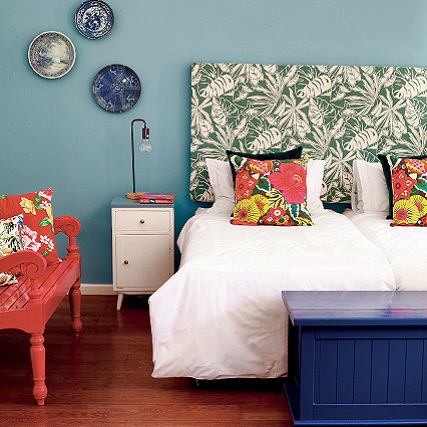 Cool, calm and collected
Gentle blue is associated with peace and tranquillity, which makes it a logical choice for a bedroom. Here, Katie added vibrant pops of pink and tropical motifs, which lend a cheerful, contemporary edge to a classic palette. Wall painted in Plascon Surfing Sarah; bench painted in Plascon Valentino Rose.
Credits
Referenced from Gallo Images / Home Magazine