Check out the latest kitchen trends for practical suggestions on how to breathe new life into the heart of your home.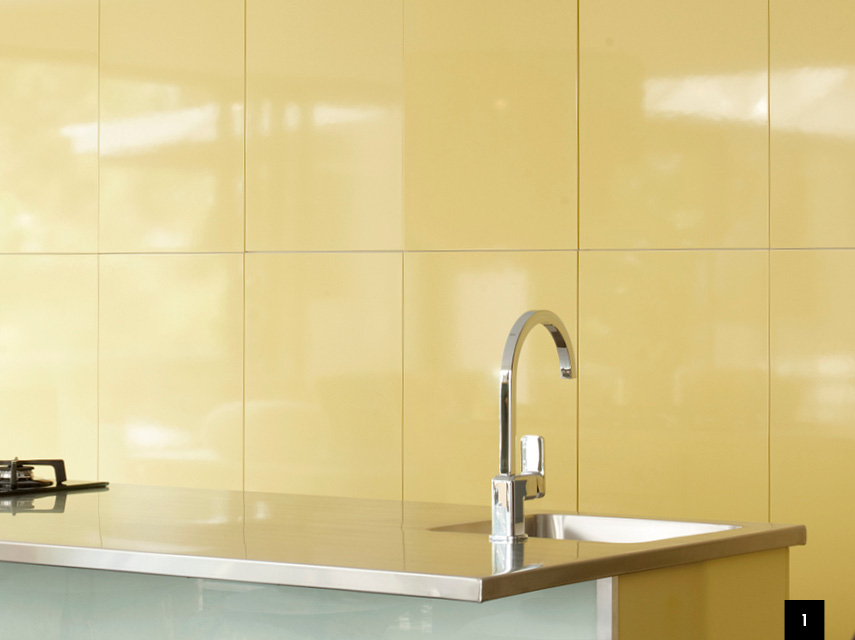 1. Less is More
The minimalist kitchen lends itself to designer finishes and functional, clever storage solutions. A neutral base creates a strong foundation for this look; think nondescript flooring options combined with clean, linear units. A daring injection of one colour is brave and refreshing and offers a punch to the otherwise monotone ensemble. Extra-ordinary elements can finish the look with pizazz, such as handcrafted works. And quirky designs can subtly add loads of personality. Contemporary is definitely not dull.
Less is more with this modern look. Choose storage elements such as a quirky bin, or funky chairs, to highlight the colour craze, and finish the look with thoughtful pieces that are refined in design, such as quality glassware, stylish modern containers and beautiful appliances.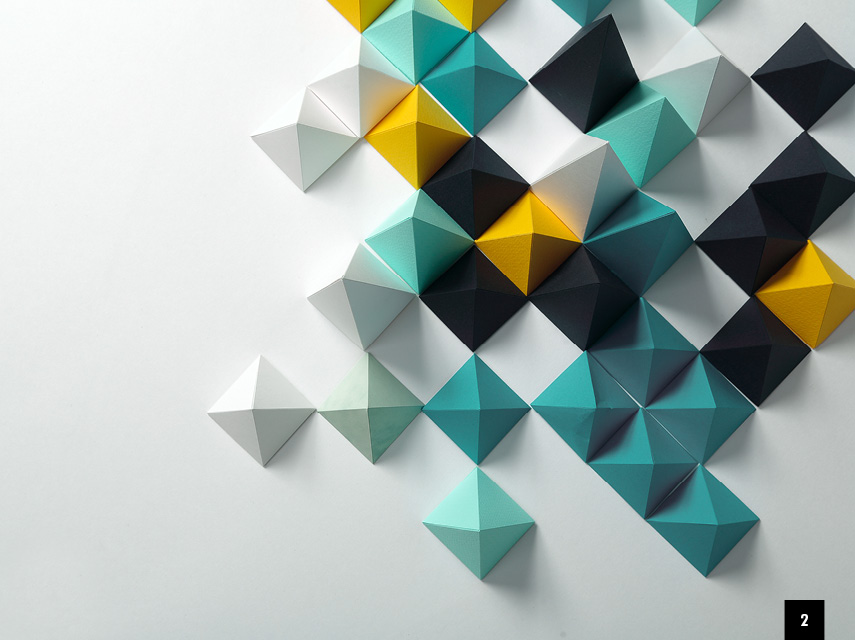 2. Shape your Style
Triangles, hexagons, rectangles and diamonds… whatever shapes you choose, geometric designs are hot right now. These motifs actually date back to ancient times when the geometry of tracing lines in circles was, well… trendy.
The geometric look is depicted by creating geo-patterns on tiles, mimicking distinctive lines in furniture and lighting design and moulding interesting 3D vessels; it epitomises a strong graphic allure. It is often monotone with colour accents and the neutral backdrop consists of a black, white and grey base enriched with touches of warm wood tones and contributing accents of colour. The appearance is fresh and stylish and appeals to a youthful, upmarket personality.
The geometric look is very simple and elegant and is built on a neutral base with strong geometric lines to catch your eye. It's not fussy, but invest in statement pieces that can be shown off, such as gorgeous bowls, fabrics, lighting and stools.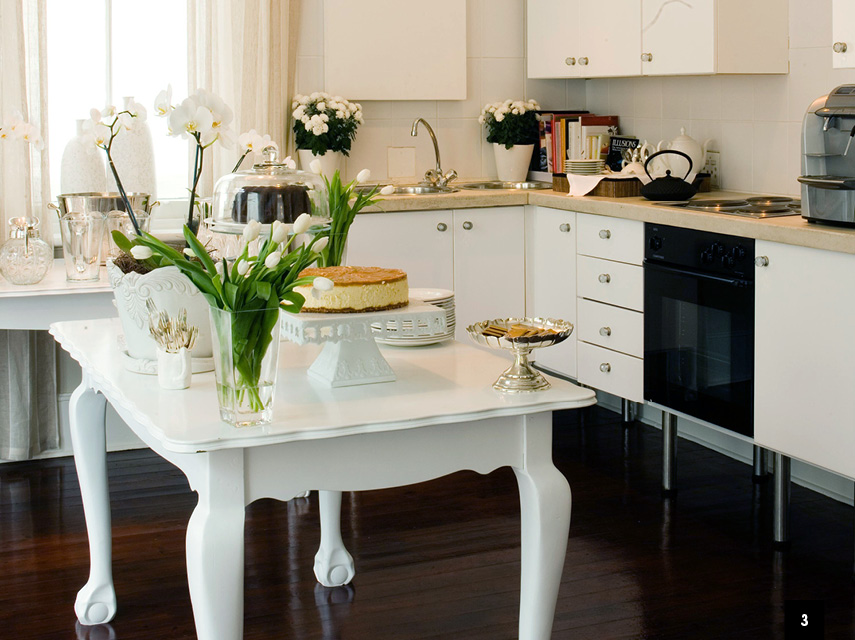 3. A clean slate
White need not be clinical and austere – it's a great canvas for building a versatile space. Keeping the look simple and colourless creates a sense of lightness.
White is airy and – above all – timeless. Accompanying elements can be changed often and the style can vary from country chic to modern classic by just adjusting the trimmings. A white kitchen goes with almost any building style and is a safe investment option. In the end, the finishes will determine how sophisticated your white kitchen is. The selection of countertops, handles and lighting will give the look its distinctive edge.
White is a firm favourite as a base, and on the whole a very successful statement trend. Layering different whites is an art and this can be achieved by investing in unique white items you love. If you're a keen baker choose an array of beautiful utensils, if you're a socialite choose wonderful crockery – one rule, all white. It is the same but different.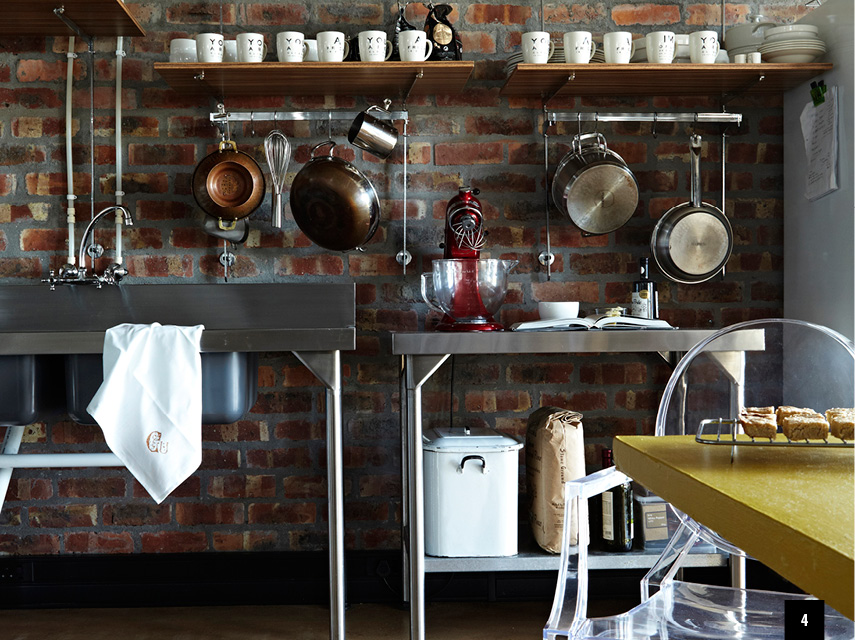 4. A purposeful kitchen
The kitchen is the heart of home industriousness, and what better look to mirror this energy than the industrial one. Exposed bricks and steel units form a perfect industrial marriage. The industrial kitchen is genuine and needs no fancy frills. Keep it original with utility styling, pipes that are wall mounted and seen as ornamental, shelves that are open, appliances on display and surfaces and finishes that declare function. The rugged look is part of the appeal and decorative layering and colour is almost non-existent. The combination of bricks, cement, steel and wood creates an authenticity that will remain timeless.
There's no pretence in the industrial kitchen, and a functional piece is also often a display piece. Surfaces are raw and rugged; lighting is exposed and oversized and the look is built on neutrals, which means the colour palette is naturals, black and white. If you're on the fence, choose grey! You could call this style masculine, but it's more about the authentic way in which things are used.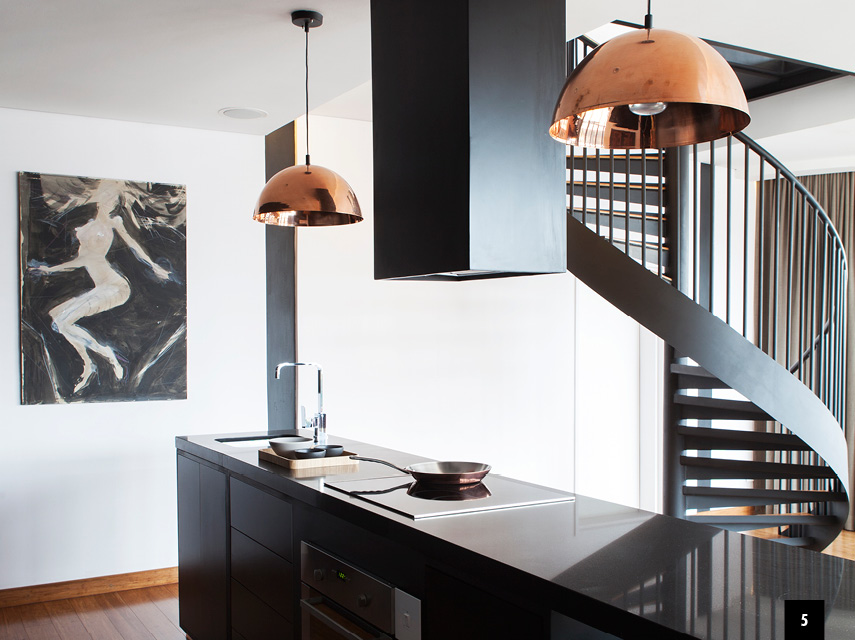 5. Glam it up
Mix dark shades with splashes of metallic for a glamorous kitchen.
Dark tones need not be intimidating and lustreless. The trend here is to mix dark hues that differ subtly in tonality on walls and cupboards and furniture. Add extra glamour with splashes of copper (a favourite at the moment) and other metals. One of the easiest ways to do this is in your light fittings. Metallics should be used sparingly in this look, letting the power of the 'bling' contrast with rich raw wood. The look lends itself to modern lines and finishes. Marble tops and splashbacks add wonderful textural depth to the appearance, and the overall look is quite minimalist and clean.
The combination of elements is very sophisticated and the base is modern, clean and graphic. The touches of metallics thrown in give this look its edge.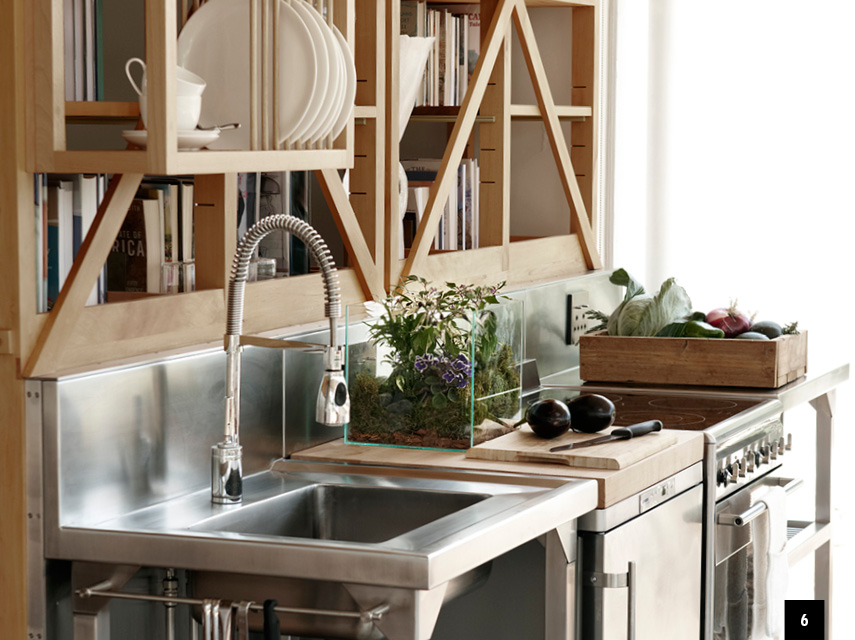 6. Just add texture
The kitchen is a joy to the senses and the trend of creating a more tactile, textured space celebrates this. Build this look with subtle tones and textures to create a harmonious look. Clean lines merge with the key elements of pale wood, stone, and
white. Use them all in a coordinated fashion on walls, doors, countertops and the kitchen island, and keep intricate adornments to a minimum.
Nature and textures are a wonderful source of inspiration and truly create a serene space when implemented in décor. The combination of elements is really subtle but the golden thread is to keep in touch with nature while finishing off the look with a refined, slightly designer edge. This look's true magic is in its simplicity.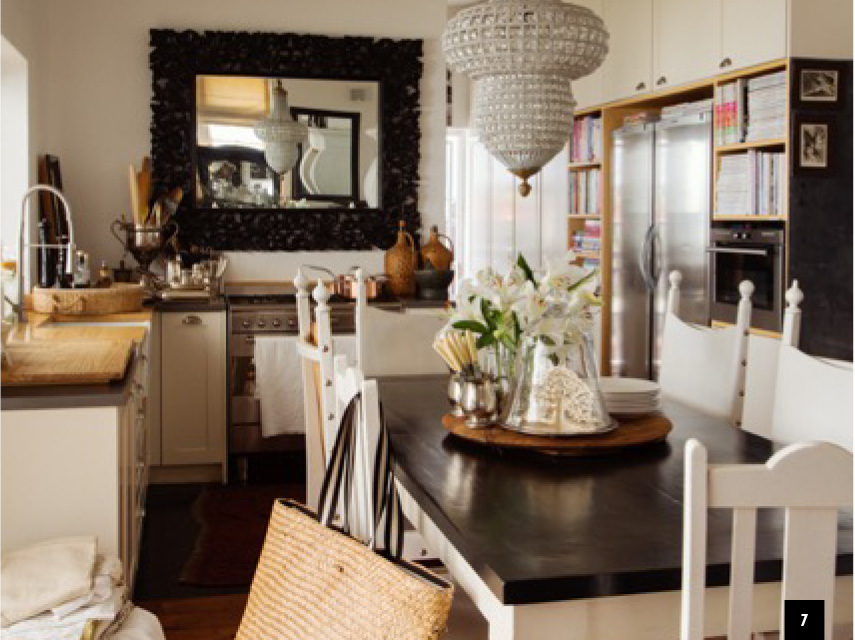 7. Modern Country
A country kitchen is laid-back and often the most enjoyed room in the house. The old style gets a modern revival with trendy features such as copper pots on the stove, collections of heirlooms on display or elegant new fittings and finishes. Old country cupboards can be wowed with a new coat of white paint; handles are the secret pick-me-up trick. By simply changing the handles on the cupboard doors you can inject a breath of fresh air into your kitchen. These elements all contrast with the country feel, and will leave it fresh and inspiring and trendier than ever before.
Think comfortable with a slightly contemporary appeal. This is the new country style and it's very inviting, reminding us that the kitchen is the heart of the home, just as in the old days. Drag your pretty pots out from their hiding place in the cupboards and put them on display, use storage baskets for veggies, and there's a new take on the classic country checked fabric – now stylish in black and white.
8. Retro
The retro look is one you can take on across the spectrum, from blow-your-hair-back, full-on 1950s to a few subtle suggestions of the good times. This is a fun look, full of colour and vibrance. And it's made a comeback in kitchens. Cupboards in teal or pale blue can contrast deliciously with mid-twentieth century appliances in red, pale blue and teal. Throw in decorative trinkets in the same combination, with added bits of white and even a touch of black – and hey presto, you've done a time-warp! If you're new to this look but keen to give it a whirl, basic kitchen cupboards can be updated to suit this style with paint accents, then add a colourful tiled splashback and decorative adornments.
Retro signifies a fun way of decorating and typically amounts to a collection of 1950s-inspired designs. The kitchen is a wonderful space to implement this look with a delectable choice of appliances and elements that can be introduced to represent this fun era in design.