Paint is still the best and most affordable way to give your house a fresh new look in a flash. We show you colourful ways to reinvent your space.
Do you have a room in the house that lacks a focal point? Is the front of the house missing an overall look? Are you struggling to create just the right atmosphere in your bedroom? All these problems can easily be remedied with a brush and a tin of paint.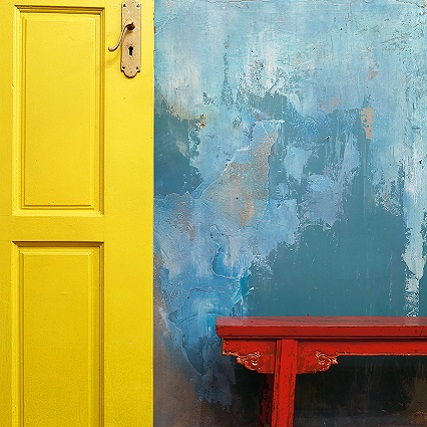 Playful and Vibrant
Create a lively feel with just the right colour combinations and paint techniques. To recreate this Mexican inspired corner in your home, choose different layers of colour, says Faux Innovation paint technique artist Francois Strydom. Let each layer dry thoroughly before adding the next. If you'd like larger pieces of paint peeled off, use a candle to draw over the first layer, paint the second layer over the top and then remove the remaining wax with a scraper. You could also melt the candle and paint the wax on with a brush.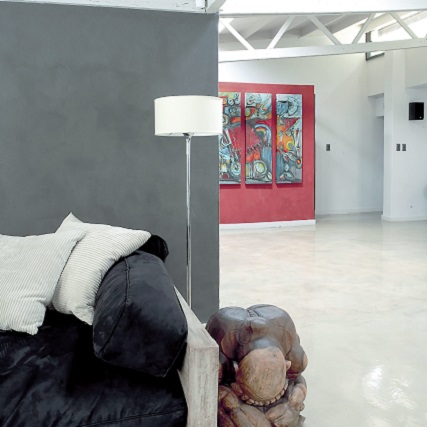 Painting a focal wall
This spacious, modern home had a cold, art gallery feel – and no natural focal point. The easiest way to create a focal point is with a contrasting colour, as shown in the picture with Rant & Rave red from Earthcote. The focus wall in the foreground is painted with Ja Boetie Johan-grey from Earthcote's Limestone range and contrasts beautifully with the white.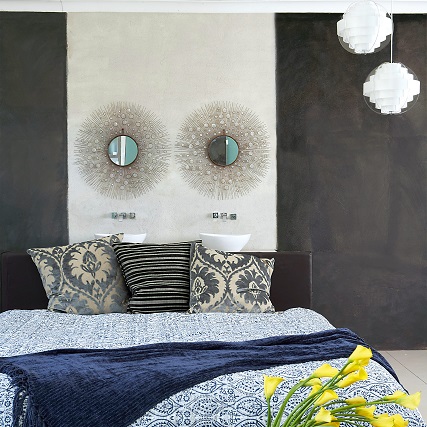 Creating atmosphere
Originally, this big bedroom was cold and impersonal – but the dark grey walls (Clovelly Quarry from Earthcote's Pandoma range) give the room a more intimate atmosphere. The light strip (Pitted Stone from Earthcote's Pandoma range) behind the washbasins is definitive and strengthens the focus on the bed.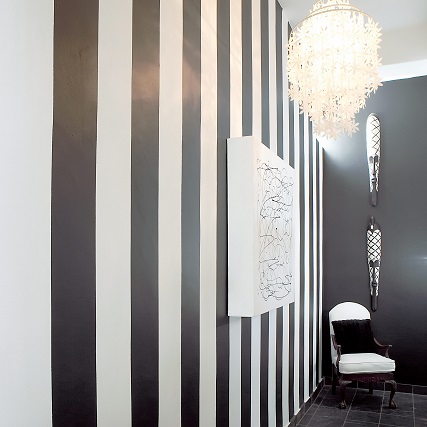 Looks can be deceiving
Is your passage too long, too narrow or even too short? Use an optical illusion to achieve your desired result. Here, the vertical stripes have been used to make the passage appear shorter and the walls higher than they are. Use masking tape that is specifically used for painting; it's stronger than regular masking tape and prevents running or bleeding and is therefore ideal for clean lines when painting stripes.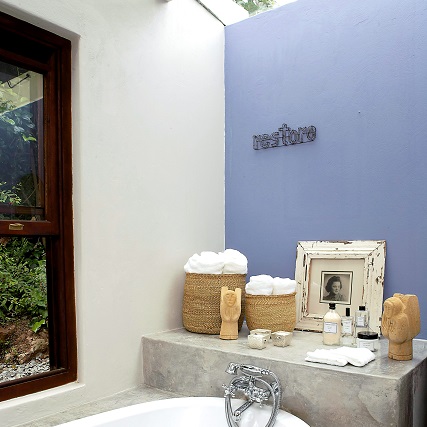 Cool and calm
Soft greens and blues create a calming effect in a room as they reflect nature, says Plascon colour expert Anne Roselt. Here blue, grey and white combine to give the space a relaxing, down to earth atmosphere. For shades similar to those shown here, have a look at Panache Paints' Ocean Splash, Bravado or Periwinkle Palace from Plascon.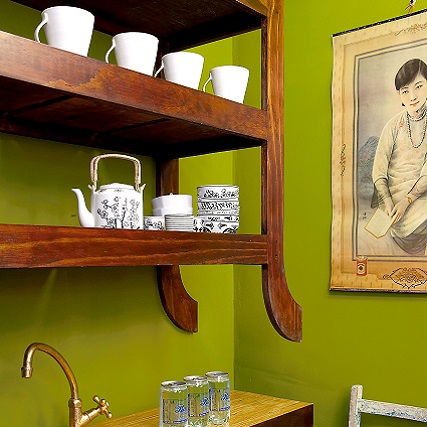 Ecofriendly
With an ecofriendly lifestyle being a top priority nowadays, green continues to be big. Try a fresh green such as Panache Paints' Brosym or Earthcote's Envy Green.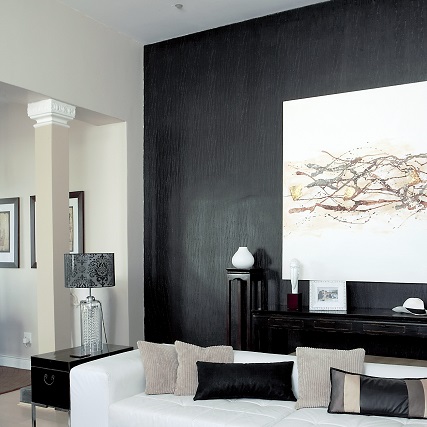 Elegant in black
Black and white are still very fashionable. Here the black wall and white leather sofa show how dramatic and elegant this combination can be.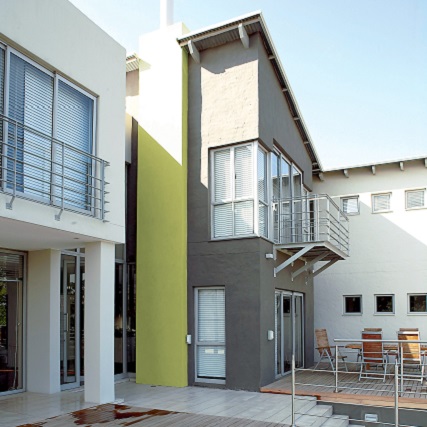 Choosing the right colour
It's no easy task choosing a paint colour from a display stand. These tips will make the job a little bit easier.
Collect a few pictures of walls and colours that you like from your favourite magazines
Go to a paint shop that has a wide variety of samples and get as many paint sample cards as you can of the colours closest to those on your pictures
Also look at various paints and textures; the same colour might appear slightly darker in a matte finish than in a high gloss enamel
Take your time – if you're not sure about a certain colour, take the colour sample home with you and think about it some more
Try three or four different colours and buy a small tin of each – paint it on loose panels about 1m x 1m in size then look at these samples in various rooms in the house at different times. Take into account the natural light in a room – or the lack thereof – as this can dramatically change the final colour
Keep in mind the size of the room; a darker colour will make space appear more intimate while the same colour, used throughout the house, will make it appear more spacious

<

Be aware of current trends, especially if you are thinking of selling your house
Ask professional paint specialists for advice; if a colour consultant is available, ask to see a portfolio
Colours can also be easily mixed if you show a consultant something you like that you cannot find on a colour chart; paint shops that stock various ranges of paint can mix any paint colour across ranges
If you have to choose between two colours, the light one is usually the safer option
Mistakes when choosing paint
The biggest mistake most people make is to paint a whole lot of samples of about 30cm² with a small paint brush.
To get an idea of the final colour, you should apply the paint with a roller and give it two coats. The other problem with a small sample is that the surrounding walls will influence it. That is why it's best to check each colour out in a block of 1m².
Credits
Referenced from Gallo images / Home Magazine