Renovating a bathroom is an inconvenience and it can be expensive. But making some decorative changes will make a huge difference, without costing a fortune.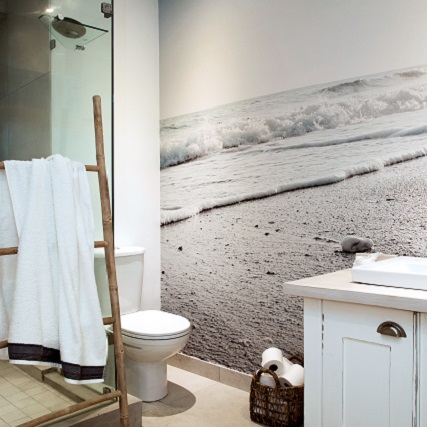 Step 1
Wallpaper in bathrooms is becoming a popular choice, provided you have sufficient ventilation. Adding it to just one wall can transform your bathroom and it's also easy to keep clean with soap and water. A beach landscape taken by well-known Durban photographer Jon Ivins creates a focal wall and a sense of greater space in this small bathroom. The homeowner found the picture online and had it printed on wallpaper; search online for a stockist near you.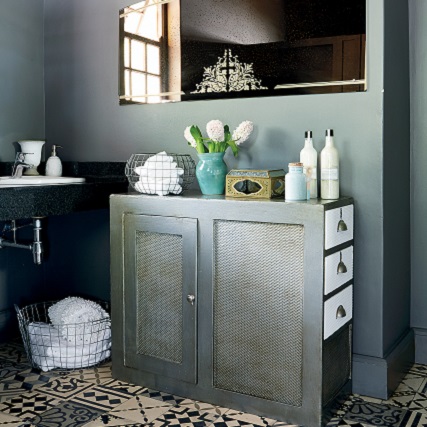 Step 2
Give your bathroom a quick and easy revamp by simply changing fixtures such as taps, or adding new accessories such as towel rails, shower curtains, mirrors, soap dishes and storage items. The cupboard updated with metallic paint!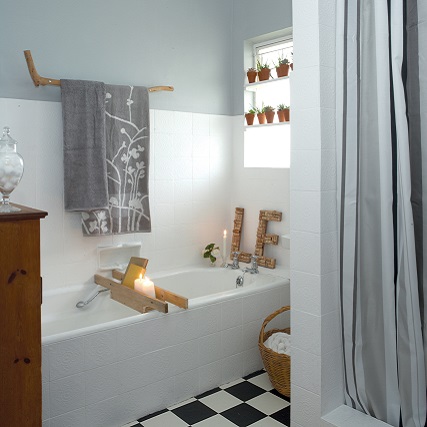 Step 3
Turn your window into a vertical garden by installing shelves and adorning them with pots planted up with anything from ferns to succulents. Bright idea! A piece of driftwood has been repurposed as a towel rail.
Step 4
Can't afford to re-tile entirely? Then keep it simple and tile only a decorative strip inside the shower, taking it all the way to the shower floor. In this bathroom, the wall is plain cement treated with a clear sealant. If your budget allows, consider tiling the entire inside of the shower (below) – mosaics remain a popular choice.
Step 5
Grimy grout makes for an unsightly bathroom. By simply cleaning the grout, or scraping it out and replacing it, you can add sparkle on the cheap.
Your DIY is complete
Your DIY bathroom touch ups are complete! With these easy fixes you can have a luxurious bathroom on a budget.
Credits
Referenced from Gallo images / home décor basics 2017