In the fruit orchard, spend time planting strawberries, composting fallen fruits, fertilising mango trees, and so much more. Let's get gardening!
PICK
Apples
Pears
Lemons
Limes
Mandarins
Grapefruit
Oranges
Kumquats
PLANT
Deciduous fruit trees. Click here for more info!
Strawberries – Research shows that planting strawberries in winter rainfall areas will produce a higher yield in summer. The delicate flowers can't handle frosty conditions, so in frost-prone areas, it is best to protect plants from the elements or wait until a little later to plant.
CHORES
Collect and compost any rotting fruit from under fruit trees.
Check harvested fruit to make sure nothing is rotting. Remove fruit
as soon as it starts to decay. Rot can spread throughout a whole
harvest within a week or two.
In the subtropics, fertilise mangoes by putting Wonder Fruit &
Flower Fertiliser into a series of holes poked into the soil beneath
the outer foliage.
WONDER FRUIT & FLOWER FERTILISER
A high-potassium fertiliser with slow-release nitrogen for healthy flowering and fruiting growth.
*Pro tip:
Avocados will begin to ripen in some areas – so keep your eyes on the trees!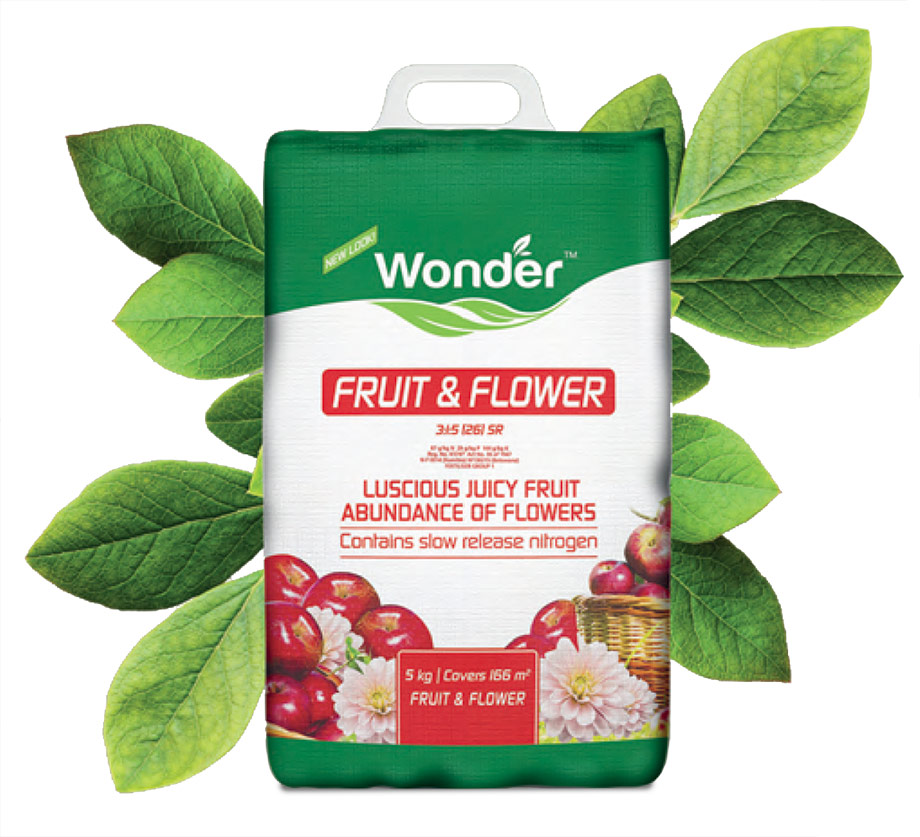 Fruit tree orchard protection
While the temperatures may be dropping – don't drop your defences on fruit tree orchards. Protecting your trees from the harsh conditions of winter involves both preventive and proactive measures. Explore these tips on treating and preventing disease and damage.
WINTER DISEASE
Spray stone fruit at the pink bud stage with Efekto Virikop to control leaf curl. Also use Efekto Virikop to protect your fruit against pests, such as:
Peaches and apricots against bacterial canker and gum spot.
Peaches and plums against bacterial spot.
Peaches against leaf curl.
Apples and pears against scab.
Grapevines against anthracnose.
Silver leaf
This severe disease affects plums, but it can infect apple, apricot and cherry trees too.
Main symptoms:
Silvery tinted foliage.
A darkened irregular stain (can only be seen when cutting
through the branch),
Bracket fungi appearing on older branches.
To avoid spreading the silver leaf virus in your garden, postpone pruning your peach, plum and almond trees until summertime.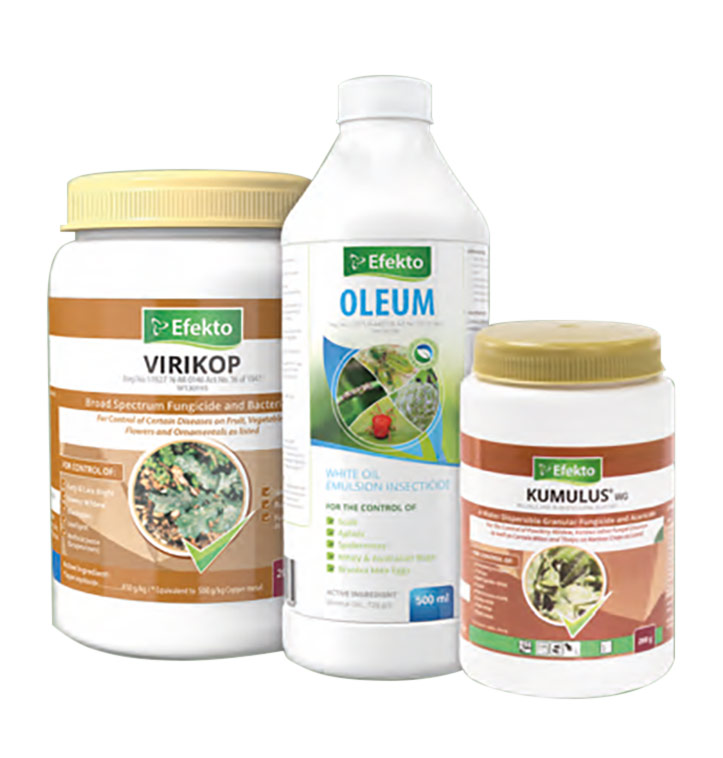 TOP TIPS
Reduce the chance of frost injury by gently hosing over plants first thing in the morning.
Move tender fruiting plants that are growing in containers to warmer areas for winter.
Spray deciduous fruit trees with a winter clean-up spray (Efekto Kumulus WG and Efekto Oleum) to remove any lingering pests and diseases.