Enhance this private sanctuary by choosing nurturing, relaxing lighting.
There are three basic types of lighting that work together in your home: ambient, task and accent lighting. A lighting plan combines all three according to function and style.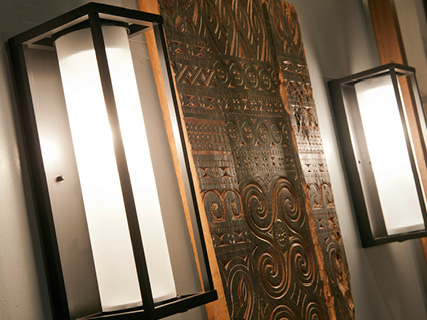 Ambient lighting
Some bathrooms are utilitarian but the trend is to make them more of a retreat for relaxation and self-indulgence. Whatever the size of your bathroom, make sure you create a warm glow in it. This is the ideal room for a motion sensor, although to avoid the sudden shock of bright lights in the middle of the night, a dimmer would also be advisable.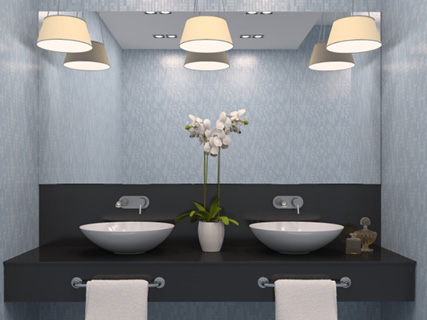 Task lighting
Mention mirror lights and immediately people think of a starlet's make-up table backstage. But mirrors in the home also need to be well lit. For a small mirror, use wall lights, one on either side and about 1.5m off the floor. It might be useful to put them on a dimmer so you can soften their effect when you're not using the mirror.
For a large mirror, hang the lights from the ceiling. This is tricky as you don't want to cause glare, so choose lights with a good diffuser or ones where you can change the angle. Take into consideration how much light you'll need when showering or bathing – you'll want to be able to read shampoo labels.
So while you want bright lights to read by, you also want some low lighting for calm. Here, recessed downlighters are excellent, especially when on a dimmer, but make sure you get ones designed for wet areas. Always choose full-shade diffusers to prevent glare.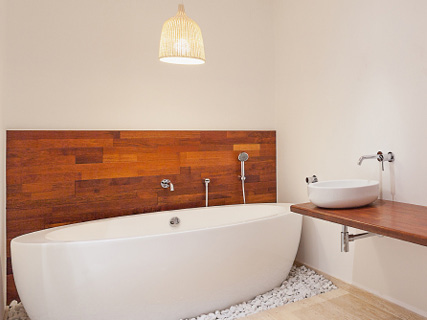 Accent lighting
If you do a lot of reading in your bath you might even want an adjustable accent light appropriately positioned. Under-cabinet lighting (along the kickboard) or foot lighting along walls can add wonderfully to the visual temperature of a bathroom. Another option is to install energy-saving lamps or LED strip lighting under the furniture which you leave on all night to facilitate midnight trips to the bathroom.
If you choose not to have a central fixture for your bathroom's ambient lighting, then you can use your other lighting to raise the ambient light to a good level while still satisfying all your bathroom's task and decorative lighting needs. In such a case, remember to connect all the lights to the same switch so that with just one flick you'll have enough light to use the bathroom (otherwise you could end up having, say, only the foot lighting for illumination because its switch is the most accessible).