Think functional, practical and personal; we show you how to make the most of your work space – big or small!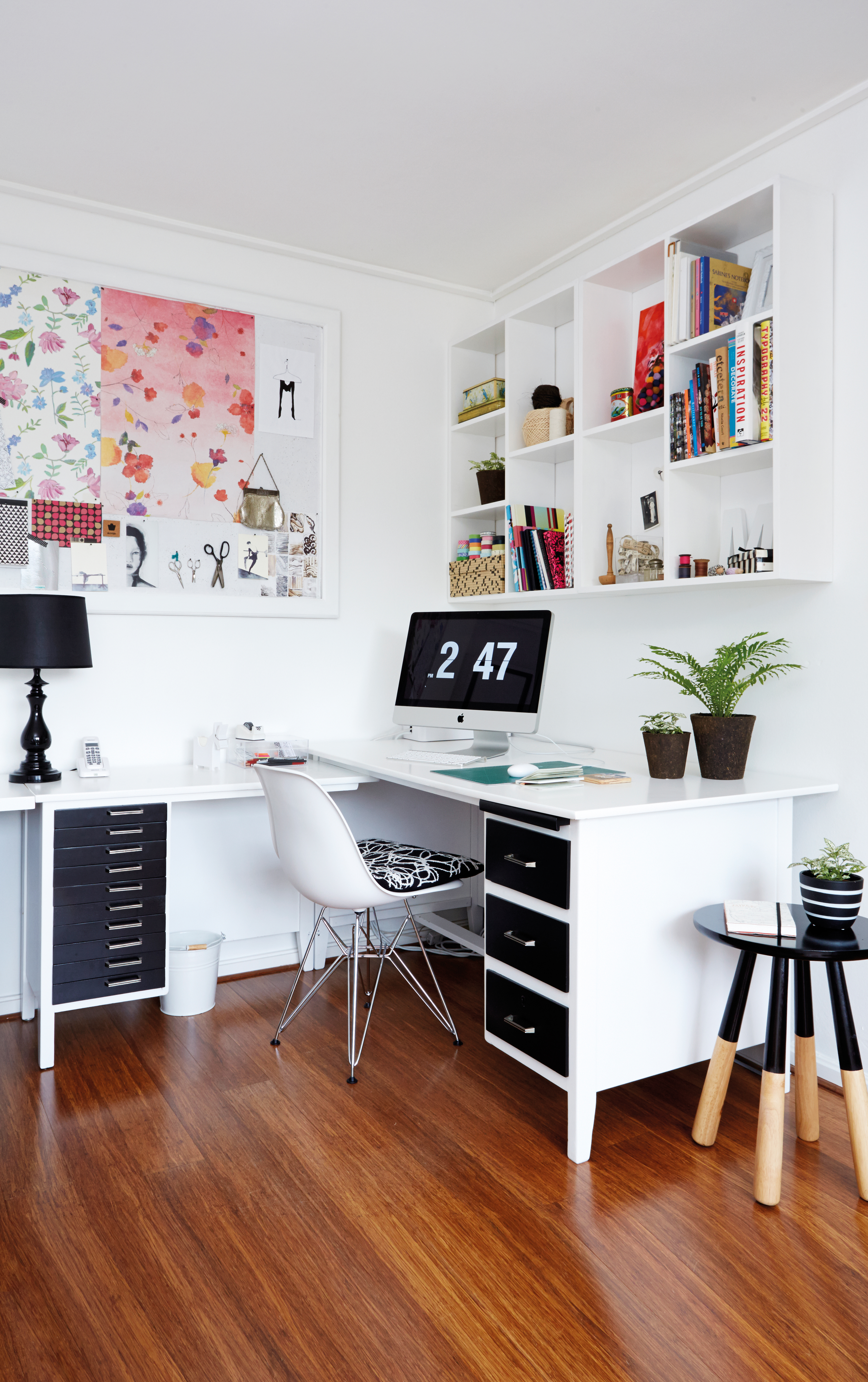 Home office 1
Multifunctional
A designer – and multitasker – by trade, this creative's small home office packs a punch. Working from home allows you the freedom to structure and schedule your day according to your needs – and your home office should reflect this. Here, the office space has been divided into various 'zones' suitable to different tasks. A crisp and timeless monochromatic palette inspires both work and play and the clean lines of the office space, inspired by Scandinavian minimalism, offer graphic points of interest to keep the artistic juices flowing as well as enough storage space to maintain order. The combination of both modern and retro décor elements works well with the black and white colour scheme.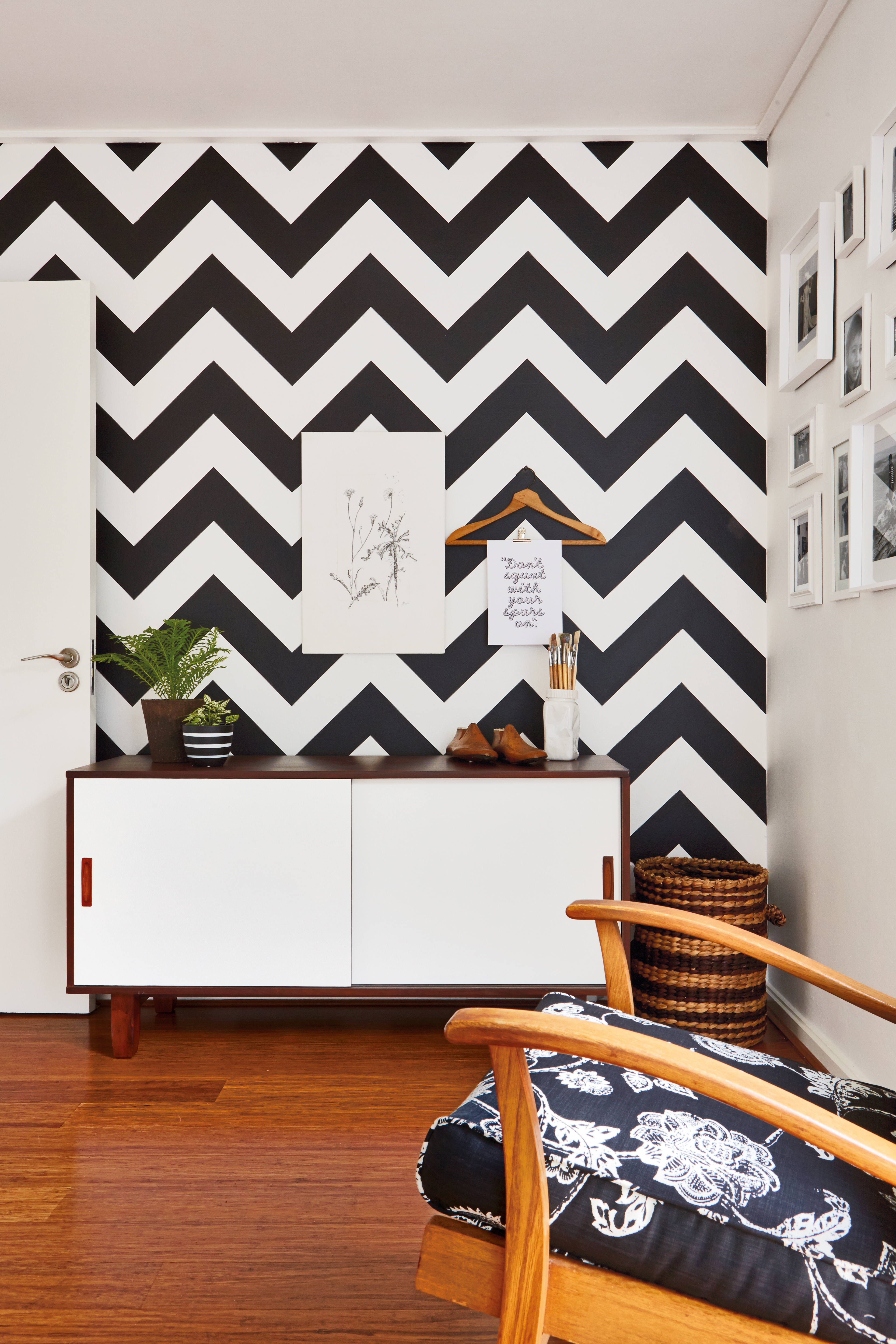 Splash out! Paint a chevron
Once the base coat (in this case, standard white paint) has been applied and is dry, adhere the stencil to the wall with masking tape. Paint over the masking tape sparingly with your base coat to ensure that there's no bleed-through when you add your second colour.
Using a standard black, paint every alternate row. You can add a second coat for a rich black colour.
Once the wall is semi-dry, pull the masking tape off. Be sure to remove it slowly (and at a slight angle) in order to avoid any bleeding of the paint.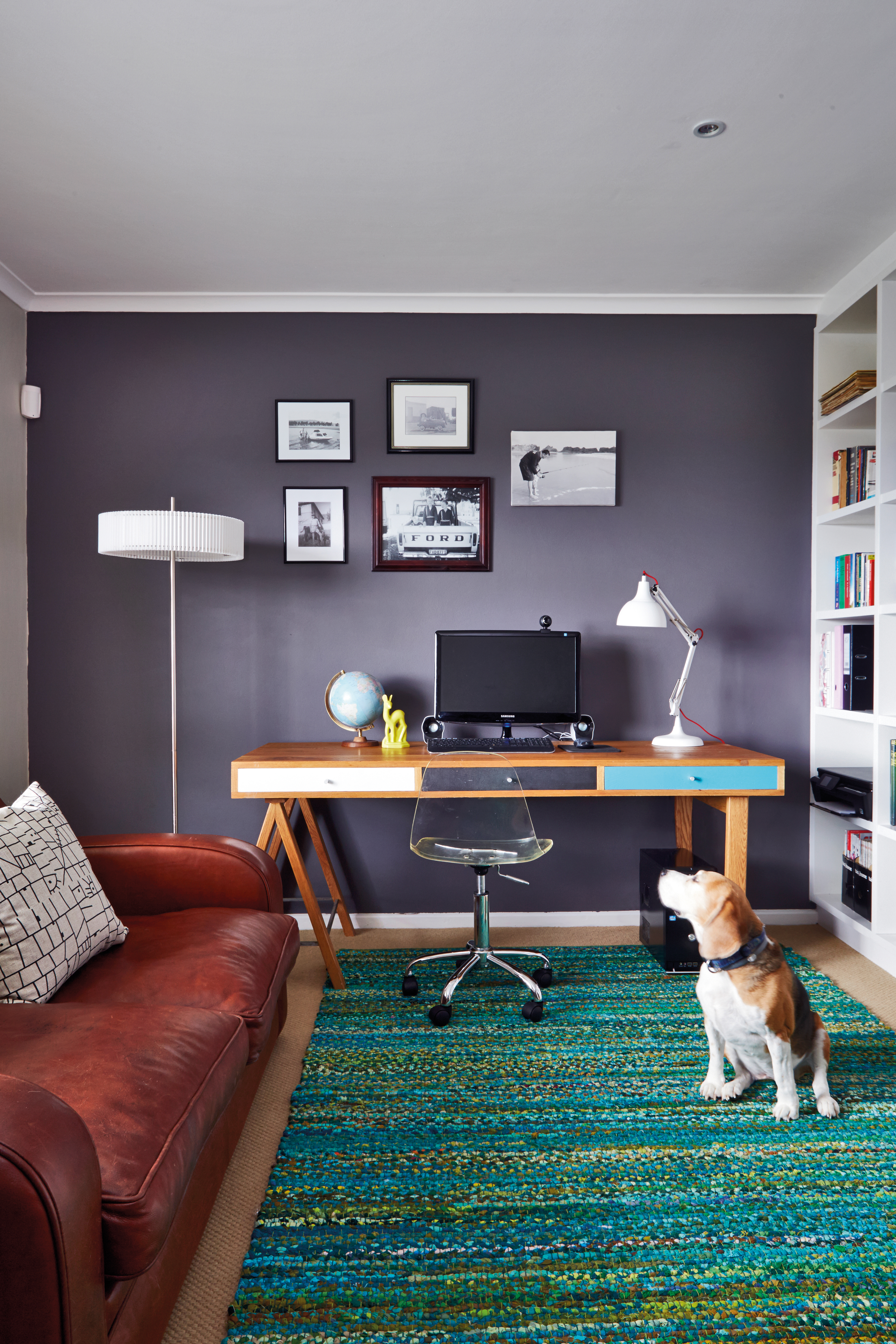 Home Office 2
Organised by design
Beatrice Moore- Nöthnagel, Tuis and Home's features editor, uses her home office to do research and write without distractions. She designed the space to suit her professional needs and lifestyle.
A work in progress
Since Beatrice and her husband, Christo, bought the house eight years ago, the room adjacent to the front door had been a work in progress with a dark-stained pine table, shabby chair and worn blue couches. The room wasn't very relaxing or welcoming, a pity given that it's flooded with gorgeous sunlight during the day and is also the place where the couple spend quality time with their daughter Emma (4) and beloved beagles, Frodo and Fiona. They were looking for a balance between a work space and a family room, where Beatrice can work on the computer or read on the couch while Emma plays on the floor.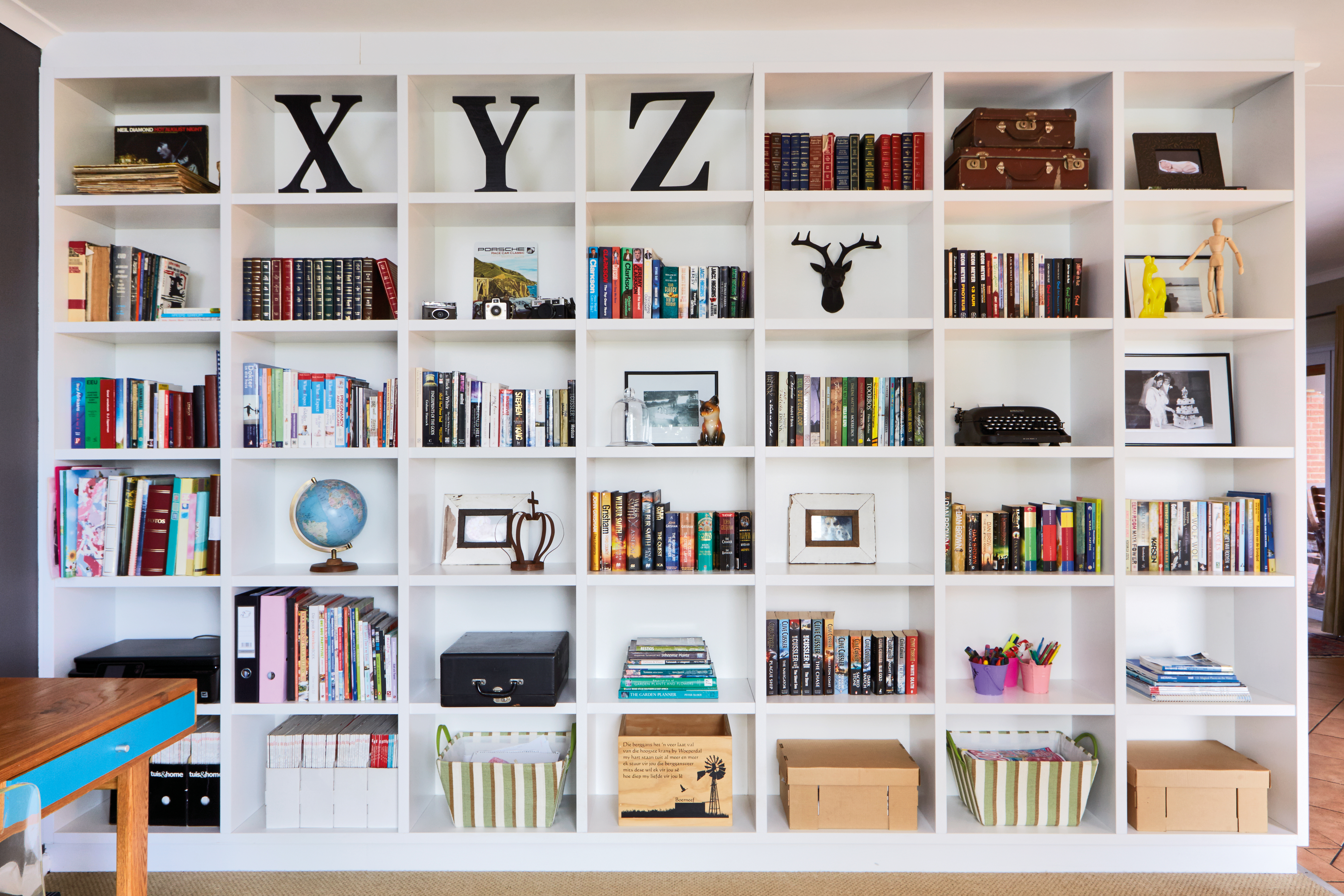 On the wall
Being a writer, Beatrice had always dreamed of a wall-to-wall bookshelf with plenty of pigeonholes that she could also decorate with décor finds and family photographs. Joos Joiners created her dream bookshelf with 42 pigeonholes of about 40 x 30cm each. The white MDF wall unit has a contemporary feel to it and Beatrice says the R20 000 investment was well worth it!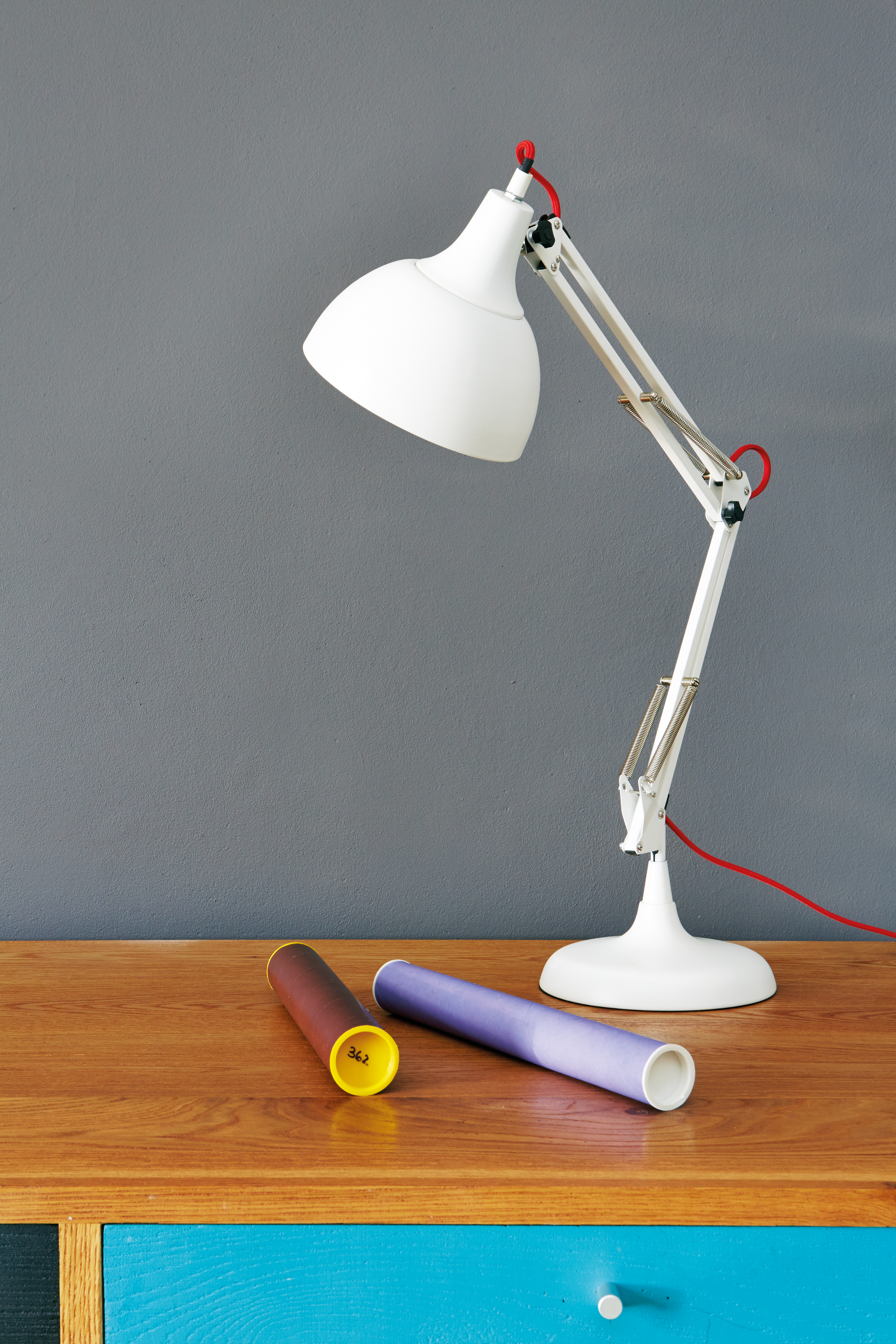 The Desk
To soften the stark white shelves, and inspired by a design she saw on Pinterest, Beatrice had a desk custom made to her specifications (find a carpenter online, or ask around for someone who can recommend a trustworthy artisan). The oak top was sandblasted to give it a worn feeling. 'I love everything about my desk, from the coloured drawers to the trestle leg with steel bars on the left,' says Beatrice. Thanks to the bookshelf, Beatrice's desk is clear of clutter with a simple desk lamp and standing lamp for additional lighting.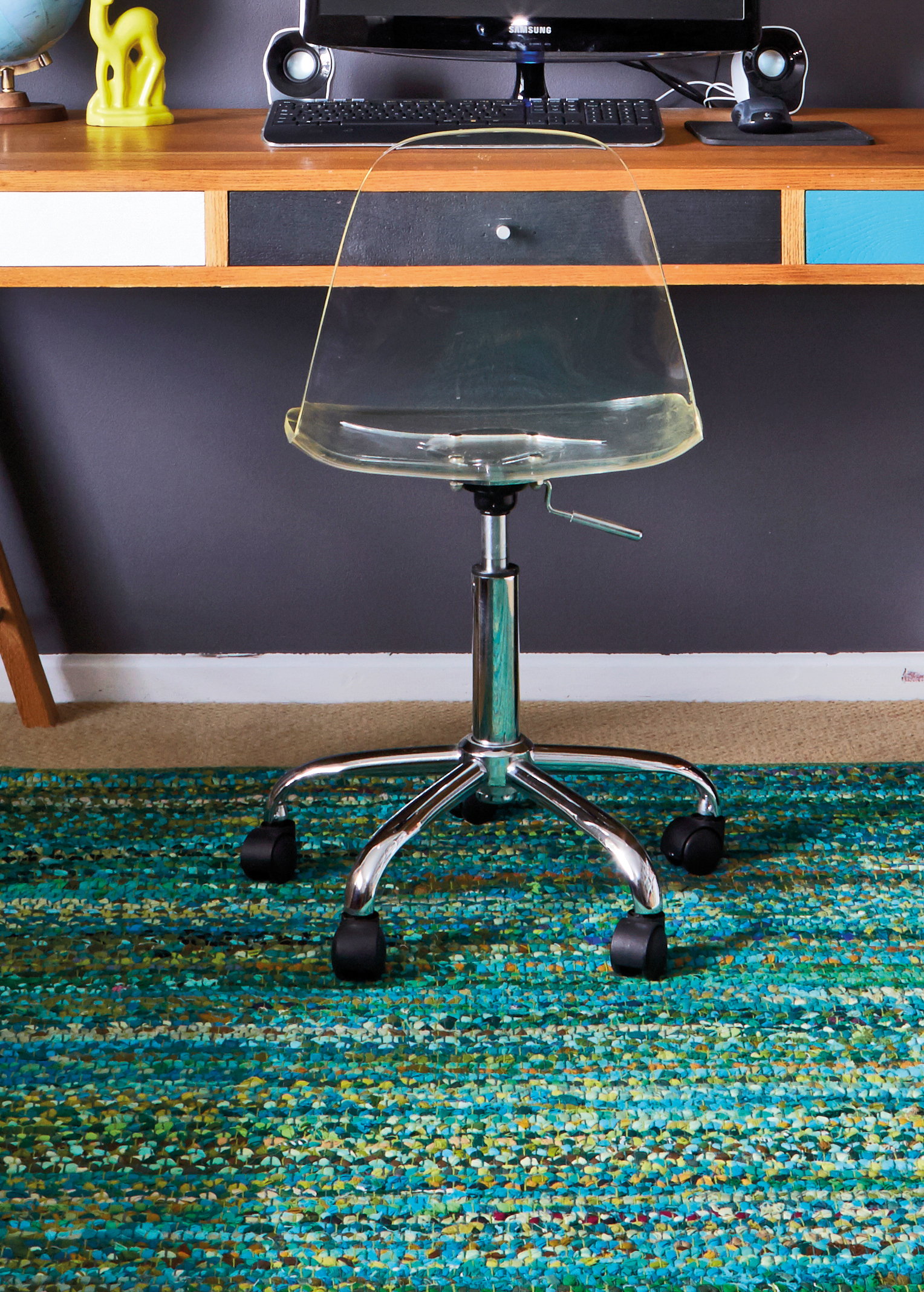 Take a seat
A couch was a must-have in this office space. Beatrice opted for a retro-style two-seater in camel-coloured leather to complement the other big pieces in the room. The comfy 900cm-deep couch doesn't overpower the space and with a four-year-old and two dogs – who rule the roost most of the time – leather was the perfect choice as it requires a simple wipe down to keep it clean.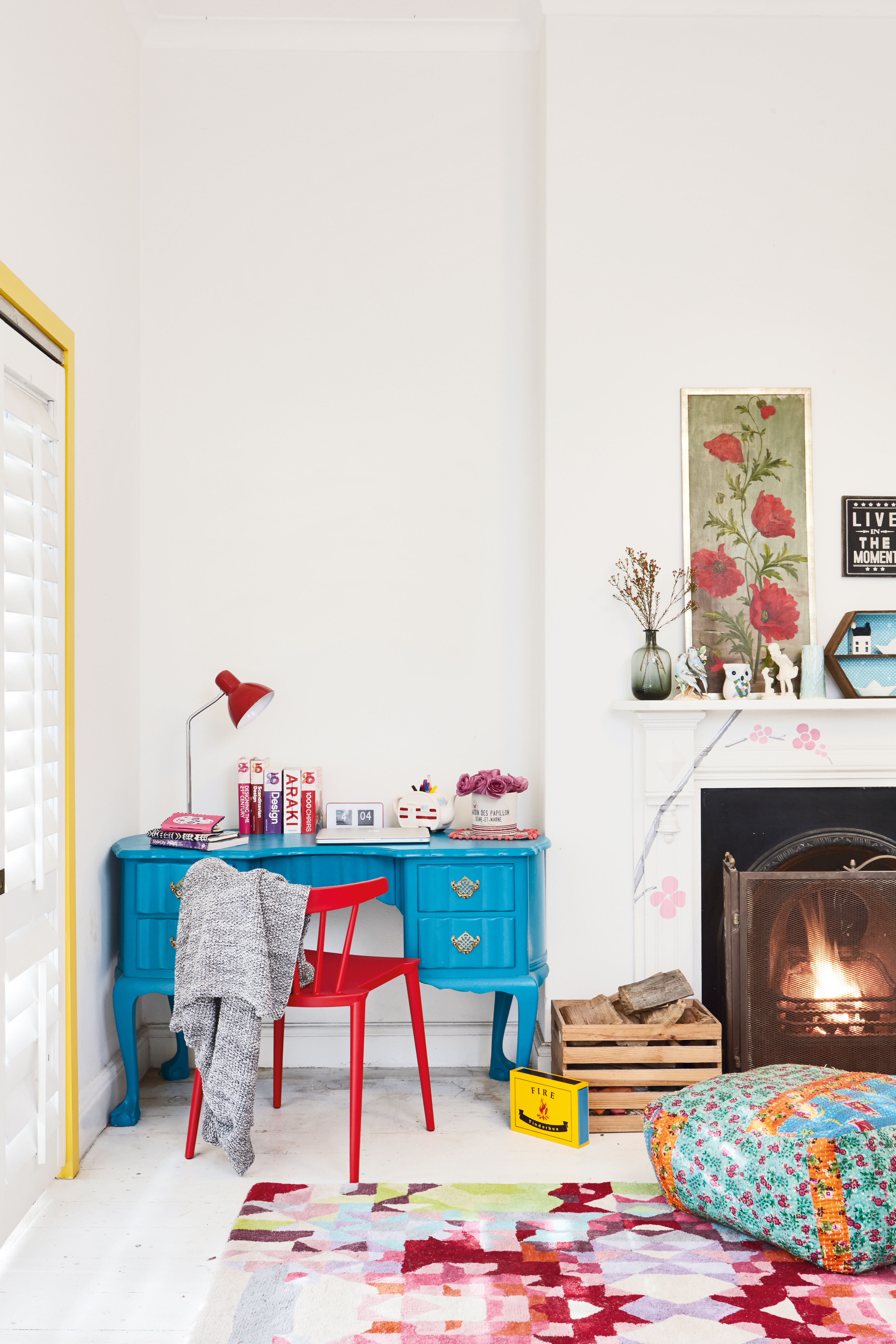 Home office 3
Space-saver
You don't have to have a big space to create an office, but it's important to use what you do have more efficiently. A little nook in the lounge or a section of the dining table can easily stand up to the job of multi-tasking, serving as an office by day and a family area by night. The golden rule: keep the nook clutter-free, so it's ready for use by all.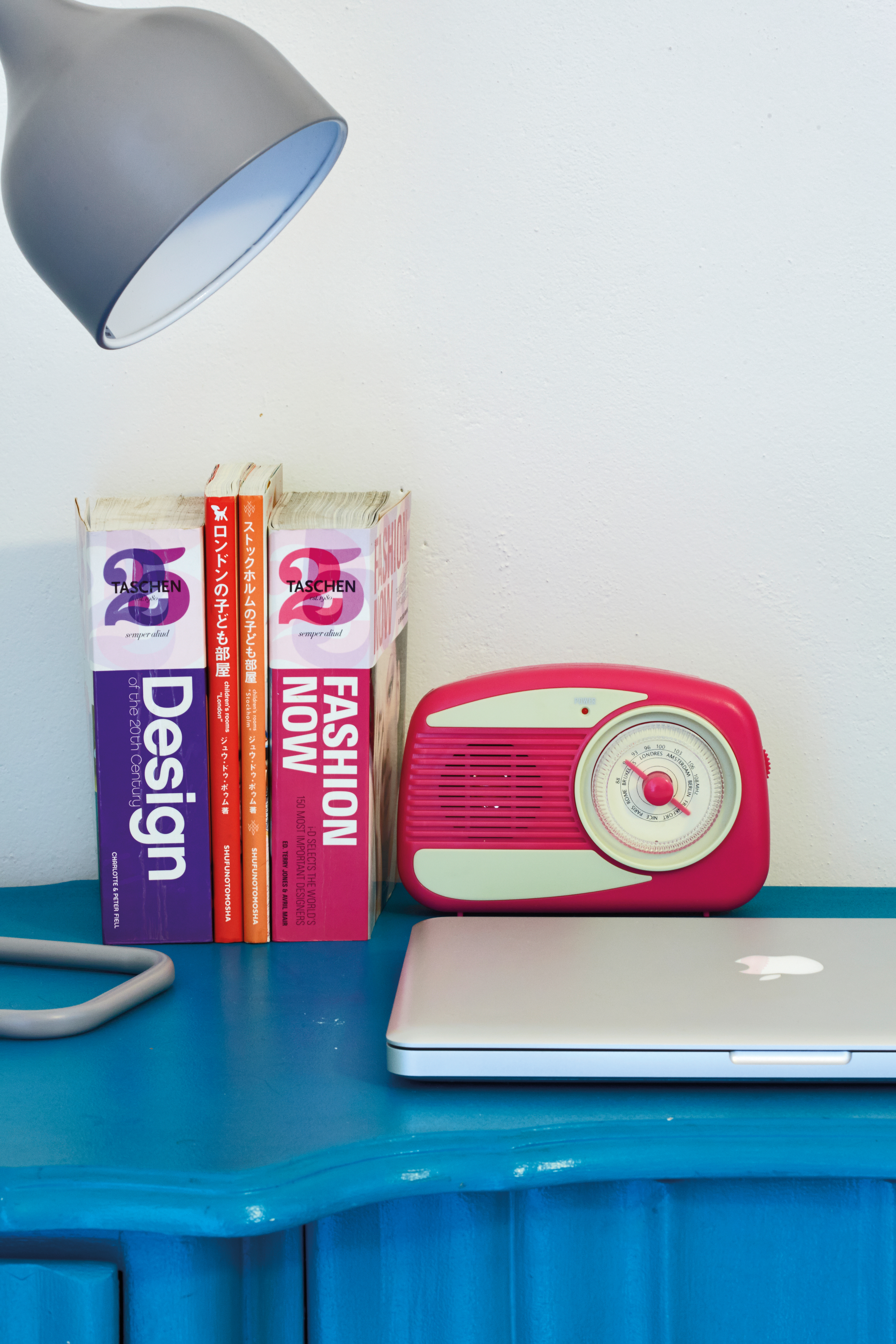 Get organised!
Maintain order in your office space so that you never become overwhelmed. Here's how…
Folders
Create folders on your computer and ensure that you file and archive documents correctly. Do this regularly so your desktop remains clutter-free and you can keep track of your work and progress. Always remember to back-up your work – whether onto a hard drive or a cloud storage system – at least once a week.
Stash it
Ensure that you have enough stationery such as pencils, pens, tape and scissors handy and that there's enough storage space to pack everything away neatly at the end of the working day. Here, a ball and claw desk provides ample storage in the form of drawers.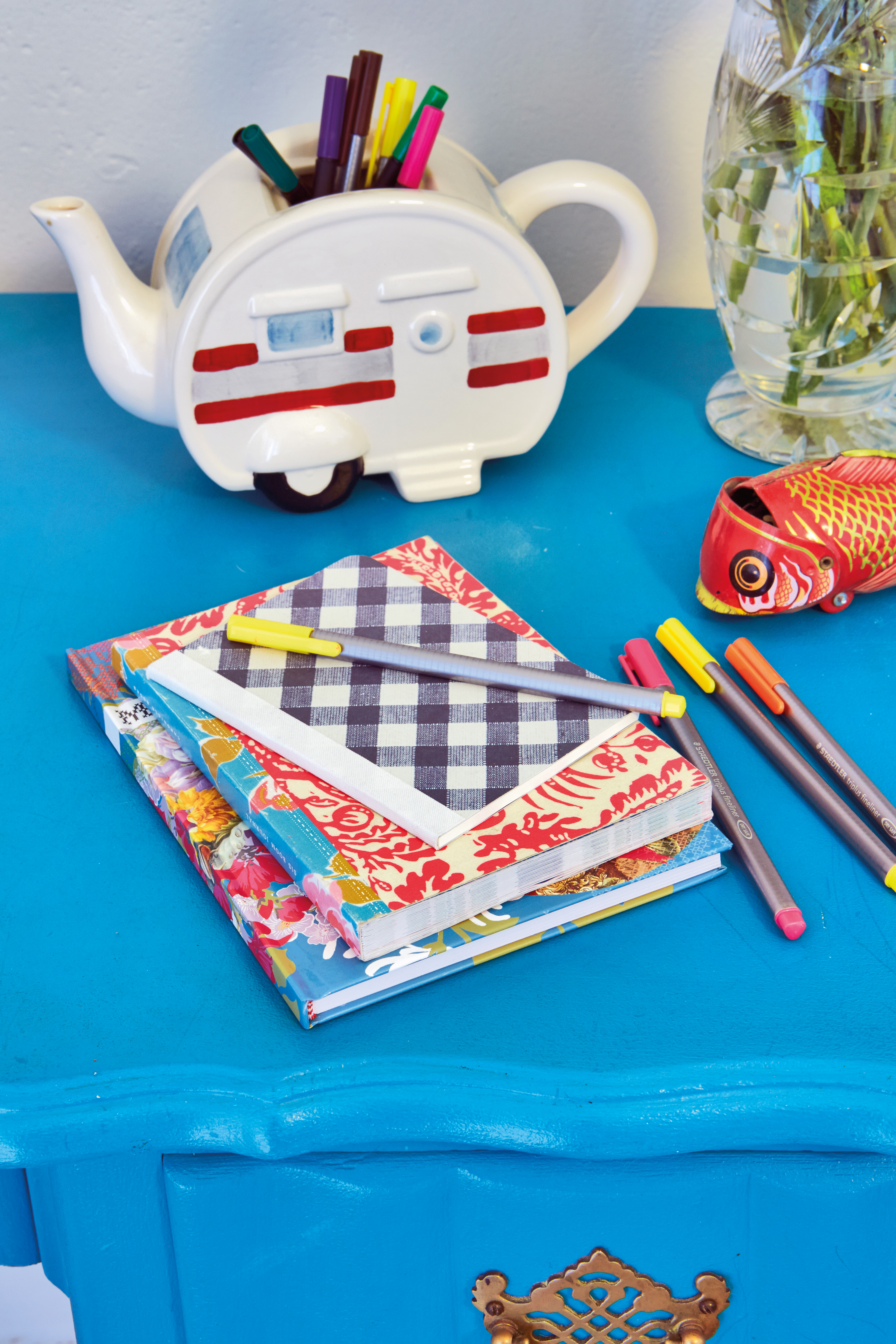 Inject a little colour
You don't have to spend a lot of money; instead, invest in a few clever tricks that can take a nook from boring to bold.
Add colour
Blue inspires both calm and productivity – ideal for a home office. The bright shade on the ball and claw desk brings a little cheer and a splash of colour to the otherwise white space. A sunny yellow strip was also painted around the window to energise the space.
Add inspiration
Hang your favourite artwork and change it once a quarter to refresh the look. Alternatively, a cheap and cheerful pinboard will also do the trick, but bear in mind the functionality of the entire room before you make your choice.
Add a personal touch
Quirky extras such as a clock, a radio to keep you company, inspirational design books, a teapot to hold your pens and a vase for your favourite flowers all make the space more comfortable and conducive to work.
Lights on
In the corner
When setting up a home office, always consider the lighting in a room. While this desk may be situated in a corner, it's proximity to the window ensures plenty of natural light which, besides making work easier, will also lift your spirits.
Point of view
If you're lucky enough to have a window or door that opens up onto a garden or offers a view, this can provide a pleasant distraction when needed.
Added extras
To compensate for wintry days or late nights, make sure that you have enough artificial lighting such as a desk lamp to ensure sufficient light to work in.
In the hot seat
Comfort is king
It's vital to your health to have the correct body support when working at a desk. There are lovely designer office chairs that will contribute to your aesthetic if you don't want to create a look that's too 'officey'. Whichever chair you decide to use, make sure that it's comfortable and has the right back support and depth to support healthy working conditions.
Credits
Referenced from Gallo images / Home Magazine