This new non-toxic paint is perfect for sprucing up the nursery
It's a fact of life that as soon as you're in a family way, you're also in a redecorating way. Here's a non-toxic paint that's kind enough for kids.
Gone are the days when you had to air a room for days before inhabiting it. Here's a paint that's odour free and gentle enough to your senses that you can paint a room by day and sleep in it that night. This makes it perfect for little ones.
The nasty smell of traditional paints is caused by volatile organic compounds, the latest carcinogenic buzzword. VOC blighters are buzzing around everywhere in detergents, fabric softener, solvents… and in paint. Is it possible to get away
from them? Evolve is an eco-friendly interior paint that has zero VOCs and, therefore, no paint odour. The low-sheen interior PVA is also lead free and solvent free, to ensure it's as kind to your family and the environment as possible.
Choosing colour
Decor trends in children's bedrooms and nurseries are towards neutral colours. Evolve has a wonderful range of soft neutrals which you can subtly combine with bolder colours. Alternatively, use one of the sunny Evolve Specially for Kids colours in combination with your chosen neutral. This is what we did for this baby's bedroom makeover. The base colour is Banana Milkshake and the neutral grey accent is Stonewashed Jeans.
Tips for creating a nursery
Install a dimmer switch to the lighting to adjust the mood of the room as you need to.
Select fabrics and carpets that are durable and washable.
Choose items with different textures – babies explore the world with all their senses and touch is an important one.
Cut the clutter by ensuring you have plenty of storage options.
Allow for plenty of floor space for playtime.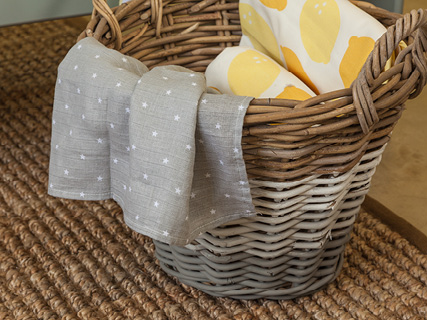 Diy idea
Turn a wicker basket into a stylish storage option for toys or blankets. To tie in with the colour scheme, we painted ours with two tones of grey stripes.