Follow these five steps to create your perfect patio garden.
The perfect patio doesn't just happen, it takes planning with a keen sense of how you'll use it in mind. Try these ideas to create a garden of plenty, a place for cosy cups of coffee, fun family brunches or heart-to-hearts over glasses of wine late into the night.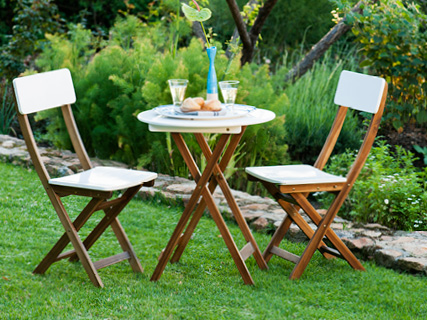 Arrange your space
Whether it's a loveseat, swing-bench or plush patio lounger, create a comfortable space where you can have a cuppa and a catch-up, or some time to yourself with your favourite magazine. Be sure to leave space for side tables and ottomans, which will help keep the area functional, and accessorise with cushions and a throw or two for warmth and comfort. Surrounding this area with foliage or hanging lanterns can turn a spot from flat to fabulous. Clusters of candles or solar jars on tables lend a soft romance, while strings of hanging lights laced across the sky or draped over trees and shrubs add a touch of whimsy. Or you can line your stairs or flower boxes with rope lighting. If you've got a sunny spot, consider solar lights. A central point of interest – whether it's a fishpond, water feature or fire pit – can tie everything together. The trickle of water creates a sense of tranquility that will permeate through your house; on the other hand, you will find guests will naturally gravitate around a fire pit for both the warmth and atmosphere in the evenings.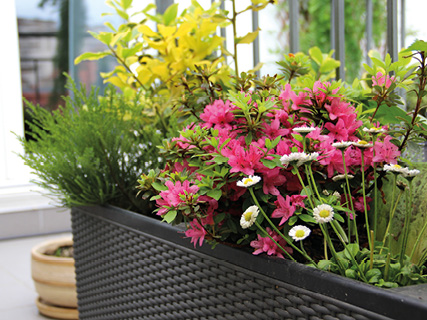 Add a splash of colour
Nothing brings life to your space quite like plants do. Clustering pots of different sizes can create a sense of interest while still looking harmonious and considered. Choose your colour palette and group flowers so you have a bold splash, and plan it so plants with similar feeding and water needs are in the same pot. Waterwise is always a winner – geraniums and gazanias are lovely in pots, as is verbena. Containers in hot sunny places need a lot of water – more so if the container is small. Also remember that narrow pots are likely to get hotter around the root region than big wide ones. So in hot spots big and wide is better than small or narrow. One big advantage to container gardens is that you aren't restricted to the soil of your region. For example, in the Cape the soil is quite alkaline, but in a pot you can change the pH to suit the plants you want. Add Saturaid to the soil when potting up to retain moisture and feed – as a general rule – fortnightly with a liquid fertiliser such as Nitrosol.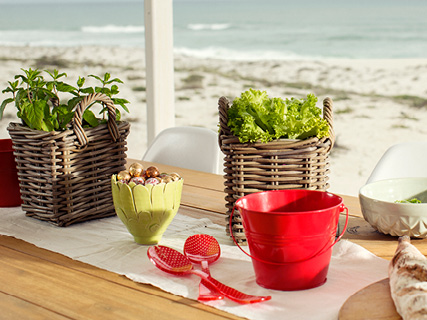 Edible Patio Garden
Our patios are so much a part of our brunch and braai lifestyle that it makes perfect sense to grow your own right there. If you have a pizza oven, have hanging baskets overflowing with oreganum ready to be sprinkled onto a tomato base. Grow pots of sweet basil for your summer caprese and parsley in a cool place to sprinkle on salads and soups. While you're at it, grow your own salad – all the varieties of lettuce are super in containers. If you're a braai fundi, a perennial rosemary will see you from one Heritage Day to the next… simply reach over and take a sprig for the lamb chops.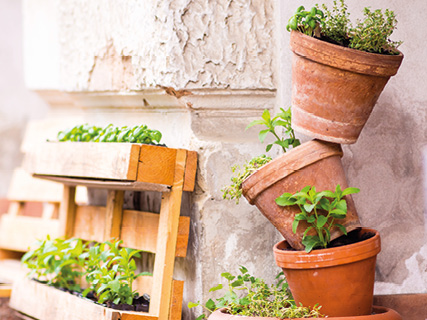 Think vertical
How you treat your walls can completely change the feel of the area. Consider cladding or tiling a focal wall with an interesting effect, or planting a vertical garden to create a lush home jungle. Wood or bamboo paneling can also be used for a rustic look that will add texture to your space.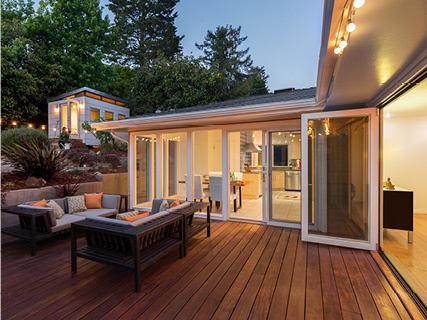 Get decked out
Let's face it, brick is boring. Add some class to your patio area by tiling it with an outdoor tile, which allows for anything from terracotta to sandstone, slate or stone effect. Alternatively, head in a natural, rustic direction with decking, which comes in a variety of colours. Both of these options are durable, resilient to weather and relatively low maintenance. If you're feeling bold, consider adding a patch of AstroTurf for a fun pop of colour, or create your own magical fairy garden by filling spaces between pavers with a variety of different groundcover plants and pebbles.