Keep things fresh with this simple but sumptuous summer fare.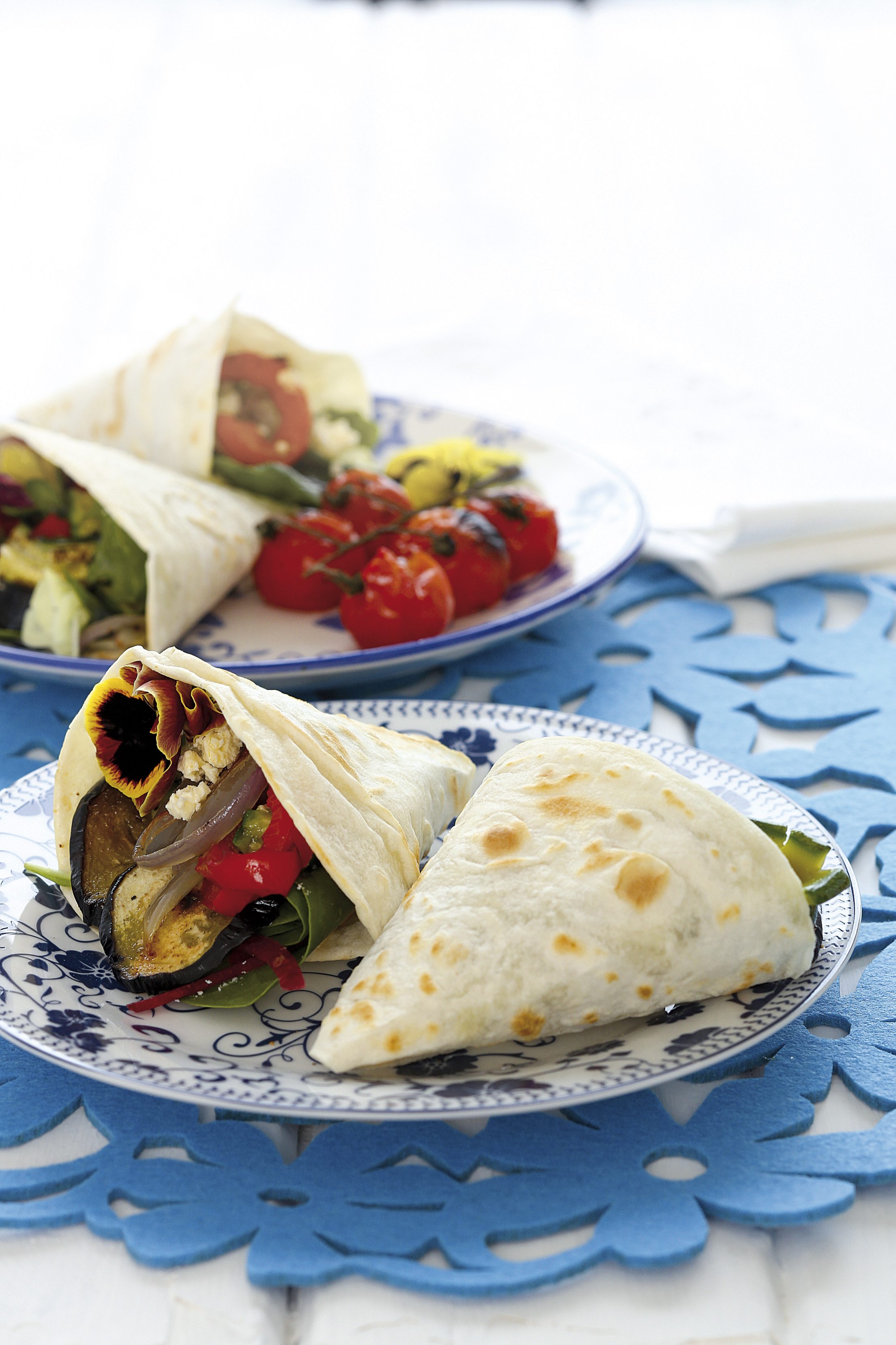 Tortillas with roasted vegetables
Costs: under R85
Serves: 4
Preparation time: 10 minutes
Cooking time: 25 minutes
Oven temperature: 200°C
Ingredients:
2 large baby marrows, julienned
1 aubergine, sliced
1 red onion, cut into wedges
1 red sweet pepper, julienned
200g cherry tomatoes
15ml olive oil
2 rounds of feta cheese, cubed
1 tin chickpeas, drained
4 tortillas
pesto
salad leaves for serving
Toss the vegetables in the olive oil and season to taste with salt and pepper. Then arrange in a single layer in a roasting pan and roast for 25 minutes, or until cooked. Carefully stir in the feta cheese and chickpeas, and allow to cool slightly.
Slice the tortillas in half and heat on both sides in a dry frying pan. Spread a generous layer of pesto on each half, then divide the vegetables among them. Add some salad leaves, fold closed, and serve immediately.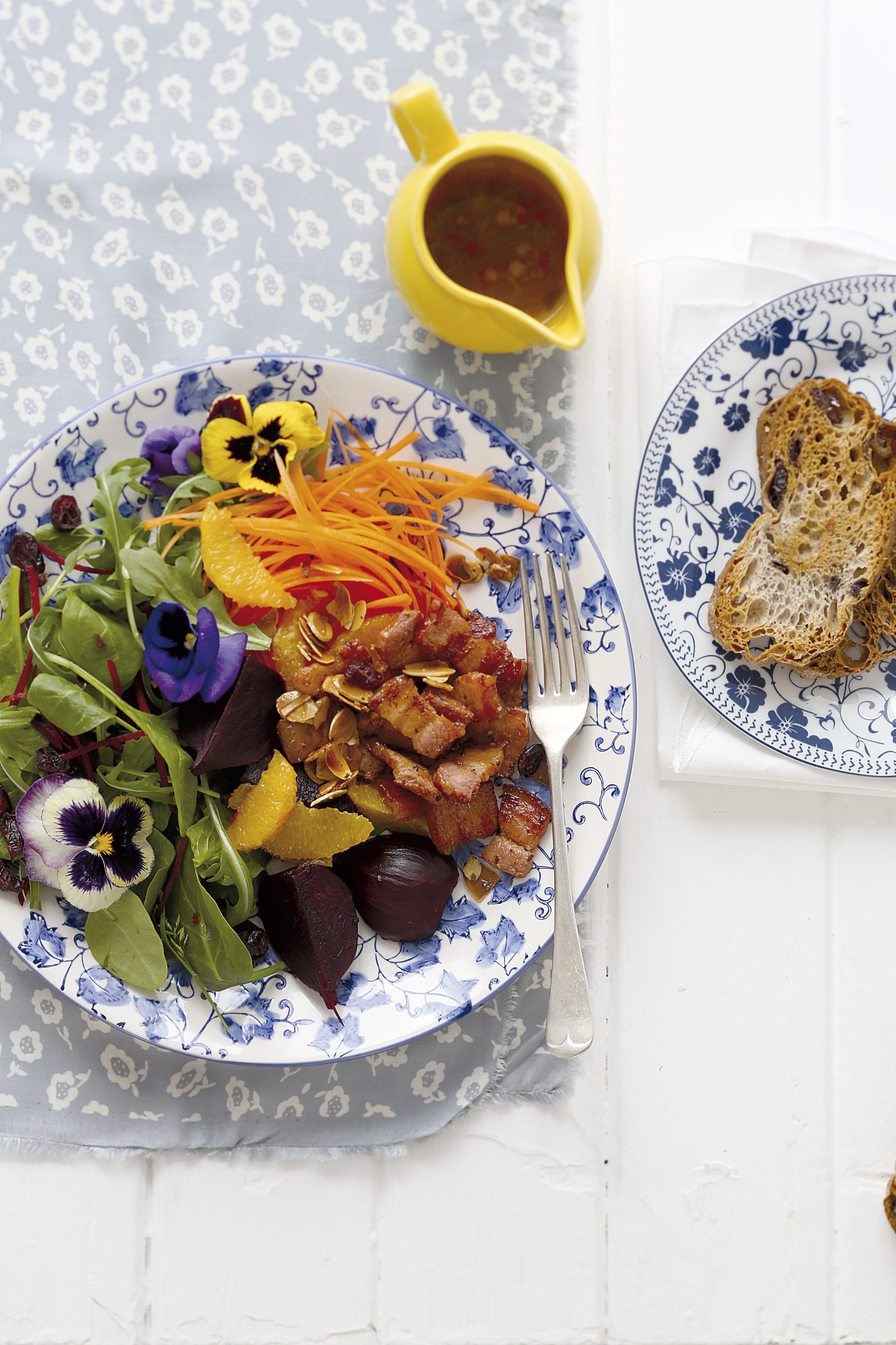 Bacon and beetroot salad with warm citrus dressing
Costs: under R75
Serves: 4
Preparation time: 25 minutes
Cooking time:10 minutes
Ingredients:
30ml olive oil
250g thick bacon rashers, diced
50ml freshly squeezed orange juice
1 red chilli, finely chopped
handful of mixed baby salad leaves
4 cooked beets, quartered
2 oranges, cut into segments
2 carrots, julienned
100g almonds, roasted
100ml dried cranberries
Heat the oil in a large frying pan and fry the bacon until crisp. Add the orange juice and chilli, sauté for about 30 seconds and remove from heat.
Arrange the baby salad leaves, beets, orange segments, carrots and bacon on a serving platter and sprinkle the almonds and cranberries over. Then drizzle the warm pan juices over and serve immediately.
Top Tip: Pansies will complement the beetroot beautifully, addding colour and flavour.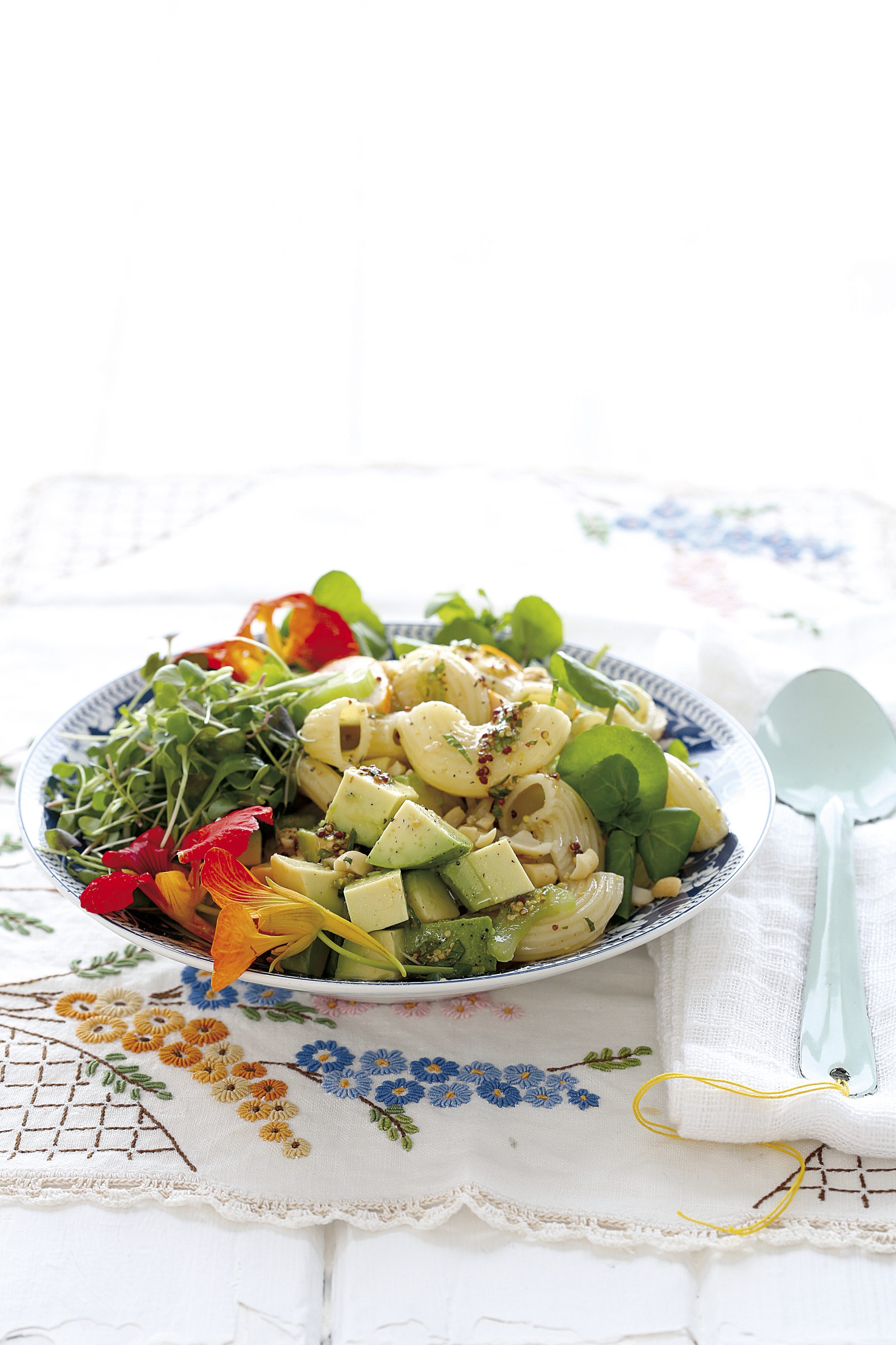 Chicken pasta salad
Costs: under R85
Serves: 4
Preparation time: 25 minutes
Cooking time:15 minutes
Ingredients:
500g shell or screw noodles
4 celery stalks, thinly sliced
1 bunch spring onion stalks, thinly sliced
2 smoked, filleted chicken breasts, sliced
200ml peanuts, chopped
1-2 large avocados, sliced and sprinkled with lemon juice
baby salad leaves
Dressing
50ml red wine vinegar
150ml olive oil
1 garlic clove, bruised
10ml mustard
20ml chopped herbs
Cook the pasta according to the package instructions until al dente.
Meanwhile, mix the dressing ingredients and pour half over the drained, cooked pasta. Stir through and allow to cool.
Mix the rest of the salad ingredients into the pasta, drizzle the remaining dressing over, stir through and serve.
Top Tip: Add nasturtium flowers for colour and a bit of a bite.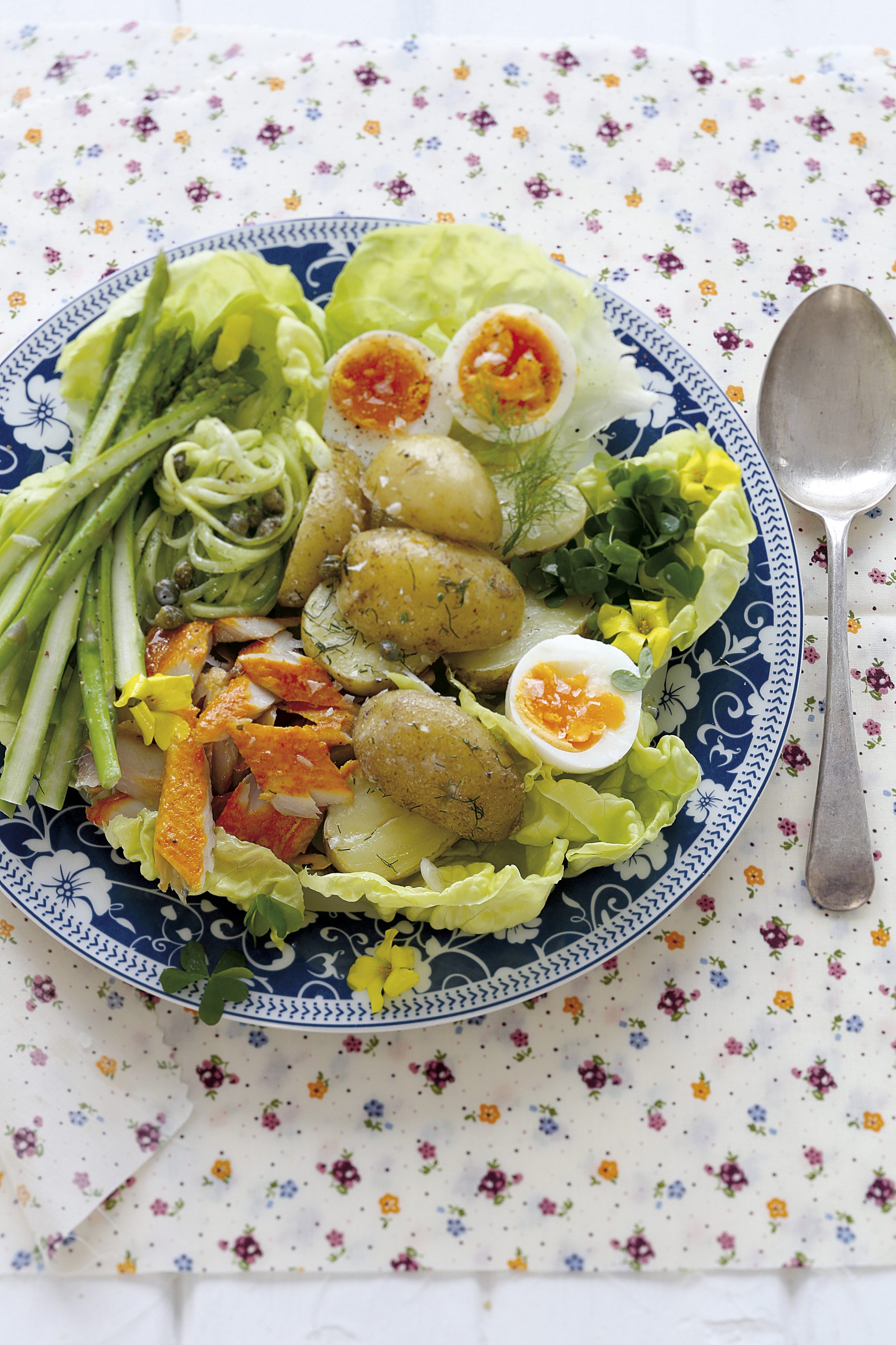 Potato salad
Costs: under R90
Serves: 4
Preparation time: 35 minutes
Cooking time:30 minutes
Ingredients:
750g baby potatoes
2 kippers or smoked mackerel fillets
crisp salad leaves
1 cucumber, ribboned
200g asparagus, blanched
6 eggs, cooked, shelled and halved
handful of sorrel leaves and flowers
Dressing:
60ml cream
15ml olive oil
5ml capers
20ml dill, chopped
Boil the potatoes in salted water until done, while beating together the dressing ingredients. Drain and halve the potatoes, and stir through the dressing; allow to cool.
Shallow-fry the kippers or mackerel fillets until cooked, then flake. Arrange the salad leaves on a serving platter and top with the potatoes, fish, cucumber, asparagus and eggs. Sprinkle the sorrel leaves and flowers over, and serve immediately. The sorrel is a good substitue for fresh lemon juice that will liven up the salad.
Credits
Article by Johané Neilson, photographs by Francois Oberholster