Make a display board that will look lovely in your kitchen and give it the charm of a vintage item.
Materials you will need:
wooden board in the desired size
print of your words in the correct size
acrylic paint for the background
light and dark acrylic paint for the letters
varnish for special paint finishes
brown shoe polish (the solid type, not the liquid)
craft brushes and paintbrushes
stencil brush (or another brush with thick bristles)
soft cloth
carbon paper
masking tape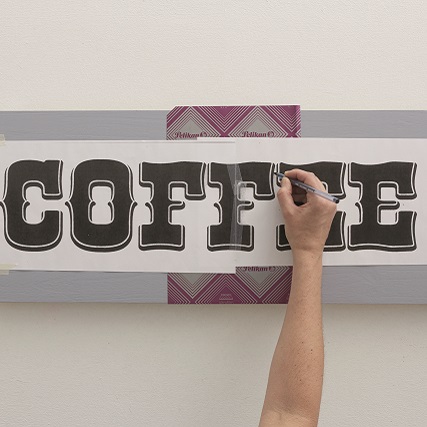 Prepare your board
Choose an attractive typeface and print out your word from the computer. Ours is Western from dafont.com, where you can download typefaces for free, and the letters already have a dark outline or 'shadow', which is perfect for this project. Enlarge the printed word so it fits on your wooden board. We bought our board as a ready-cut shelf measuring 300 x 900mm. Paint a coat of universal undercoat over your board if it is unfinished. Paint the prepared board with two coats of your background colour – we chose a light grey, Plascon Downy Dew B7-E2-2 – and leave it to dry.
Step 1
Stick your printed word to the painted board with masking tape, with a sheet of carbon paper under the first letter. Trace the letter with a ballpoint pen, move the carbon paper to the next letter and repeat. Remove the print and the carbon paper once all the letters have been traced.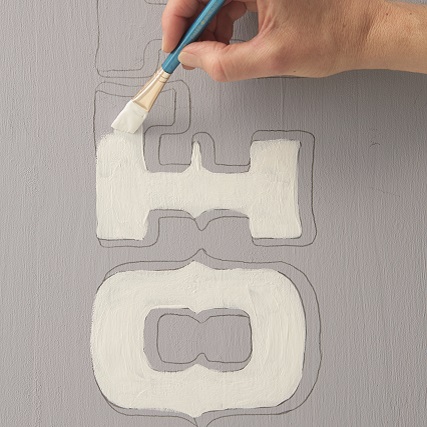 Step 2
Now you can paint the letters. Start with the lighter colour – we used white – and paint enough coats to make a solid colour so the background colour doesn't show through. Leave to dry.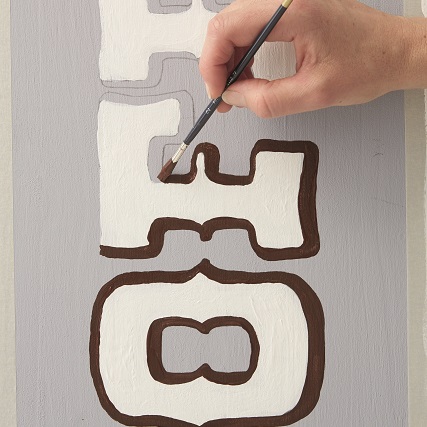 Step 3
Outline the letters with the darker colour so that it looks like a shadow. Use a thinner brush for neatness. Leave it to dry, preferably overnight.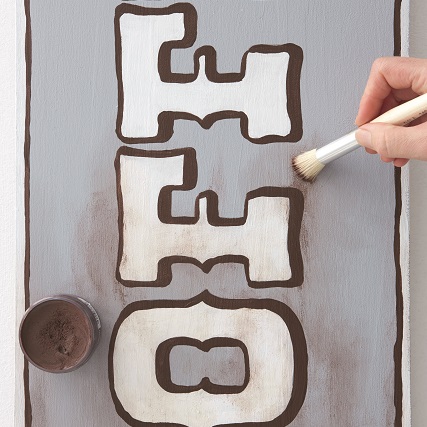 Step 4
The next day you can 'age' the board. Press the stencil brush into the brown shoe polish. Brush the polish here and there over the painted letters and the background to give the sign a weathered, rustic look.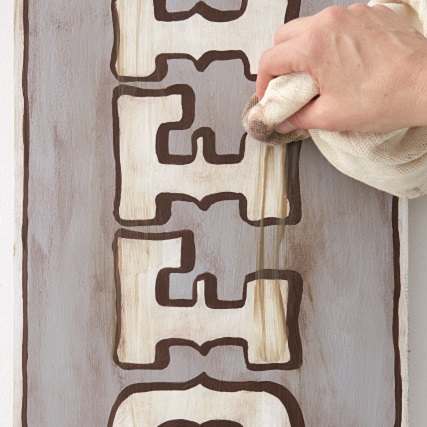 Step 5
Dip a soft, dry cloth in the varnish – we used Harlequin Paint Effects Varnish – and rub it over the board. It creates a streaky effect, which gives the board an even more aged look. Keep a wet cloth on hand to wipe off mistakes and continue in this way until you have the desired look. Leave the board to dry completely before sealing it with a colourless varnish.
It's a sign
This sign is perfect to add that personal vintage touch to your kitchen.
Credits
Referenced from Gallo images / IDEAS Magazine