Tips from expert stylist Margaux Tait on how to make your shelves look like they came out of a magazine.
Clean up the clutter and give your kitchen shelves and cabinets a beautifully styled look.
The star of the show is a wall of ready-made shelves which you can buy in modular form from Builders. With tasteful styling, they look tres chic. Follow these tips and tricks to get the look.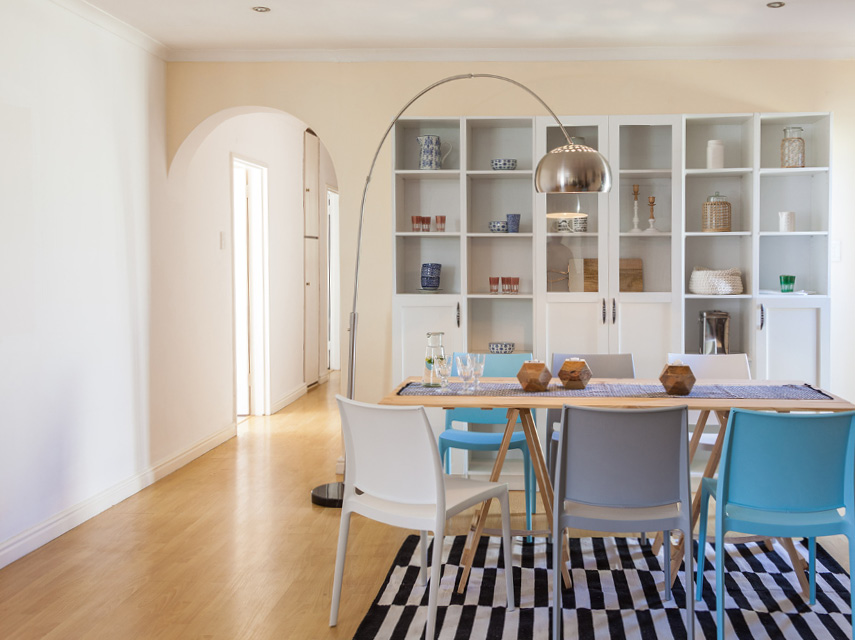 How to get the styled look
Cream and white neutrals are everlasting in South African homes. With the right pops of colour, they're far from boring or commonplace. Here are our stylist's pointers to help you tackle your decor with panache.
1. Tressle tables are high fashion at the moment – use yours as a kitchen table for an informal look and style it up with beautiful accessories. In this house, the pale wood of the table and floor complement one another.
2. Use a striking carpet to anchor your table and give it an avant-garde ping.
3. Don't be predictable. For a fresh look we used three different-coloured chairs in tones that work together harmoniously: white, grey and blue.
4. Break up the table surface with a striking runner, that still leaves some of the wood exposed. Wooden facetted candle holders are a stylish answer to load shedding.
5. The vertical lines of the shelves are broken with the large arched lamp that casts a lovely daisy pattern of light dots on the white ceiling.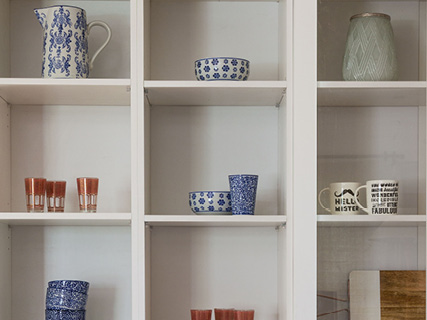 Styling your shelves
Group your items carefully. On our shelves, you'll see the Moroccan tea glasses are grouped in threes. Place two closer together and the third glass a bit further away for the perfect balance.
Stacking bowls and slightly overlaying cups by placing one in front of the other creates harmony in the display. Create further balance by only placing one item in some of the shelves, as we did with the larger bowls, jug and vase. The trick is not to use too many items in different colours as this will only clutter the display. Rather put extra items, and the odd pieces, behind closed doors.
Choose your colour scheme and stick with it. We've chosen blue and white crockery, rose-tinted glassware and natural wood accessories. The open pigeon holes of the shelves create the perfect spaces to display patterned crockery and reflective glassware.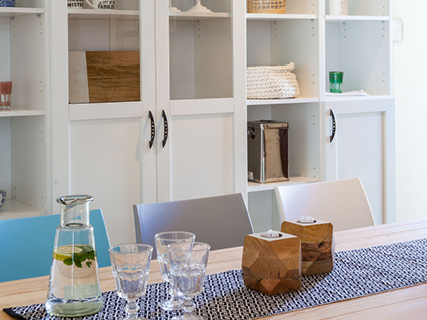 Add textural interest.
We added woven items within the display. You can also soften the look by combining a few fabric napkins with glassware or cups.
Think of repetition, it creates harmony.
For instance, there are wooden cutting boards displayed in the glass cupboard, wooden accessories on the table (which is wood) and the floor is wood-look.
Top Tip: If you have something that doesn't fit into your colour scheme and you don't want to get rid of it, consider spray painting it. Use Rust-Oleum's Painter's Touch 2x which is a paint and primer in one and is suitable for metal, wood, glass and other surfaces. Exclusive to Builders.