Make a hanging bench for your patio or garden – then kick back and relax with a sundowner.
Materials you will need:
38 x 114mm SA pine, cut to:

three 550mm lengths (base struts)
three 850mm lengths (backrest struts)
two 390mm lengths (armrests)
four 670mm lengths (armrests and finishing)
five 1 300mm lengths (seat and top backrest slats)
one 1 220mm length (backrest slat)

50 x 76mm SA pine, cut to: two 1 500mm lengths (support struts)
twenty 6mm x 60mm coach screws
fifty 6mm x 75mm coach screws
1 tin Woodoc 30 varnish
80-grit sandpaper
10 metres of 6mm chain
four 6mm shackles
cordless drill and 4mm drill bit
16mm spade bit
10mm socket and ratchet
jigsaw
tape measure
pencil
tri-square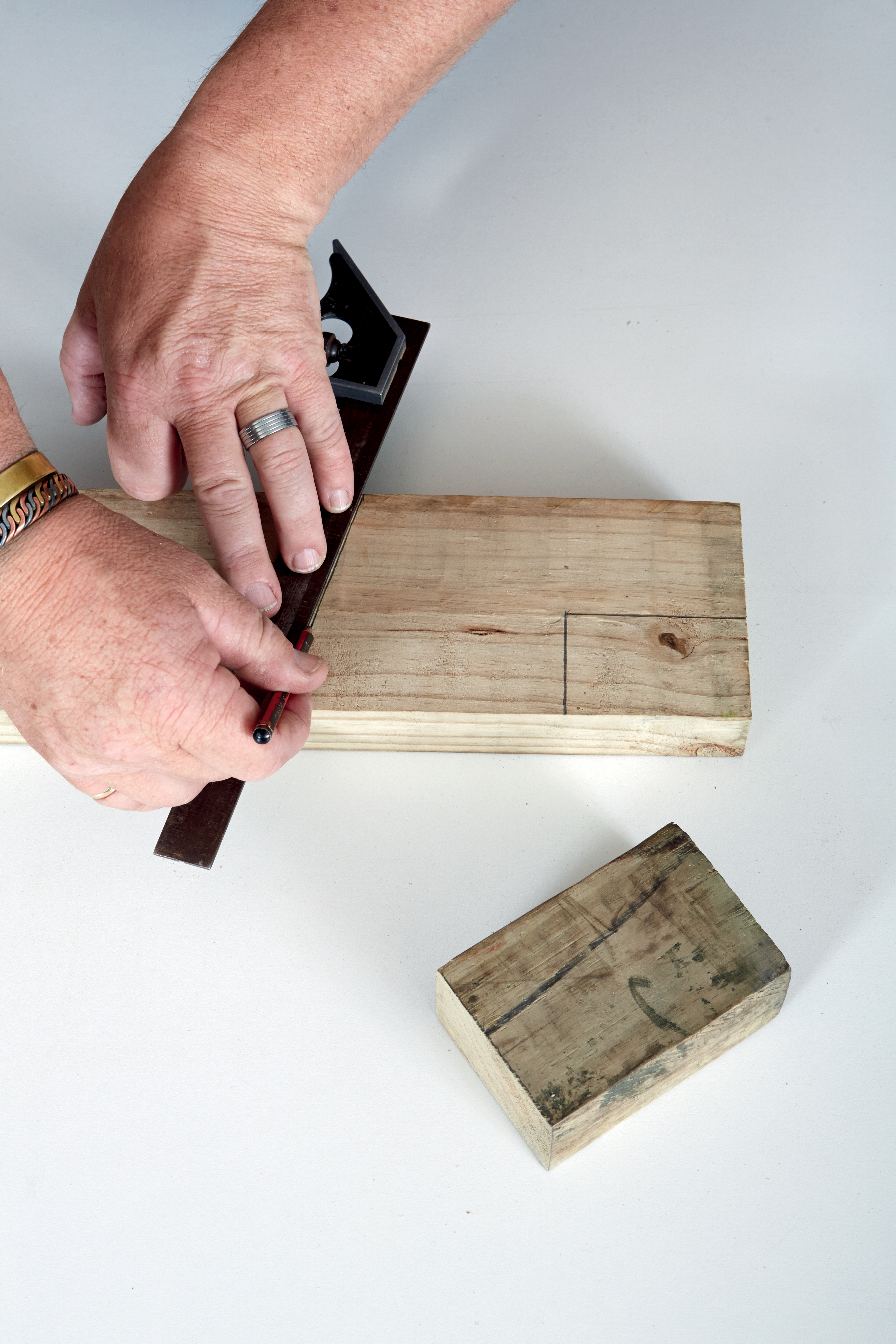 The frame
Step 1
Measure and mark 76mm and 50mm at the bottom of both ends of the three 850mm base pieces. Use the jigsaw to cut out these corner pieces to fit the support struts. Also measure 200mm underneath (at the back) and 170mm above this, and join the two marks to establish the angle of the backrest.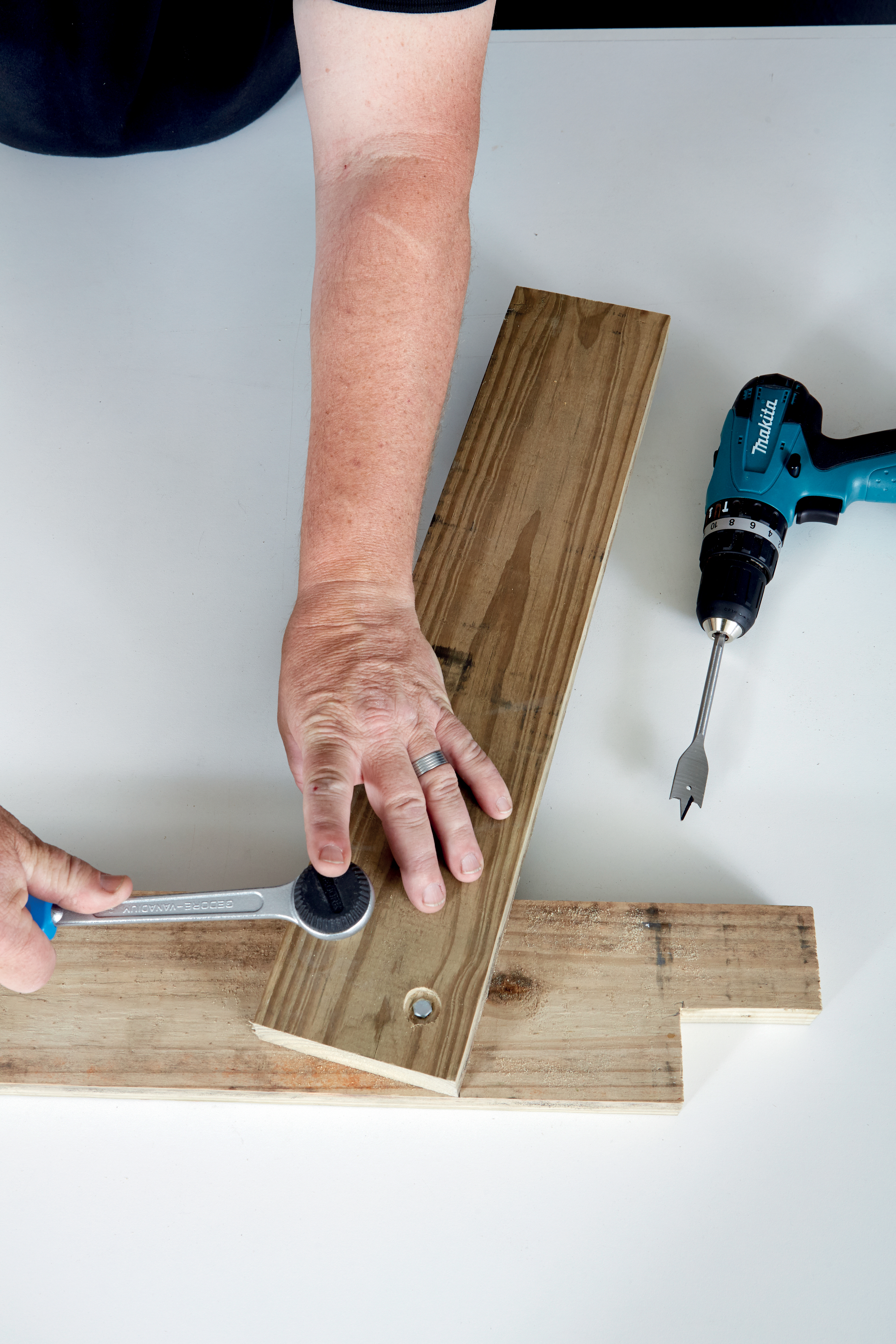 Step 2
Place one 550mm backrest on this diagonal line and attach it with two 6mm x 60mm coach screws. Repeat to make three of these base-backrest assemblies. Tip Use the 4mm drill bit to drill pilot holes and the 16mm spade bit to countersink the screws.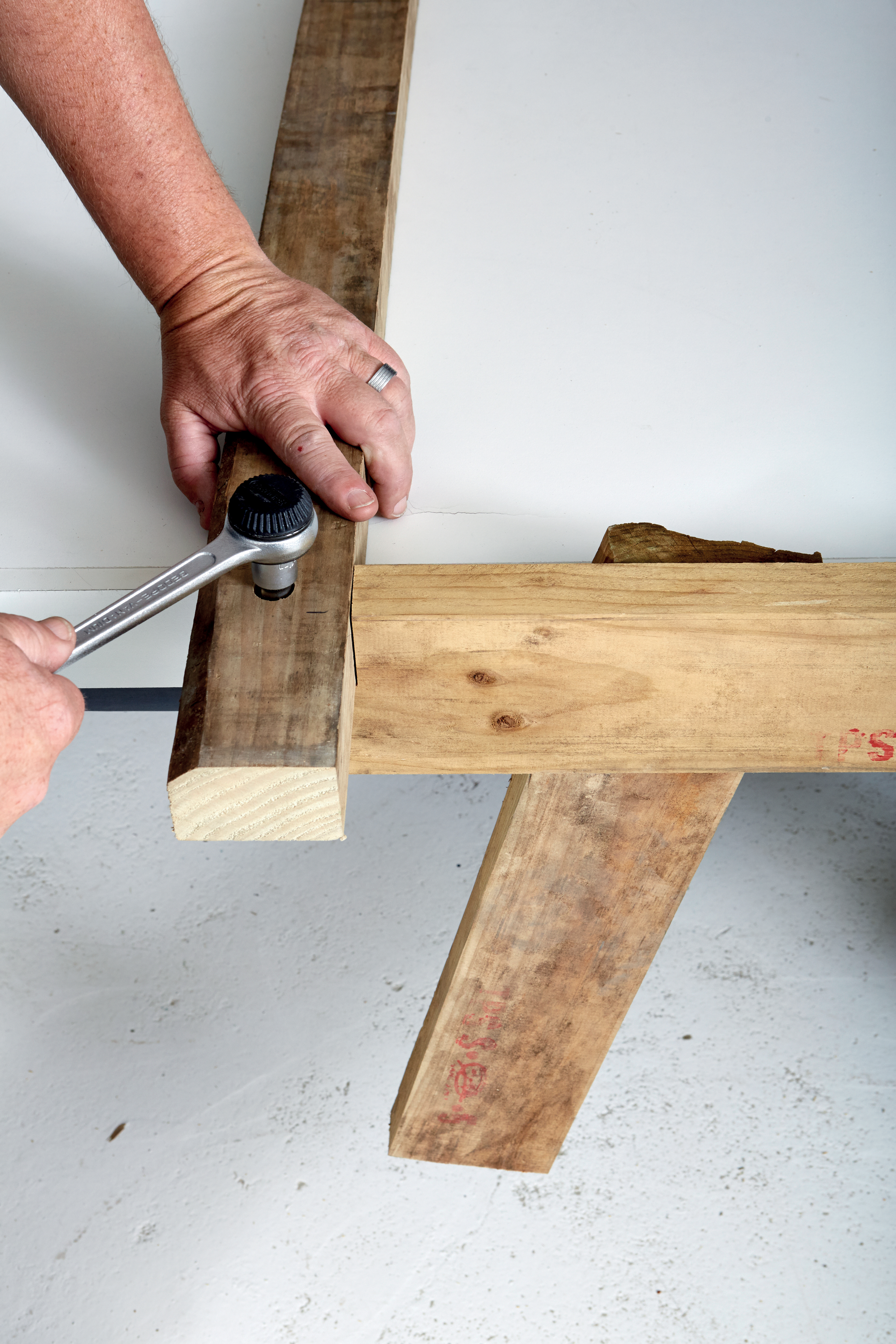 Step 3
Measure and mark 100mm from each end of the two 1 500mm support struts. Attach a base-backrest assembly (from step 2) at each of these marks, and screw the third assembly into the centre between the two with 6mm x 75mm coach screws.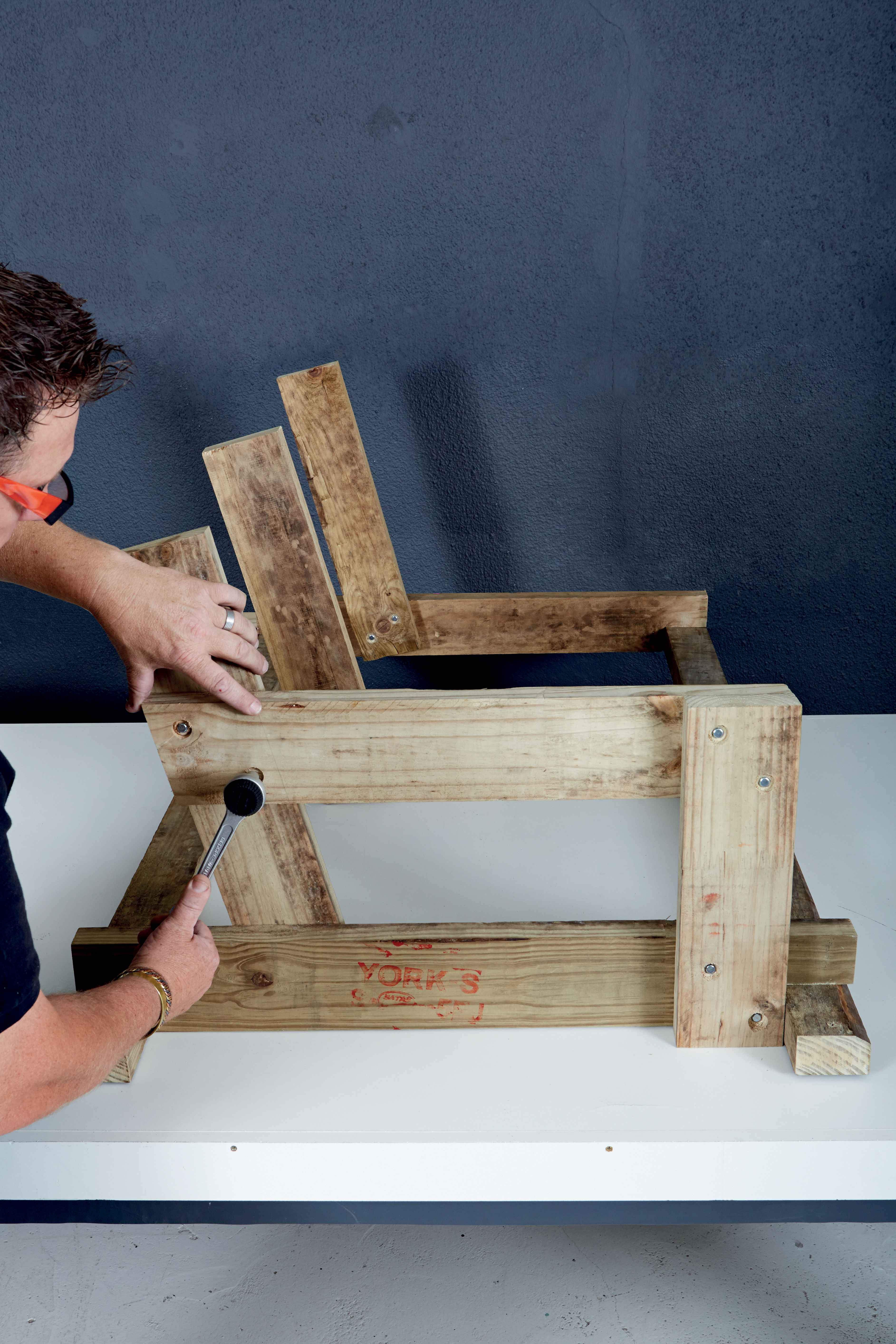 The Armrests
Step 4
Screw a 670mm plank and a 390mm plank at right angles to each other and attach this to the frame with the 6mm x 60mm coach screws. Repeat on the other side.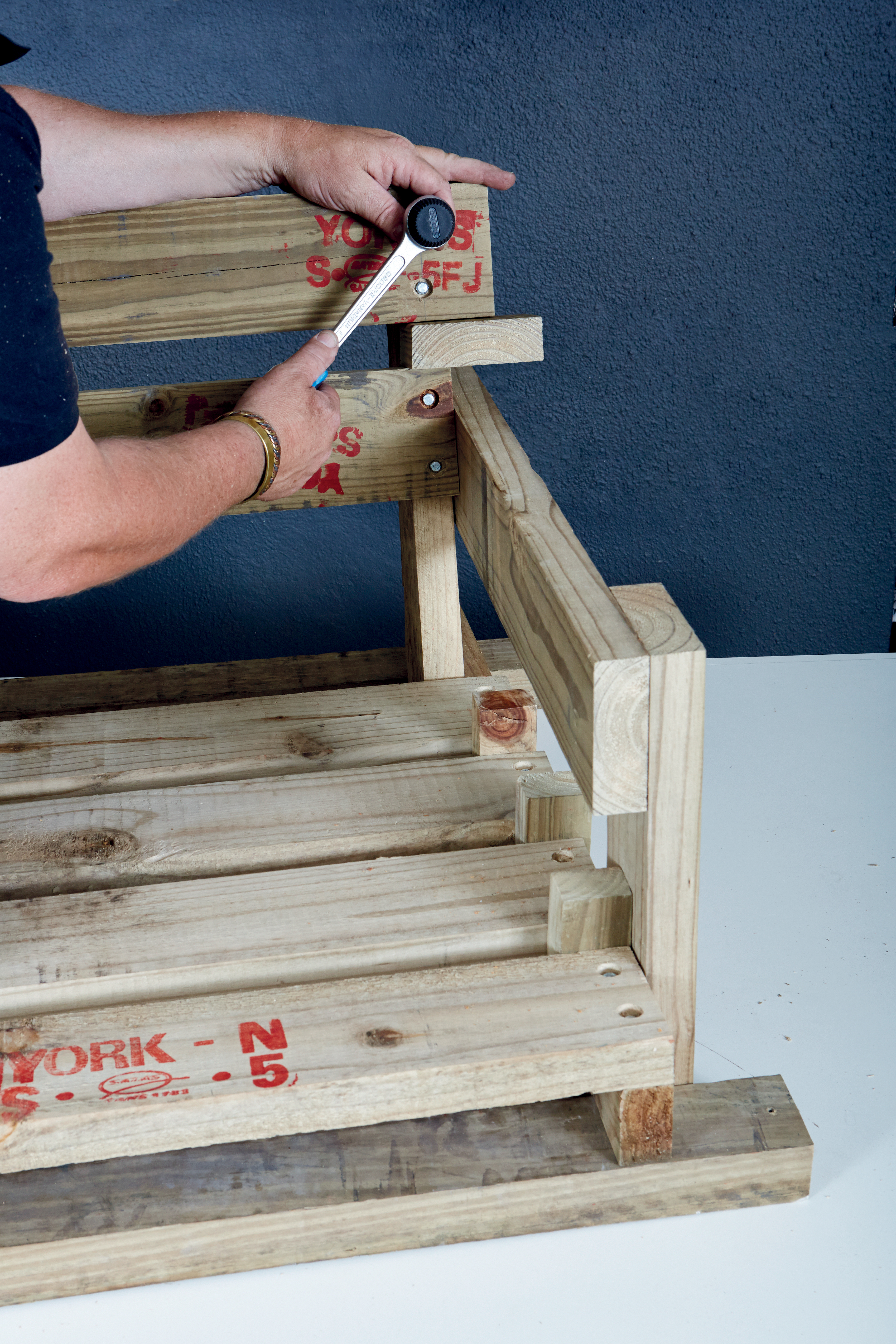 The base and backrest
Step 5
Use small blocks of wood to evenly space four of the 1 300mm planks apart – this will form the base. Join these planks with 6mm x 75mm coach screws. Attach the fifth 1 300mm plank to the backrest at the top with the 1 220mm plank underneath.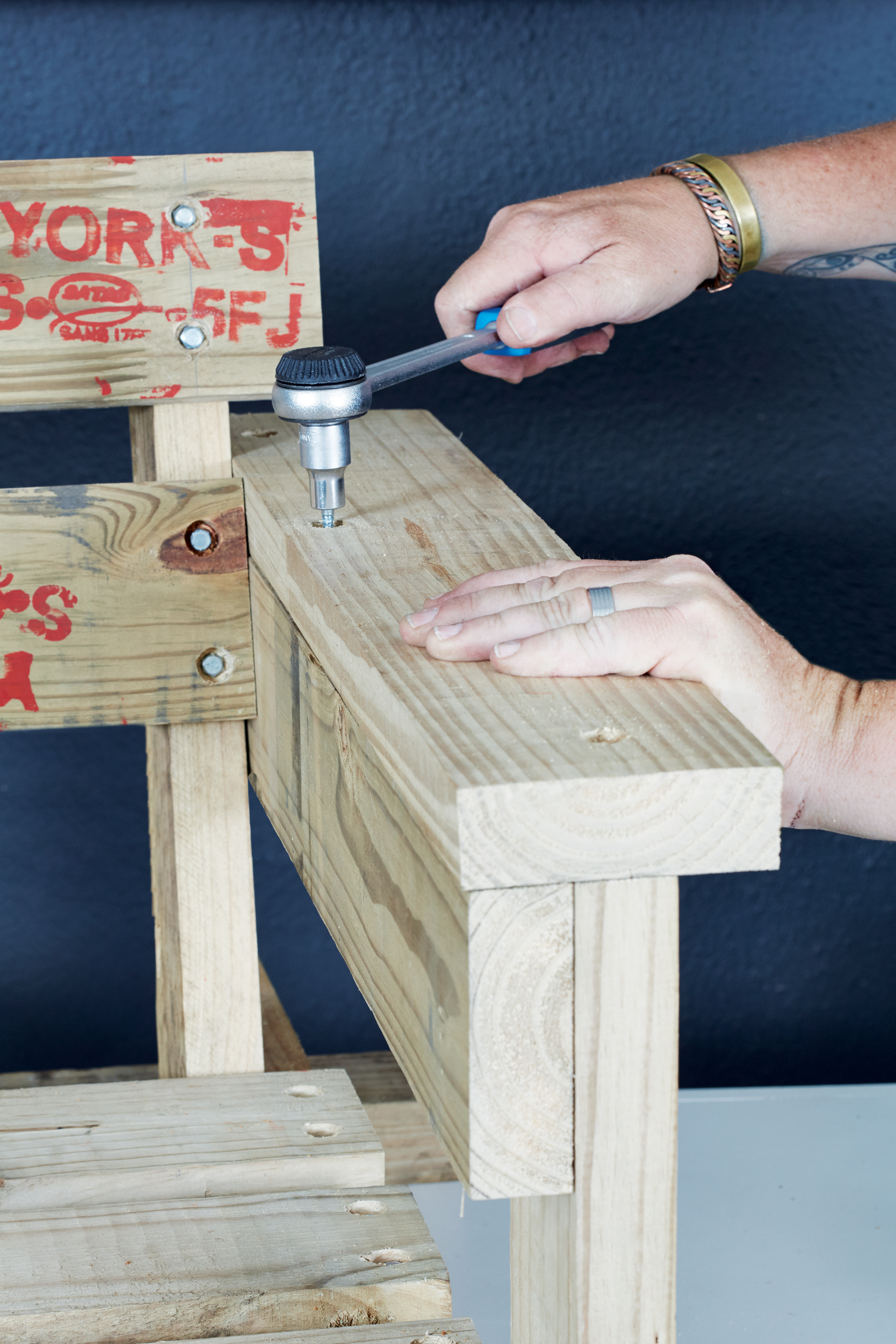 To finish
Step 6
Place the remaining two 670mm planks on top of the armrests and attach with 6mm x 75mm coach screws. Sand the bench smooth and varnish.
Hang it up
Step 7
Attach chain or rope to the four support struts of the bench and you're ready to enjoy that sundowner!
Credits
Referenced from Gallo images / Home Magazine