Warning: Wielding a pressure cleaner can be addictive. Get blasting with Kärcher and your car, home, paving and outdoor furniture will never have been so clean!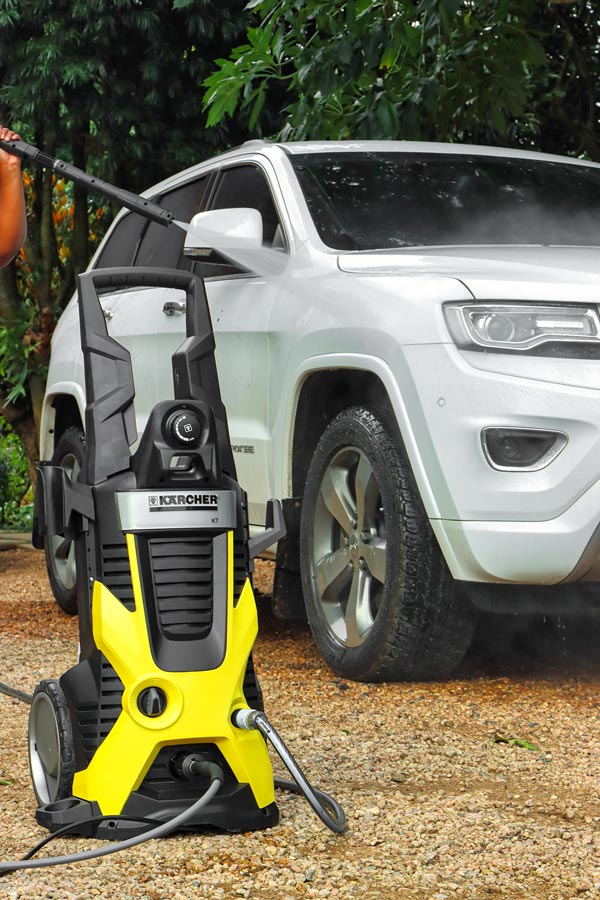 Just as Hoover is synonymous with vacuum cleaners, Kärcher has become a byword for pressure cleaners. A German brand renowned for quality design and engineering, Kärcher is a household name with a range of pressure cleaners to fit every job and budget. Pressure cleaners are incredibly efficient in their water use; a standard hosepipe produces pressure of between 1 and 1.5 bars with a water flow of between 9 and 12 litres per minute. A pressure cleaner delivers water pressure of between 100 and 160 bars, but with a flow rate of just 5 to 10 litres per minute. That means you get much more powerful cleaning while using less water. The Kärcher pressure cleaning range starts with the light-duty range of air-cooled models: the K1, K2 and K3 models. These smaller units typically work at a maximum average of about 110 bar and use 5.5 litres of water per minute.These units are aimed at lighter jobs around the home and garden, like cleaning the car, garden tools, bikes, plastic garden furniture and the like. They can also be used for bigger jobs such as cleaning paving, but this will take longer than it would with the more powerful units. The K4, K5 and K7 are heavier-duty models with water-cooled motors, operating at up to 160 bar of pressure and using up to 10 litres of water per minute. In addition to the lighter jobs that the smaller units can perform, these models can quickly clean walls, roofs, paving and gutters, and just about any other cleaning job you can think of. Regarding the difference between air-cooled and water-cooled motors, it's more than just the power produced. The water-cooled units have a much longer recommended run time than the air-cooled range: while the air-cooled units should only be operated for 15 to 20 minutes before a cool-down period, the water-cooled units can operate for up to 45 minutes.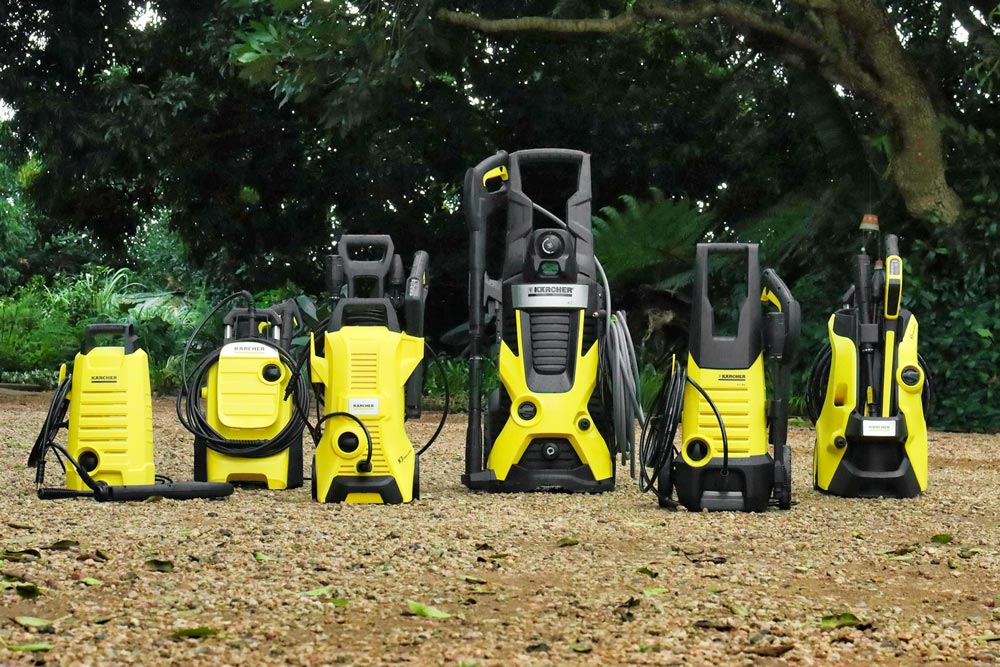 All models in the Kärcher range feature adjustable spray lances and a dirt-blaster lance for stubborn dirt, except for the more basic K1.All have either an integrated or manual detergent dispenser, with the K7 having an adjustable dial to control the amount of detergent mixed into the water flow. Some of the Kärcher models are also available in a parallel compact range (so there is both a K5 model and a K5 Compact model, for example), which take up less storage space and fit neatly into the back of your car if need be. The Power Control range also gives you access to the Kärcher Home and Garden App, a handy app that advises you on the best settings for a job, as well as cleaning techniques and tips. Kärcher Universal Cleaner and Kärcher car shampoo are two brilliant products to use with your Kärcher pressure cleaner to make their cleaning even more effective.
Warning: Pressure cleaners are tools, not toys. We recommend that closed shoes and eye protection are worn when operating a pressure cleaner.
Also remember that the pressure of the water is extremely high and can damage paint on vehicles or walls if one is too close.