1. Entrance halls and stairwells – dream it, colour scheme it
Think of your entrance hall or stairwell as your portal to the world. These spaces play a pivotal role in setting the tone for your home. Off-whites and pastels provide a warm "welcome back," after a long day or "come on in" feel to visitors.
If you live in a home with more than one storey, you'll need to decide on one colour for the stairwell. This is easier said than done. The continuous walls of a stairwell provide no good place to stop one wall colour and start another. However, in the right space, you can go for a two-tone effect. Or, you can break up the colour using a darker colour as a dividing line above the dado rail, pulling colour picked out of the detail in the hallway or stairwell floor tiles or carpet as your inspiration.
The colour you choose for the first floor hall needs to work on all the floors until you reach the top floor. And, because it is visible from almost every room in the house, the stairwell colour needs to unify all the other hues used in the home's space. Don't forget, you can draw inspiration for these areas from the colours used in the rooms that lead off this central area.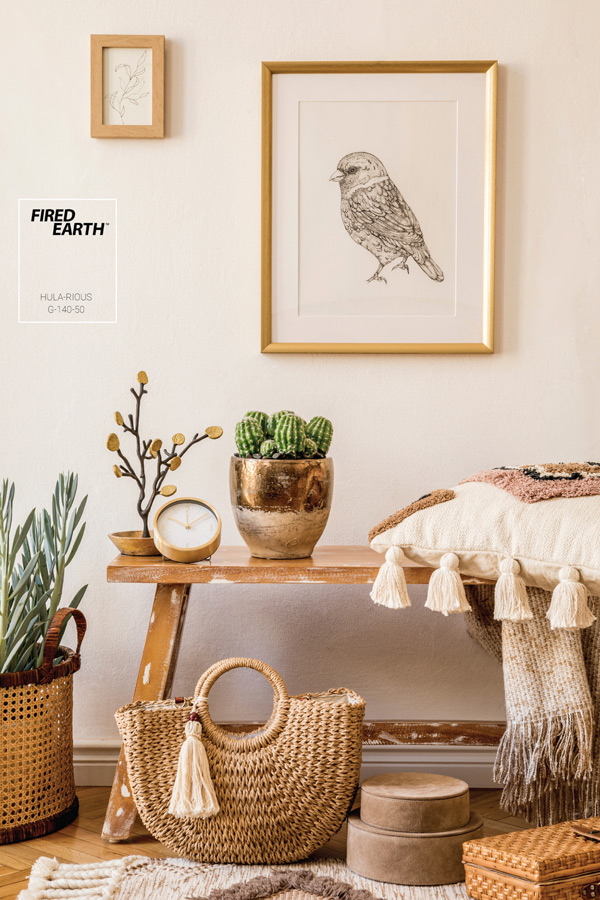 2. Living rooms – available in fun, formal or fearless
Typically the most formal space in the house and usually the largest. It takes a good sense of proportion to make a big colour statement in a large room. It is preferable to use light, neutral colours for large rooms and to make connecting rooms more colourful. This is the room that is typically the showplace for our treasures, antiques, arts and accessories. A neutral hue is often the best way to go to show these off to maximum effect.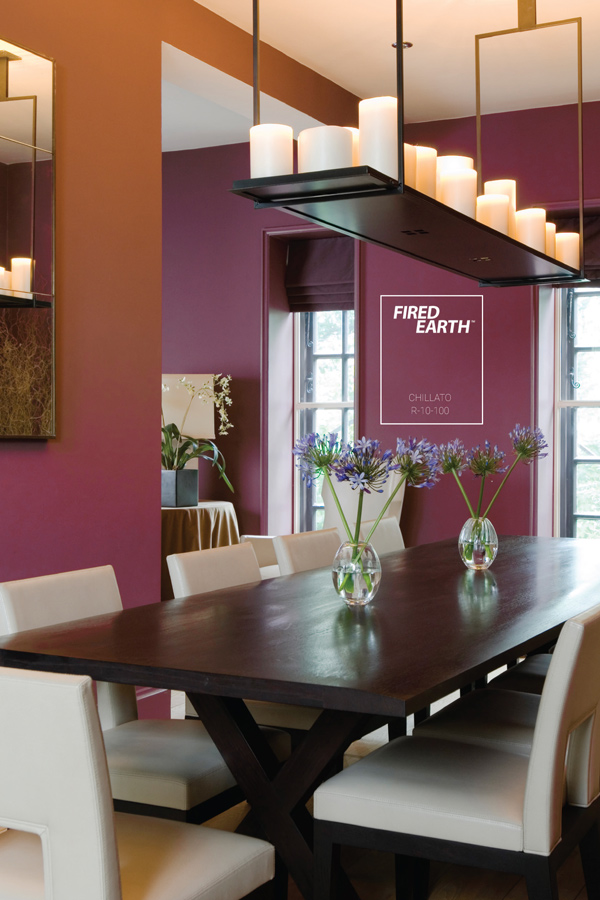 3. Dining rooms – feast on a banquet of colour
These rooms lend themselves well to bolder colour statements. Since a dining room is often visible from other rooms, consider how the colour will look in that context. A deeply-hued dining room contrasts nicely with a living room painted in a quieter colour. Used primarily in the evenings, these rooms are often lit by chandeliers or candles which look wonderful within the context of richer hues. Don't be shy, dining rooms benefit from a bit of drama.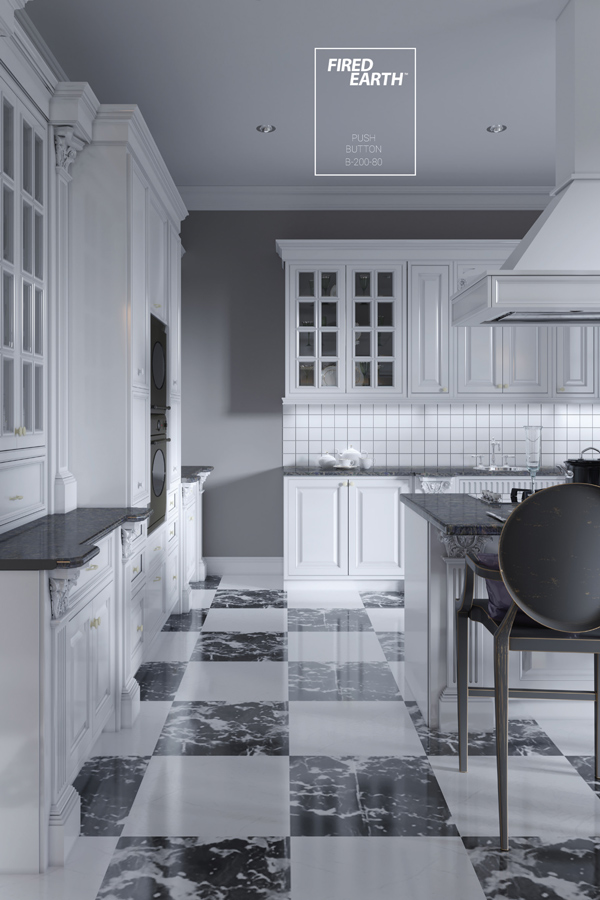 4. Kitchens – feed your soul
Before choosing the paint palette for this room, first look at the existing materials and textures of the different surfaces in your kitchen. Stone slabs or handmade tiles can be quite dominant, almost dictating the wall colour for you, so you can use them to inform your colour choice. Pull a hue from the counter, not just from the overall colour but from its wood grain. Even the colour of the grout you use can be considered a colour opportunity. As kitchens are the heart of the home and generally a hive of activity, be careful not to overload the senses with too much colour. Not surprisingly, many kitchens are predominantly white, because it reflects light better and improves visibility in the room. In addition, white is a clean, tidy colour which creates a sense of spaciousness.
If you're going to use white in your kitchen, use the same white throughout. And, if you're going to combine white with other light neutral colours, try to keep them in the same family – for example, warm white with tan, cool white with grey and so on.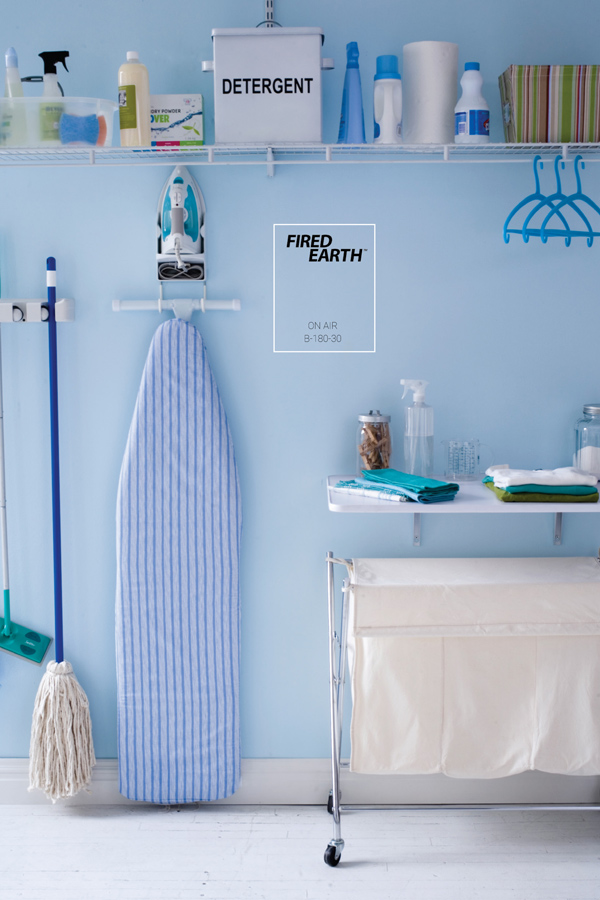 5. Utility spaces – fill in the blanks
Garages, basements, storage areas, walk-in closets and laundry rooms don't have to be a colour afterthought. In fact, these are the perfect places to get a bit adventurous with your colour palette. Breezy blues paired with white amplifies space and makes what are generally cramped quarters, feel bigger. Yellows like marigold and fresh minty greens are another great option for cramped laundry rooms, while garages give you the perfect opportunity to play with greys, beiges or tans. Going for a semi-gloss in utility areas is also a good call, because it makes dirt less evident and easier to clean.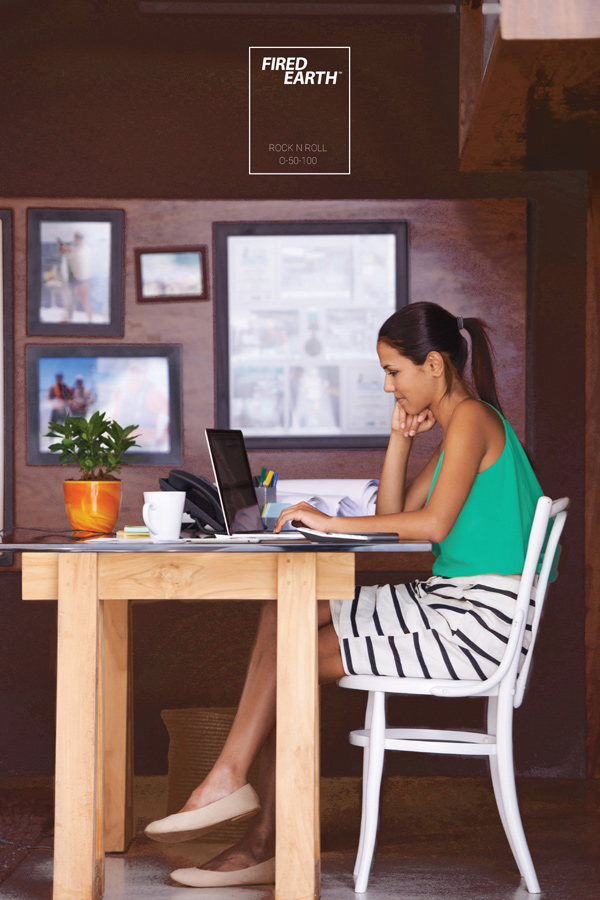 6. Home offices – do a colourful job
The rise of the global COVID-19 pandemic has led to many of us working from home. Choosing a paint colour for your home office is very much a personal choice and there is no right or wrong. The most important thing to remember is that your home office should be designed with the rest of your home's colour scheme in mind so that it's not jarring and out of place in the context of the rest of your décor. Whether you like a bright work space or a dark one, you should make the space functional, practical and comfortable and why not add few personal items to make you feel at home.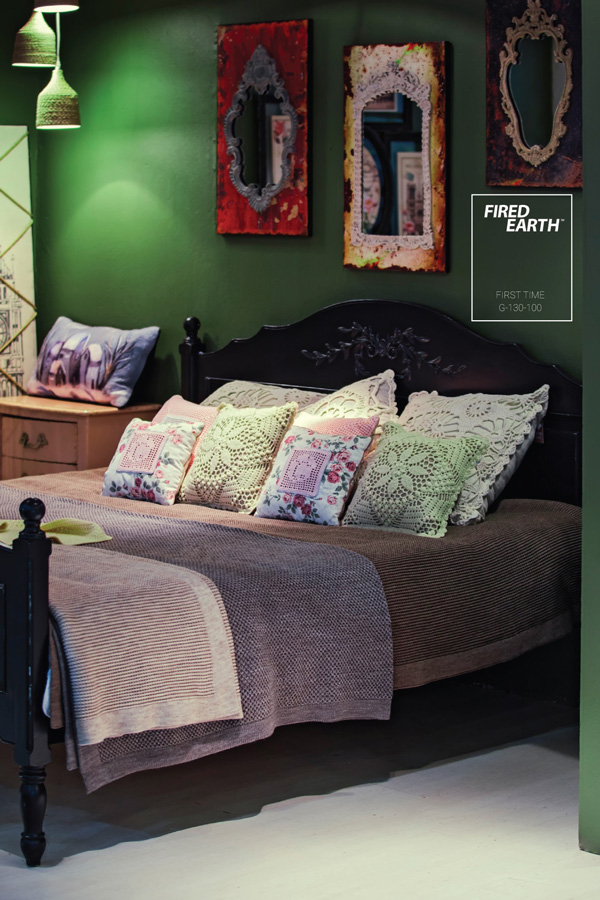 7. Master bedrooms – the colour dreams are made of
In addition to providing a place to sleep, the bedroom is a private space where we retreat to relax, think and get away from the bustle of family life. Since the master bedroom or suite is selfcontained, colour choices don't necessarily have to work directly with other areas of your living space. You can go dramatic, soothing or romantic – it's your call. Relaxing colours with nature-inspired shades like soft blues or muted greens are not going to keep people up at night or challenge our eyes early in the morning.
The way you use your bedroom, be it just for sleep, sleep and work and even as a TV room, will help you choose your colours. Dark-coloured bedrooms can be sexy and beautiful at night. But consider the effects of bright morning light. If you decide on a deep colour, invest in blackout shades and good window treatments so you can wake up peacefully. (White or light sheets are often a happy way to balance dark and light).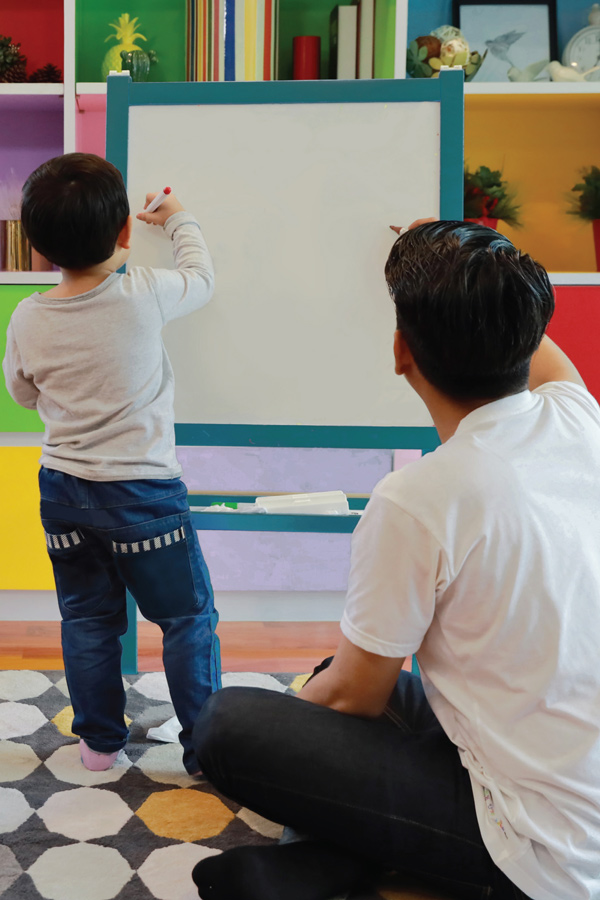 8. Children's rooms – colour is a playground
My attitude towards children's rooms is: if you can't beat them, join them. Ask about their favourite colours because they are usually fearless and instinctual. Try to find cool, fun colours that you and the kids can tolerate. There are lots of things you can play with: stencils, stickers, stripes, polka dots, clouds, denim, colour inside closets, ceiling colours. Consider chalkboard paint for walls or doors. With kids rooms, you can let your imagination run riot.
9. Guest rooms – leave your mark
It's the one room in the house where practically anything goes. In fact, your guest room is the perfect place to use a design scheme that you love but don't want to live with 24 hours a day. "A gift to visitors", it creates a comforting relaxing and memorable environment for them, while it serves as a colour and 'ideas laboratory' for you, where you can try looks you're not sure will work throughout your entire home.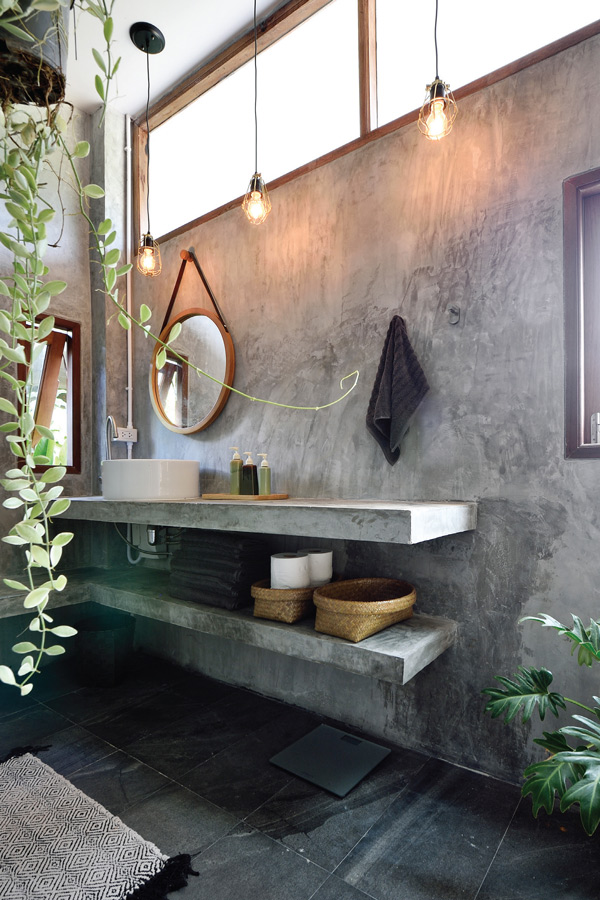 10. Bathrooms – submerge yourself in colour
There's nothing wrong with a bit of escapism and the bathroom is a great place to let your mind float free. Many of us use our master bathroom as a sanctuary from the pressures that lurk beyond the door. A light palette that looks clean and helps with visibility is usually the best choice. Colour can help set a mood and make it a distinctive private and personal space. If you are renovating or building a bathroom from scratch, try this approach: gather small samples of all the materials you intend using (e.g. marble and/or hardware). Look at them under different lighting conditions – this will help you choose paint colours. Search for a subtle colour that works in your space. If you are working with existing surfaces and fixtures, you need to take your colour samples and check how they respond under different lighting conditions.
Top bathroom paint colour trends at the moment include classic black and white, soothing greens and blues highlighted by complimentary colours, raw beiges and strong and bold reds. The only caveat is, be careful not to pick colours that are too ambitious for the amount of space you have. If your wall colours are too overpowering, you run the risk of losing the subtlety of the look you're going for.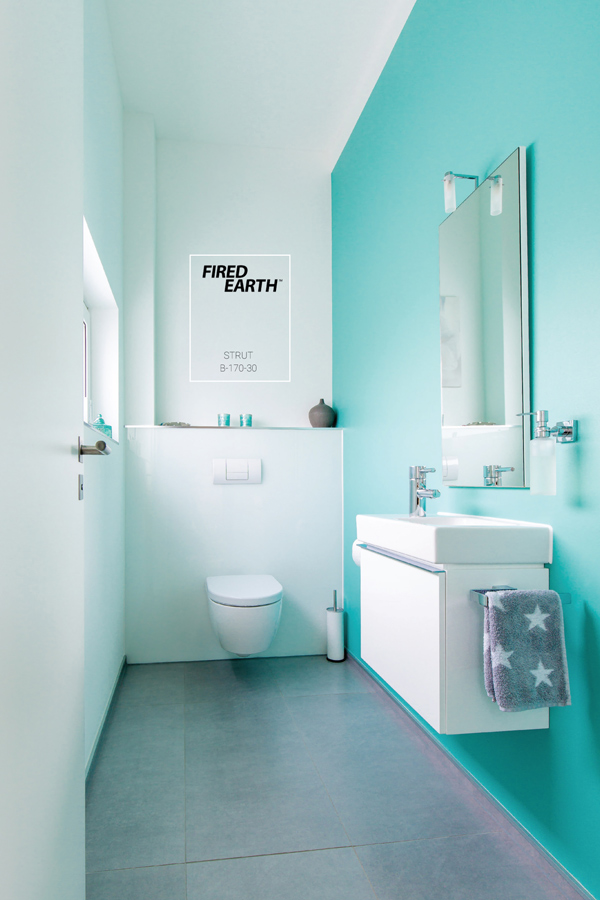 11. Guest toilets – even small rooms dream in full colour
Here you have a great opportunity to do something daring with colour. These tiny spaces can be treated like "jewel boxes" filled with treasures including paint finishes, fanciful mirrors, unexpected colours and antique wallpaper. Try bold colours and shiny lacquer accents to set these smaller spaces apart.