Prepare your ornamental and edible gardens for autumn
What to do in the ornamental garden in March
As the weather starts to cool you can start to prepare your garden for pretty winter annuals such as pansies, dianthus, violas, poppies and foxgloves.
In winter rainfall areas, plant indigenous trees. This will give them time to settle in before the winter rains.
To ensure a glorious spring flush of colour, sow sweetpea seeds in well-composted soil. Soak the seeds overnight before sowing.
For a splash of colour from autumn till spring, plant snapdragons. They like sunny or semi-shady areas but they're quite thirsty so don't let the soil dry out.
You can divide and replant irises, agapanthus, daylilies and arum lilies.
Make sure you have a sharp pair of secateurs at hand whenever you go out into the garden. As the summer flowering season comes to an end it's important to deadhead perennial flowering plants. Petunias, salvias, roses and daisies in particular are encouraged to flower prolifically.
Give your container plants a feed of Bounce Back or a liquid feed of Nitrosol, Nutrisol or Kelpak.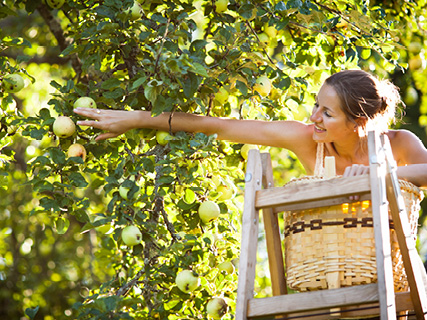 What to do in the edible garden in March
March is a difficult month in an edible garden. Keep an eye on the weather: if it's too hot, stick with your summer tasks. When it cools, you can start thinking about winter crops.
Pick and enjoy ripe apples and pears. If you're fortunate enough to have a mango tree, it should still be producing late summer fruit, so tuck in.
To prevent disease, remove and dispose of all fallen fruit by burying it in the ground.
Cucumbers, marrows, squashes and pumpkins are susceptible to mildew this time of year which you can treat with Dithane M-45. To prevent it, water on the ground rather than using an overhead sprinkler.
Quite likely your herbs are looking tired and some may have gone to seed. Now's the time to restock with leafy herbs such as mint, chives, watercress, sorrel, rocket, dill and parsley.
If the weather is cool enough you can plant lettuce.
Start to prepare beds for autumn planting in April.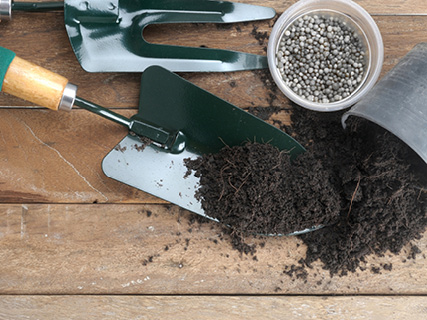 What to feed your garden in March?
Autumn is feeding time for many plants. Stock up on general fertiliser such as Bounce Back or 2:3:2 for the whole garden.
Roses need a good feed to encourage a good autumn flush. Give them a dose of Vigorosa once a month. Scatter it evenly around the drip line of each bush.
As you remove summer annuals to make way for winter varieties, dig in generous quantities of compost.
There are tricks to feeding your garden. First step is to remember that you're actually feeding the soil, so that it can feed the plants.
Fertilisers with granules can burn plants so keep them away from the stems and leaves.
Water the soil well before fertilising.
Feed in late afternoon or on cloudy days when temperatures are lower.
Look for the drip line of leaves and branches of larger plants and trees – that's where you should scatter the fertiliser.