Use recycled pallets to create cool storage space for your fresh produce.
Materials you will need:
pallet wood (± 20 x 80mm); cut to:

ten 400mm lengths (drawer runners)
four 600mm lengths (legs)
two 550mm lengths (bottom spacers)
two 530mm lengths (drawer stops)
five 590mm lengths (top)
one 625mm length (top front)
two 420mm lengths (top sides)
six 500mm and six 350mm lengths
fifteen 390mm lengths (drawers)

one pack of 6mm x 40mm chipboard screws
120-grit sandpaper
1.5m coarse rope, 8mm thick
cordless drill and 3mm drill bit
pencil
jigsaw
tape measure
10mm spade bit
sander
tri-square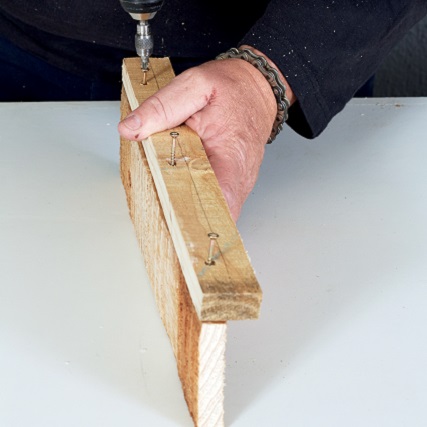 Step 1
Using the jigsaw, cut four 400 x 80mm lengths in half lengthwise – this will give you eight lengths of 400 x 40mm. Glue and screw six of them at right angles to the six uncut 400 x 80mm planks to form the runners.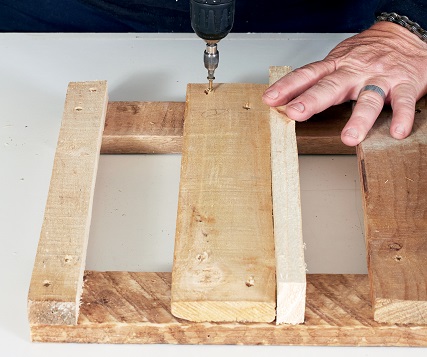 Step 2
Place one 400 x 40mm plank at a right angle across two 600mm legs and screw together. Measure and mark points at 210mm, 365mm and 525mm down from the top of each leg. Screw three of the drawer runners above these points to form one side of the cupboard. Repeat the process to make the other side.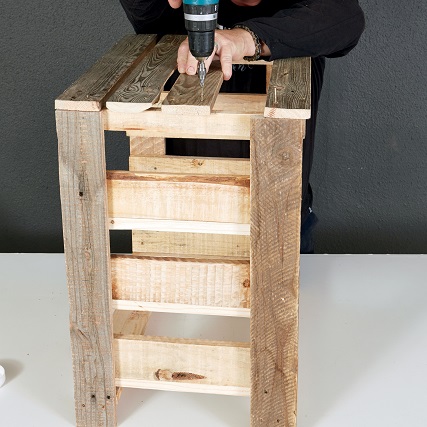 Step 3
Measure and mark 35mm from the base of the legs and screw one 550mm length between the two sides. Now attach one of the 590mm planks (for the top) on top of the sides, flush with the front. Repeat the process at the rear of the cupboard, but allow for a 20mm overhang. Now space the remaining three 590mm lengths evenly in-between and attach with screws.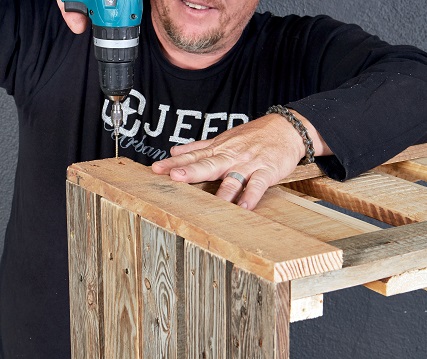 Step 4

Turn the cupboard over (facing upwards) and screw two 530mm lengths across the back of the legs and runners – this will prevent the drawers from sliding in too far. Finish off the top with one 420mm length on each side and the 625mm length in front
Step 5

Screw two 350mm lengths between the ends of two 500mm lengths. Space five 390mm lengths on top of the frame and screw together to form a drawer. Make two more drawers in the same fashion. Now measure and mark 200mm from each end on the front of the drawers and drill 10mm holes with the spade bit for the rope handles. Divide the rope into 3 pieces of 500mm, thread the ends through the holes from the front and make knots on the inside of the drawers.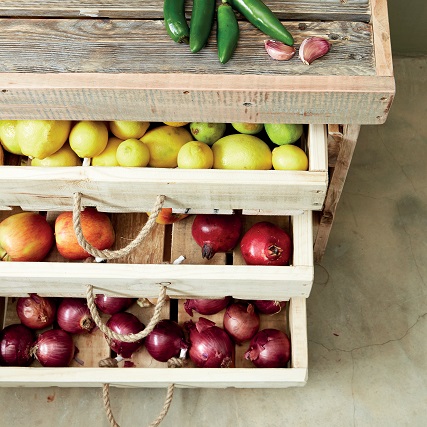 Quick Tip
Wrap masking tape around the ends of the rope after cutting it – this will stop the rope from fraying and make it easier to thread it through the holes.
Project notes
Remember to drill pilot holes.
Sanding the pallet wood ahead of time will make the project so much easier.
Look out for old pallets at markets or greengrocers and make your entire rack from recycled wood.
Credits
Referenced from Gallo images / Home Magazine